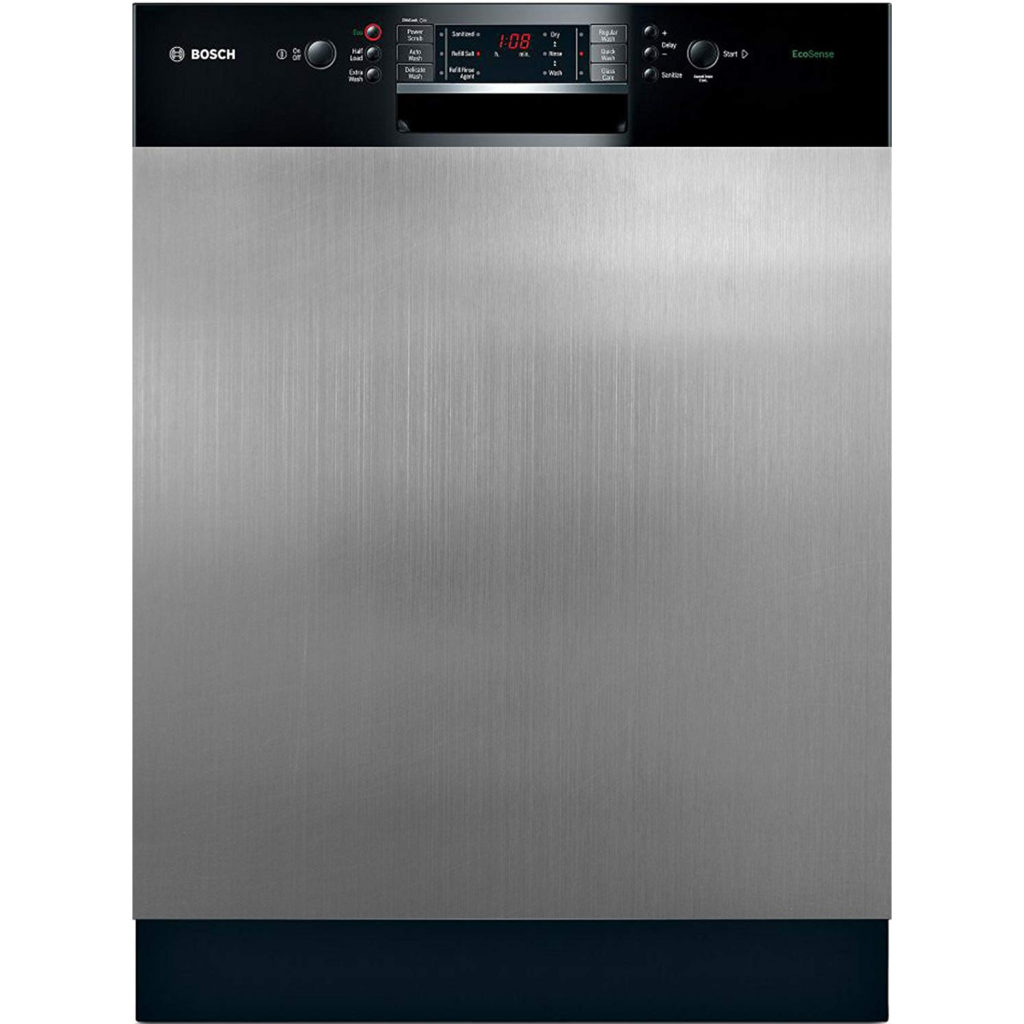 This is a guest post by Katie Campbell. If you want to guest post on this blog, check out the guidelines here.
Gone are the days when a dishwasher was a luxury amenity. Whether a person is looking to buy or rent a home, a dishwasher is always on the must-have list. Preparing to purchase a new appliance is no easy task. There are spec sheets, special pricing and sales to sort through. The most important elements of a dishwasher are washing ability, energy efficiency, load time, and noise level. Keeping those key factors in mind, buying the best dishwasher gets much easier.
Maytag MDB7759AWS 24-in Stainless Steel Built-In Dishwasher
This Maytag model is a top performer and has been built with a clean, uniform look. The multiple buttons and the rotating wheel are no more, allowing for a beautiful and streamlined kitchen design. The controls remain hidden except when in use and this unit fights grime on several quiet cycles. With no noise and hidden buttons, you may actually forget that it's a dishwasher. This model features a steam clean cycle and even cleans up after itself, leaving no mess once your dishes have been washed, rinsed and dried. Though it is priced higher than some of its competitors, this dishwasher outperforms those with more attractive prices.
Kenmore 24 in. Built-In Dishwasher w/ SmartWash Cycle – 13893
This Kenmore model is priced slightly less than the Maytag and offers great features not often found on other dishwashers. These features include a fast wash cycle and a deep wash cycle that can be started at any time. This model is energy efficient and runs quietly, so the only sounds you'll hear are the nickels and dimes dropping into your savings account. The Kenmore 13893 has a sleek finish and hidden controls that make this a good choice for aesthetics or those with children who have curious fingers. The adjustable racks make for less shuffling of items and more room for the dishes you don't want to get stuck scrubbing. This dishwasher is a great value and a top pick.
Bosch SHE55M15UC- Evolution 500 Series-24-in-Under Counter Dishwasher – Stainless Steel
The Bosch SHE55M15UC may send you into sticker shock, but a better understanding of what it has to offer is the best medicine. Not only is it a top performer, it achieves its top performance by running quieter and more energy efficiently than most. Though that may not sound like a big deal, those with big families will quickly reap the benefits. The simple cycle select options makes getting the washer running faster and movable racks accommodate your largest and most interestingly shaped platters, bowls and dishes. The energy star rating promises to keep the savings coming well beyond your recovery from sticker shock.
KitchenAid Architect Series Stainless Steel Undercounter Dishwasher – KUDC03FVSS
It may be hard for some to think past their beautiful mixer when they hear the name KitchenAid, but those who do may discover that they make great dishwashers too. There are no doubts that this is a high end dishwasher, with adjustable tines and an automatic optimum wash sensor and it makes the list for those same features. The cleaning power on this unit has allowed it to rank high on review lists and in the hearts of those whose homes have been outfitted with one. The heated dry gets your dishes ready to use or be put away as soon as you crack the door. With hidden buttons and the automatic wash cycle, this is a true set-it-and-forget-it device. If you're willing to spend in the name of high-powered cleaning convenience, this is definitely the dishwasher for you.
Whirlpool DU1010XTXQ 1000 Series Sheerclean Tall Tub Built-In Dishwasher
Those who are looking to save without sacrificing quality or simply feel nostalgic when they hear the lump and dump sound of a dishwasher may find that the best dishwasher for them is the Whirlpool DU101XTXQ 1000 Series. Available for less than $300, this is a budget dishwasher with all the gusto of a top performer. It has 20 percent more capacity than most and still lays claim to the coveted Energy Star rating. Those who pick this dishwasher and opt to use the high-heat setting will be pleased with their exceptionally clean dishes. The touch sensitive controls make setting this unit easy and are a welcome upgrade from most base models.
Purchasing great home appliances is about finding a unit that does the job well and makes your life easier. Take the time to seriously consider your needs and choose a dishwasher that performs well and doesn't cause commotion every time you run your dinner dishes.
Katie Campbell is a Domestic Diva who delights in incorporating modern technology into her life and her home. She is a writer and an Appliances Expert for Bestcovery.com.