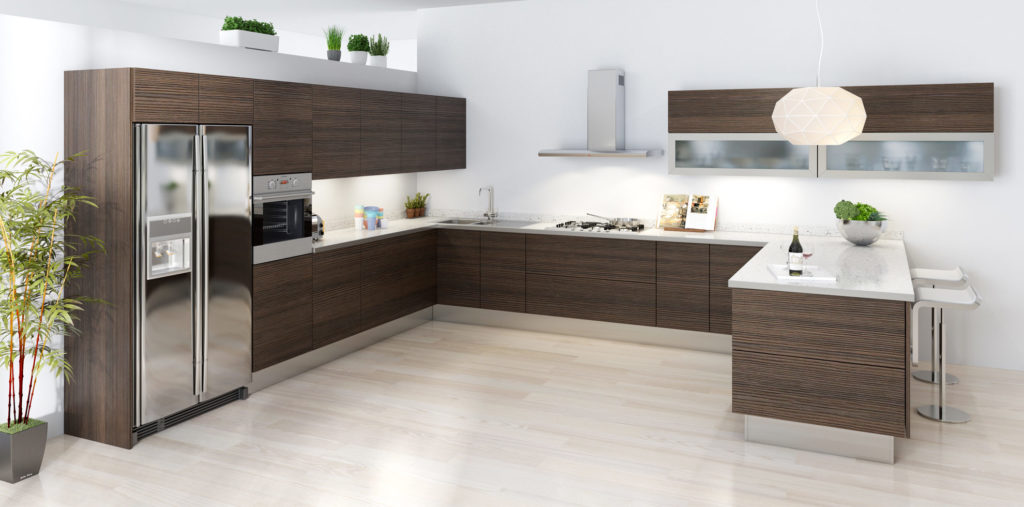 This is a guest post supplied by DIYTools.co.uk. If you want to guest post on this blog, check out the guidelines here.
If your kitchen is beginning to look old and boring, you might wonder what you can do to upgrade your kitchen's design. Fortunately, you don't need to do a complete demolition and renovation to add a few modern touches to your existing kitchen. Instead, focusing on a few simple additions and upgrades can help you get the sleek kitchen design of your dreams.
Upgrade your cabinets
Making a few upgrades to your kitchen cabinets can radically alter the look of your entire kitchen. Start with a fresh coat of paint to revitalize your kitchen cabinets. After letting the paint dry, think about upgrading the hardware on your cabinets. For a cohesive and modern theme, choose hardware made with brushed chrome or nickel. Cabinet and handles and knobs with a streamlined look are a great way to provide subtle look that enhances the modern space. Be sure to figure out exactly how many pieces you need before you go to the store. This easy upgrade will only take you an hour to complete.
New storage options
Your kitchen upgrades can also add more functionality to your kitchen. Chrome bins, for example, give you a stylish way to deal with your unsightly and smelly garbage. You can also add new storage options to place on your countertops for your baking essentials, including sugar and flour. Pick a set of matching glass or chrome canisters to safely hold these ingredients. Finally, consider installing a hanging rack to store and display your pots and pans.
Artwork
You can display some artwork in your kitchen to show off your personal tastes. A series of framed photographs makes a stunning addition to any kitchen. You can also look for artwork featuring food and cookware. A few small countertop decorations, including vases and lamps, will help add a focal point to your decorations.
Small appliances
Instead of replacing your major appliances with new models, consider purchasing some small appliances to place on your countertops. Today's small appliance market is full of sleek and stylish designs. You can also find appliances in a variety of bright colors to give your kitchen a splash of color. For example, a red mixer will immediately generate positive attention. Don't hide your small appliances in your cabinets. Instead, use them as a part of the kitchen's new look.
New paint
If the walls in your kitchen look old and worn, consider adding a fresh coat of paint. Try contrasting the paint color with the color of your cabinets. If your cabinets are dark, use a light color to paint the walls. With the help of your family or friends, this upgrade job won't take more than a day or two to complete. After you finishing painting your kitchen, buy some matching curtains for the windows.
Update lighting fixtures
Adding new lighting fixtures can help improve the overall modern look and feel of a kitchen. As long as the original light fitting are in place, you don't need to be an electrician to make the simple changes. Under cabinet light fixtures can brighten up the main surface areas of the counter tops which in turn can give the whole kitchen a warm, comforting feel. These can be bought in any home and furniture store and are relatively cheap.
In conclusion
You don't have to break the bank in order to modernize your kitchen. A few changes in the structure and adding some new countertop appliances, storage options and artwork can help you achieve the look you want.
This article was supplied by www.diytools.co.uk, which was established in 2000 and since has grown to be one of the UK largest online DIY stores. It stocks over 70,000 products including a wide range of cork tiles.