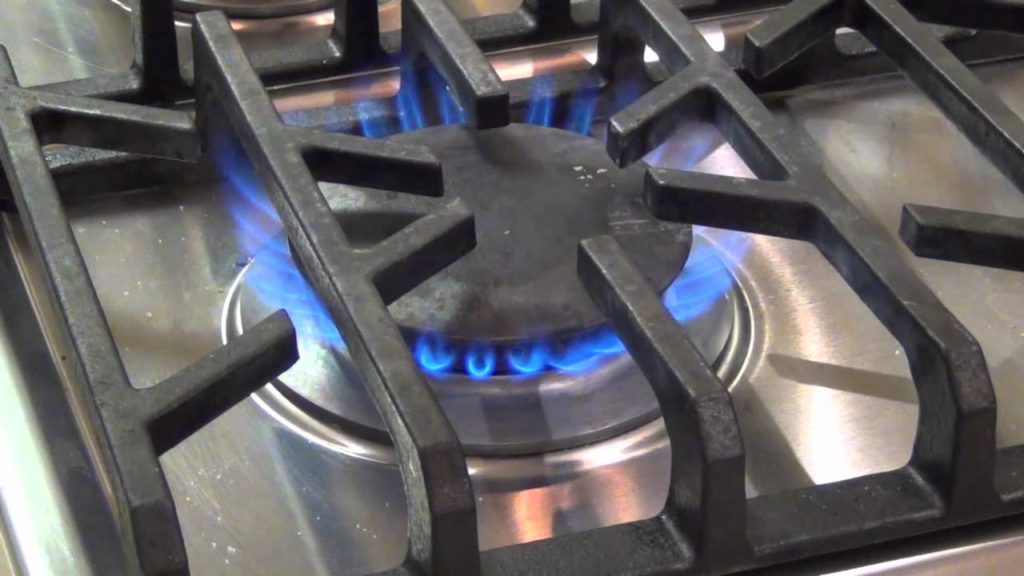 For many, especially serious cooks, having a range in the kitchen that can do almost everything a commercial range can do is high on the kitchen wish list. Not only do pro-style ranges offer the power and performance to meet all varieties of cooking needs, they have a look and feel similar to restaurant equipment, which in itself adds to their appeal. But with these ranges usually starting around three thousand dollars and sometimes costing as much as a new car, it's worth taking a look at what features set them apart from a typical gas range.
Open burners and general burner designs
If you've ever had any experience using a commercial style range you would notice right away that the burners are set into the top of the range with cast iron grates that extend overtop. These recessed burner designs are considered open burners. Unlike a sealed burner, the flames from an open burner are allowed to project onto the surface of a pot or pan directly and evenly. This is because there are several gas ports positioned along the top of the burner.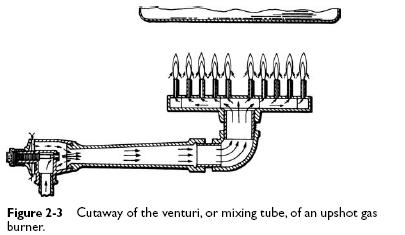 Flames from a sealed burner are generated from the gas supplied from one single gas port. A cap is placed on top of where the main flame is generated which then forces the flame out and through small slits and spaces to create individual flames.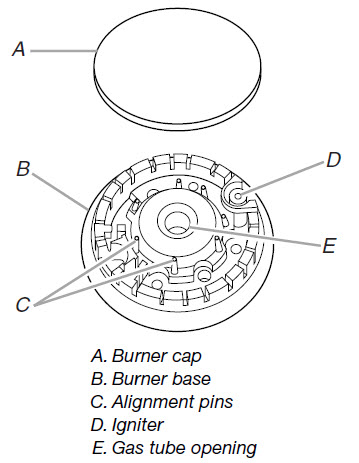 Although some sealed burner designs may have the same BTU rating some of the heat tends to be project to the sides of pots or pans especially when used on higher settings. So even though they may be putting out the same amount of heat, a portion may be heating more the sides of a pot rather than evenly across the bottom.
For those looking for an open burner style range, there are three companies that currently manufacture them for residential use. Capital Cooking has the open burner style range available in their Culinarian series. American Range has this style available in their Performer series and Bluestar Cooking also offers this style in their RCS and RNB series.
In terms of BTU ratings, the Capital Culinarian series have 23,000 BTU burners on every burner with each burner capable of reaching a true simmer at 145 degrees. American Range Performer series and Bluestar Platinum series boast the highest BTU ratings at 25,000 BTU's. Burner configurations differ according to which model is selected but the American Range and Bluestar ranges have burner options that give great simmer control as well.
Also, contrary to what many believe, ranges with open burners are quite easy to clean whenever there's a spill over. Spill trays set on sliding racks underneath the burner area to catch anything that falls through the cracks making clean up simple.
Another notable design is the star burner, which has been patented by the Thermador brand. With this design, the flame from the burner makes contact with the pot or pan uniformly across the surface resulting in great temperature control. Their burners are also very versatile in temperature range with the hottest burners topping out at 22,000 BTU's and the lowest simmer burners reaching steady temps of 100 degrees. The star burners are sealed burners but unlike other sealed burner designs they are setup like a pedestal allowing for easy clean up around the base.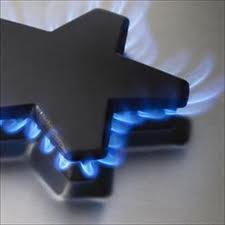 Pro-style oven features
For many consumers a great deal of focus and attention is placed on the details of the burners' style, power, and configurations to help finalize their buying decision. This often leaves the features of the oven in pro-style ranges an afterthought. If you're trying to make a decision between a regular gas range and pro-style range it helps to know the oven features that set them apart. Furthermore, it also worth taking a look at the differences in oven features amongst those in the pro-style category.
Increased oven capacity
Lots of serious cooks and culinary enthusiasts like being able to cook with a full sized baking sheet. The luxury of cooking with a full size 18" x 26" sheet obviously increases volume and is helpful when entertaining multiple guests especially during the holidays. So if baking generous batches of cookies and cupcakes is of importance consider a 36'' range. Also, both the Bluestar and American Range are capable of fitting a full size commercial baking sheet into their 30" models. It should be noted though that they can be considerably hotter to the touch on the exterior walls and oven doors because of the lack of insulation sacrificed for space.
Not only do pro-style ranges offer larger ovens, they also all have the option to bake with convection. Convection ovens utilize a fan to circulate heat which speeds up bake times and provides more even heat distribution throughout the oven.
The Thermador pro-grand offers an oven with "true" convection meaning that they've placed a heating element behind the fan. With the air being drawn directly from a source of heat, the ovens' circulation patterns are said to be more uniform than a regular convection style. True convection is also sometimes referred to as European convection.
The American Range Heritage series has the patented innovection convection oven that uses two fans to circulate air through the oven cavity through louvered sidewalls. This design was also set in mind to help maintain even heat distribution.
Infrared broiler burners
The majority of pro-style ranges offer infrared broilers in their ovens to do any quick searing. These burners can reach temperatures of up to 1850 degrees. Not only do they get hotter much more quickly than a typical element style burner they direct heat more evenly onto the food. Most cooks know that using the infrared burner design is best for locking in juices and flavors with a quick sear.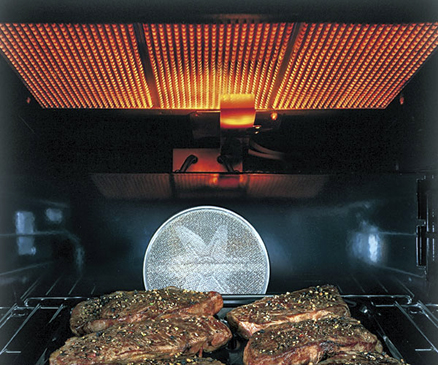 Telescoping racks
Telescoping racks make it easy to load in and out any large and heavy dishes like hams or turkeys. Because they are set into ball bearings they easily glide in and out eliminating the need for reaching into the oven. Most brands have this option available on the bottom rack only while the Thermador has the telescoping racks at each rack level in the Pro-Grand series.
Eric lives in San Diego where he works as a salesman for Appliance Alley. He is also involved with development of www.restaurantauctionslist.com, a website that lists auction schedules with restaurant equipment.