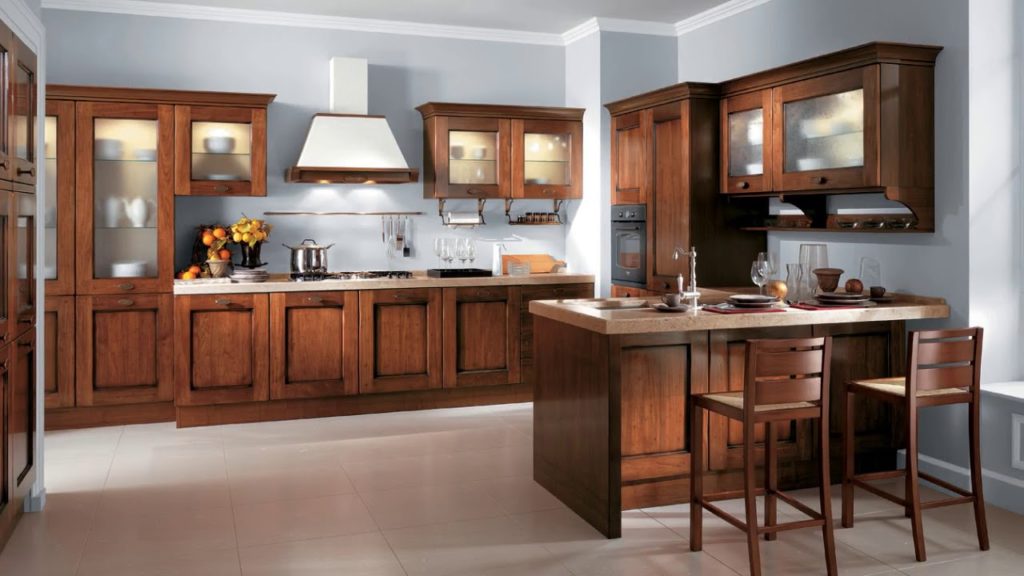 2016 is shaping up to be an exciting time for innovative kitchen designs, with unique color combinations, minimalist design features and golden appliances proving to be just a few of the most stylish trends so far.
If you are thinking about completely changing the way your kitchen looks or simply want to update the room often referred to as the "heart of the house", we have looked at the most prominent kitchen layout, color and appliance trends for 2016.
Layout
Completely changing the layout of a kitchen can be disruptive, affecting family life much more than if you were simply giving it a lick of paint. It takes varying degrees of time and money, but if done right, can breathe new life into a whole house. If you have made the decision to update your kitchen layout, these are the trends set to take off in 2016.
Open plan
If you are lucky enough to have a large kitchen in your home, 2016 is the year to go fully open plan. Although it's a big change to make, an open plan kitchen can rejuvenate your entire house. Whether you spend your time cooking, looking after your family or entertaining guests, this type of space can work well for you.
There are many benefits to having your kitchen adjoined to another room in your house. It allows you to spend more time with family and friends while cooking and cleaning, which makes it perfect for families. Open plan kitchens also make for brighter and more spacious rooms, which makes them perfect for social butterflies who regularly host guests.
This type of kitchen really opens up a house, making it brighter, more welcoming and very modern.
Canteen style
Taking inspiration from the trendy East London bars, the canteen style kitchen is a fashion favorite at the moment. Think of a more upmarket version of a school canteen; industrial stainless steel, one big wooden table, plastic chairs and on-show shelving.
This look may not be for the traditionalists, however it brings a real urban flair to your kitchen if you are looking for something avant-garde. Match with checked table clothes, colorful appliances and a whole host of friends to really get that Hackney cafe vibe.
Minimalist
Just because your kitchen is small doesn't mean it can't be stylish. Minimalist kitchens have been a big hit so far in 2016, with built in space proving to be the winning factor for many people. Retractable handles, one touch open cabinets, countertops of natural stone or marble and walled lights will help you achieve this fashionable look.
The best thing about this trend is that it harnesses clever design techniques to make kitchens look extremely expensive and elegant for a surprisingly small price.
Colors
If you are not committed to changing the layout of your kitchen but are looking for an update, changing the color of a wall or adding a splash via new furniture can really make a difference.
Neutral colors with bright accents
Grey, white or beige kitchens can have a new lease of life via accented colors courtesy of lampshades, chairs and appliances.
White table tops are perfectly accented by royal blue stools and orange placemats. Grey kitchens can be brought to life with a slick of yellow paint on one wall, accenting the muted tones and adding a brightness to the room. Lilac looks gorgeous with beige and brings an elegance to any kitchen.
Think in autumn tones
Adding color to your kitchen does not necessarily mean you have to stick to bright, bold hues. Warm tones like burnt orange, maroon and yellow can help create a soothing and welcoming atmosphere. Many appliances are sold in this color, and small accents around the room can have as much of an effect as large statement pieces.
Appliances
New appliances can bring a whole new look to your kitchen for the fraction of the price of a redesign. They can be state of the art and elegant without completely overwhelming your space, so why not try something new?
The golden touch
Brass, rose gold and copper finishes are officially in when it comes to kettles, pans, chopping boards and shelves. These colors look lovely with any kind of base and can add a feeling of glamour to your kitchen. The real metal finishes mean that these appliances work as good as they look, and have real lasting power.
Space savers
Appliances can also help to achieve that upmarket minimalist look. Space saving appliances don't have to cost the world but can be a great way to help even the smallest of kitchens look chic. Hidden charging stations, built in wine racks and covered fridges and freezers mean even the most cluttered kitchen can be transformed into a modern, space saving room.
Vintage chic
Vintage homeware has been popular in bedrooms and dining rooms for a while now, but there are also inventive and cheap ways you can use appliances to get this look in your kitchen.
Appliances in soft colors like mint or dusky rose teamed with dark, rich countertops has an impressive effect. You can have fun with this theme as even small details like floral tea towels and patterned coffee pots can add to the theme of the kitchen. Don't worry about matching everything too closely, the feel of a vintage kitchen is more important than a matching color scheme!
Whatever your budget, there are plenty of different ways you can update your kitchen in 2016. Whether you decide to go for a full redesign, renew your color scheme or simply purchase a few appliances to refresh your look, you'll find something to suit you this year.
Rosa Mitchell is a guest contributor from premium kitchen appliance provider Britannia Living.