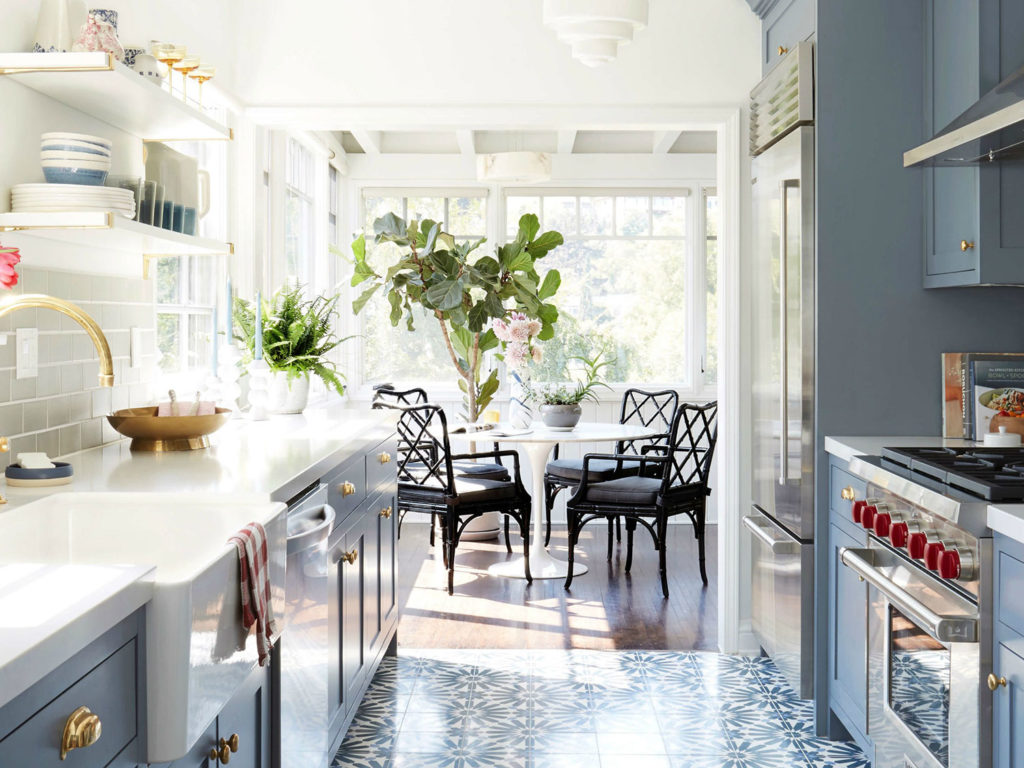 Much urban life is planted with apartments these days, most of them lacking the ideal size of kitchen space you might have grown up with. That might make you wonder what you can do to present optimal aesthetics and space of the miniature version of your parent's kitchen at your own living space. With these complications in mind, here are three big ways to create that elegant apartment kitchen you've always wanted.
Shelf life
If your kitchen is really that small, installing shelves around your kitchen can do the trick. There are different types of shelves that create a nice display of all of your kitchenware.
Open shelving at the end of kitchen countertops creates the nice view of what otherwise might have been wasted space. Cookbooks and small pieces of decorative statues is a great way to use it if you have extra space. Just imagine the great décor you can place there for only a few dollars. This great utilization of a compact countertop is also great for storing plates, bowls, pots, or whatever your heart desires.
Shelving at the place where the cabinets would have been is a great use of storage for your plates and pans as well. Having it at different levels with a floating drying rack allows you to do more with that kitchen as well. You can have the drying rack at eye level in front of you, so you save the trouble of having to find a spot to put the next plate when the rack starts filling up. It is also a simple installation, creating a wise placement for a drying rack, where you don't have to put it on the side of the sink, and have a visually appealing kitchen. For extra style, having the shelves painted a certain color or a scheme of colors is a great way to tone up the kitchen.
Having shelves close to the ceiling above cabinets appeases the small space too. For those who don't mind doing a little bit of reaching for glass cups and such, the view of this type of shelving produces more space for cabinets. It is great for those who don't want to look at shelves at eye level.
Hooked
Installing hooks to these shelves that hold pans and pots is a great way to display your chef expertise, even if that might not be the case. Hooks can be created for hanging wine glasses that make your place look very spruced up. Hanging ceiling hooks is a visibly attractive display of your kitchenware. It also opens up other areas of the kitchen for storage, such as the shelves and kitchen cabinets. The more space saved the better!
Kitchen center island
Adding a kitchen center island countertop to a small kitchen produces another place for kitchen appliances and eating apparatus's. A granite top to this can make it look like a fanciful kitchen. Installing drawers or even open shelving in this kitchen center island will be a great way to combine all three ideas into one. Another way to maximize the kitchen countertop is to put the stove on this kitchen center island, which will produce space for appliances elsewhere in the kitchen. With the type of stove, an electric stove works well with a small apartment kitchen, with effortless cleaning. Adding a small dining table to the center island with two benches for seating can double up as another seating area and a dining table, if enough space is available.
Austin is an associate of OurDesign, providing interior design and home design ideas for homeowners and designers alike.