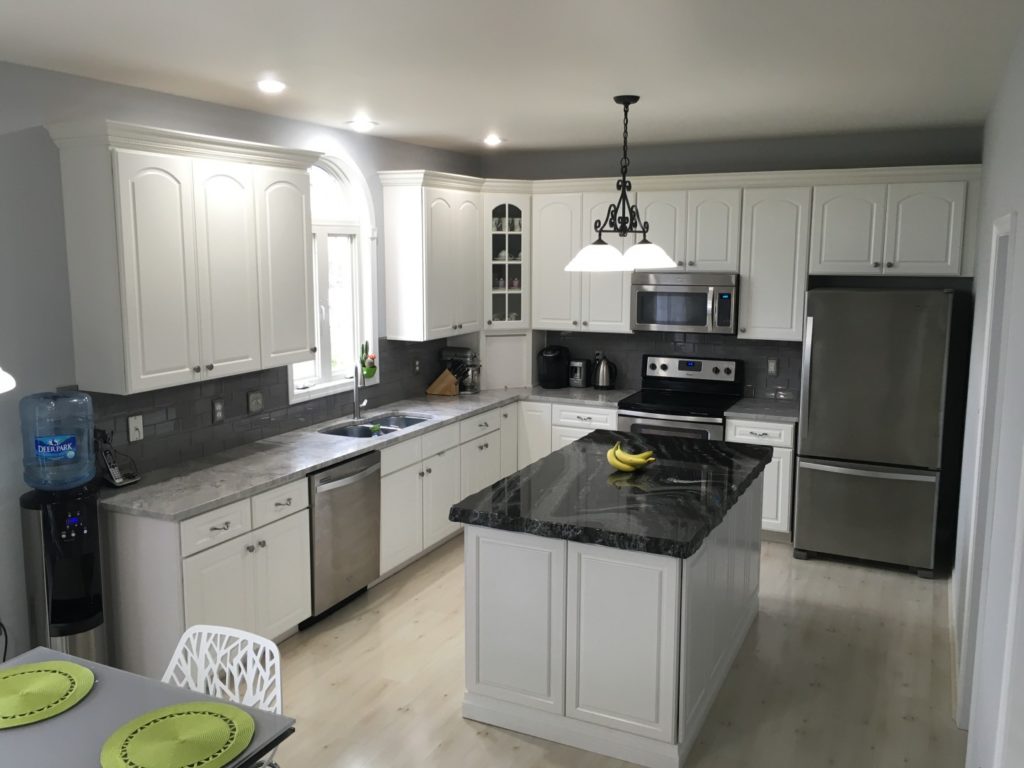 Though it might not be the first room of your home that you see when you walk in the front door, the kitchen is arguably the most important one to consider when selling your home. Think about it in terms of where you and your family spend the most time. While the living room might have been the most important room in a home just a decade or so ago, today's homeowners spend a great deal of time in the kitchen — and it isn't all prep time either.
Buyer's expectations for kitchens
A potential home buyer has a lot of expectations for this room that they know they'll spend a great deal of time in. Here are just a few of the top trending ones that you might want to consider adding to your own kitchen.
Update the countertops
Formica and tile continue to fall out of favor with homeowners with granite and quartz — as well as their lookalikes — being the preferred kitchen countertop material. Doing this simple update will shave years off the look of your kitchen.
Add a tile backsplash
Even though tile is not the preferred countertop materials anymore, it's still desired when it comes to building a backsplash. Done the right way, a tile backsplash can complement your new granite or quartz countertop to produce a kitchen that is as beautiful as it is functional.
Use neutral colors
Neutral colors give the kitchen a soft and warm look. Though you might find using them a bit on the boring side, doing so will make your potential buyers happy. You can also add splashes of color with a brightly-hued coffee maker or another small countertop appliance, for example. New paint is a big upgrade with a small price tag, and it shouldn't be overlooked.
Stainless steel appliances
Adding stainless steel appliances to your kitchen — especially if they convey — adds classic style that serves to balance out the rest of the room's materials. When you're out shopping, look for stainless steel appliances that are energy efficient. This is very important to today's home buyer.
Knock out a few walls
Today's kitchens are an extension of other rooms. By knocking out a few walls to create less of a barrier between them, your home will feel more open and airy. This, in turn, encourages family, friends and guests alike to effortlessly mingle and move from the kitchen to the other areas nearby.
Add an island
Plenty of counter space is always a welcome addition to any kitchen. Adding an island — with or without a separate sink and burner — gives the new family an additional place to prep food and other necessary kitchen tasks.
Is an update necessary?
If you're like many homeowners, the thought of updating your kitchen when selling your home looms on the horizon isn't something that particularly attractive. After all, you won't be there much longer so you won't get to enjoy it very much. Besides you can put the money you might have spent on updating the kitchen on the down payment or some other expense for your new home.
You might want to reconsider that thought process though. When compared to homes that have a move-in ready kitchen that's freshly updated, you could find your home for sale lingering far longer on the market than you'd like. This could make it difficult for you to move forward with finding a new home because your funds are still tied up paying for your mortgage and other expenses for your current one.
Updating your kitchen with the right materials, appliances and other necessities is a smart use of your time, energy and money. Not only will you be able to enjoy the updates for a short time before your home sells, it's likely that it will sell faster as a result.
Greg Geilman is a Los Angeles native of over 40 years and owner of The DOMO Group.