Designed to reduce employee exposure to chemical, biological, electrical, mechanical and physical hazards, Personal Protective Equipment (PPE) is an essential for anyone that faces health and safety risks at work. Personal Protective Equipment might include gloves, glasses, shoes, earplugs, hard hats, respirators, face masks, or coveralls, vests and full body suits. When engineering, work practice, and administrative controls do not suffice, PPE offers another layer of protection.
The main risk areas in the catering & hospitality sectors are caused by slips and trips, contact dermatitis and manual handling accidents. Although accidents — in particular, knife accidents — are common in kitchen jobs, this does not mean that the risk cannot be minimised. As well as training employees in the safe use and sharpening of knives and other equipment, the right PPE can help minimise health & safety risks to protect employees.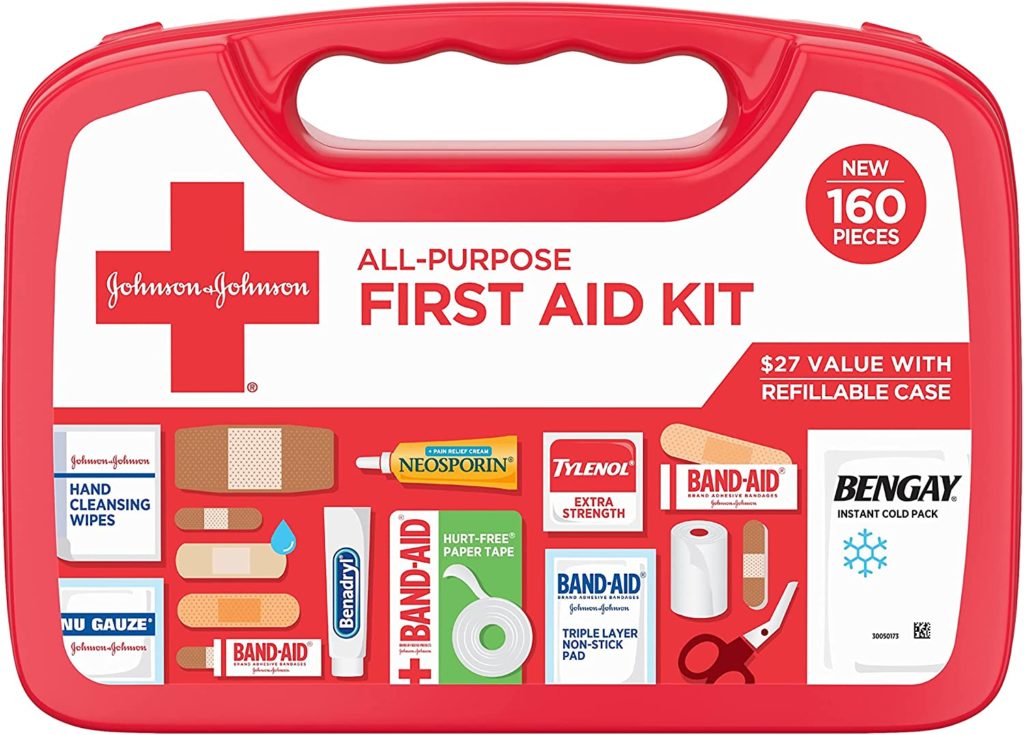 Your kitchen should have:
Metal detectable products
Oven gloves
Cut-resistant gloves
Protective guards
Protective footwear
Anti-slip mats
Safety knives
Suitable knife storage & disposal
Hairnets & beard snoods
Safety glasses
Apron
Kitchen first aid kit
Fire extinguisher
1. Metal detectable products
Designed to minimise the risk of contaminating food products, metal detectable products are an essential in food production spaces. Whether it's your bowls and jugs, cleaning products, or the pens you use to mark dates, metal detectable versions are essential to keep your customers safe, and to maintain health & safety requirements.
2. Oven gloves
This one might seem obvious but it is an essential: oven gloves. Oven gloves protect your hands and arms from burns and bruises when handling equipment that conducts heat (e.g. pots, pans, oven trays).
3. Cut-resistant gloves
Gloves help reduce the risk of contamination between kitchen staff and customers, as well as offer a layer of protection from cuts. For extra sharp knives, cut-resistant gloves should be used.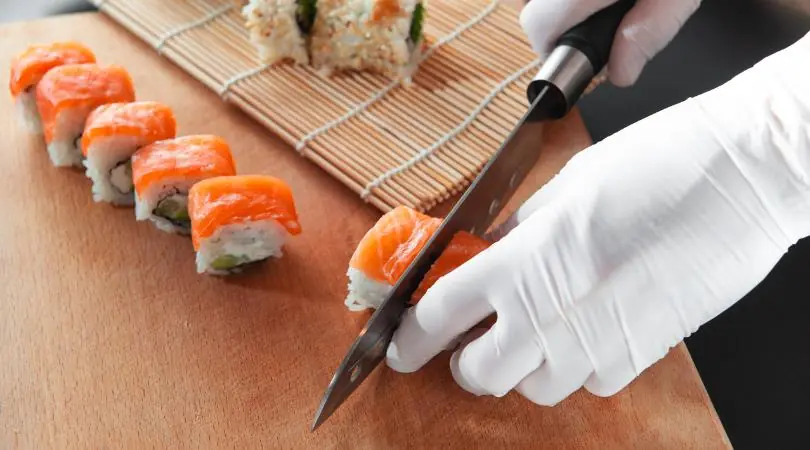 4. Protective guards
A surefire way to further prevent cuts, crushes and burns is with protective guards. These are often built into equipment (e.g. fryer and guard grills), so it is important that employees know how to use and maintain them for optimum protection.
5. Safety knives
If you cut packaging, strapping, cable ties, string or netting on a regular basis, you should use a safety knife. These have a blade suitable for opening boxes, but there is no risk of direct contact.
For regular kitchen knives, make sure all employees know how to use and sharpen one. It might sound counterintuitive, but a sharp knife is safer than a dull one.
6. Suitable knife storage & disposal
Kitchen knives should be stored in a professional knife block or a scabbard. When in motion, knives can also be stowed in a secure belt holster for safe transportation and access.
Although you can dispose of knives in the general waste bin (after it has been blunted and wrapped in protective materials), we recommend a blade disposal bank and/or a used blade disposal container. The disposal box shortens your snap-off blades, and is large enough to store a number of used blades.
7. Protective footwear
Footwear which provides adequate resistance to slipping and protection against penetration from a dropped knife should be worn in the kitchen.
To further prevent slips and trips,
Make sure to mop up spills immediately after they happen. Oil and grease are much harder to mop up, and might require specialist floor cleaner.
Use wet floor signs to alert employees and visitors of spills.
Move trip hazards into appropriate storage.
8. Anti-slip floor mats
To take slip protection to the next level, put anti-fatigue (anti-slip) floor mats in the kitchen. These have wide holes for draining and foot traction, and a grip or suction-backed base to prevent movement.
9. Hairnets & beard snoods
Hairnets and beard snoods ensure that hair does not contaminate food in the kitchen, and that food production is completed in a safe and hygienic manner.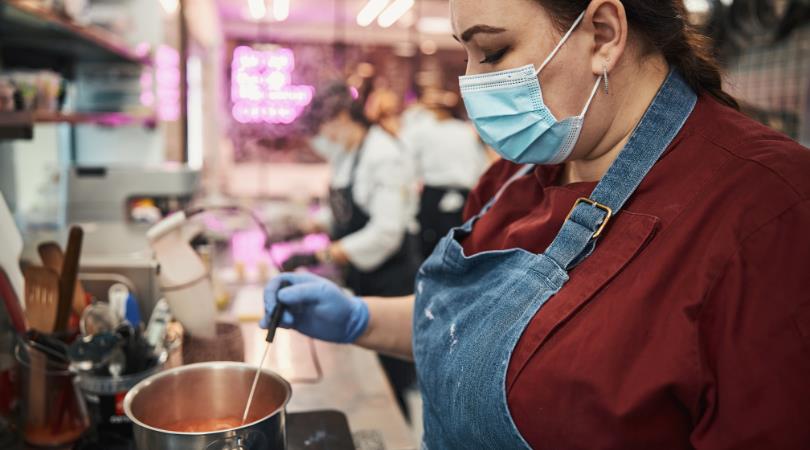 10. Kitchen first aid kit
First aid kits are an essential in all workplaces, to ensure employees receive immediate attention if they are injured or taken ill at work (before medical professionals arrive). A kitchen first aid kit, in particular, should include:
Bandages, plasters & dressings
Sterile eyewash & eye dressings
Burn treatment & dressings
Alcohol-free wipes
Nitrile disposable gloves
Foil blanket
Safety scissors
Safety pins
Resuscitation face shield
11. Safety glasses
Safety glasses help to protect your eyes from accidental splashes of cleaning fluids (or oil) in the kitchen.
12. Apron
Although not a strict essential, using an apron adds an extra layer of protection against hot liquids, foods and equipment.
13. Fire extinguisher
All kitchens should have a fire extinguisher, or a more advanced fire system, in place. There are four classes of fire extinguishers, each designed to put out a different kind of fire. For kitchens, a wet chemical fire extinguisher is a must.
And there you have it — a complete list of the most essential PPE & safety equipment for your kitchen staff.
Written by Holly, for morSafe Supplies.