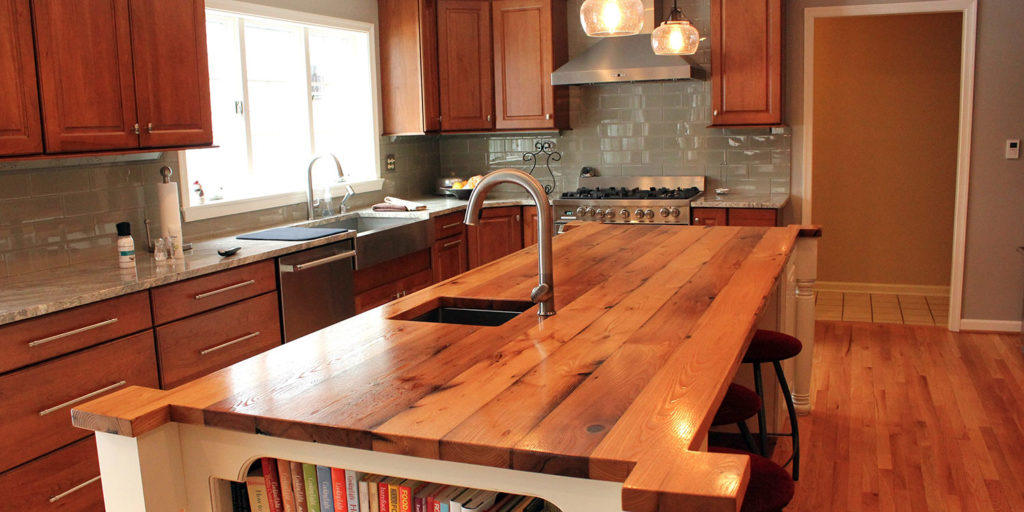 Wood countertops are growing in popularity because:
Wood offers a feeling of warmth and coziness to the atmosphere in the room.
Wood fits in with any decor and offers a nice counterpoint to the metal and stone surfaces present in the kitchen.
Like stone, wood is a natural substance and since no two pieces are the same, every wood countertop is unique.
Since working with wood is easy, wood countertops are available in a large variety of finishes, shapes and designs. Because of this they fit in with any kitchen theme from the traditional to the most modern.
Minor damage to the wood countertops is easily repaired by sanding.
Because wood is not as hard as stone and metal, breakables dropped on it may not shatter.
Types of wood countertops
It is important that the type of wood used matches what the countertop will be used for. Hard woods like maple, oak, beech and teak are best for functional countertops used as butcher blocks or any kind of food preparation or chopping. Softer woods, being easier to work with, are better for decorative applications like kitchen islands where heavy work is not done but the looks and finish are important.
The grain orientation or the way the countertop is made will also affect the looks and the utility of the countertop. There are 2 main ways the wood is used (or oriented) when making countertops.
1. End grain countertops are made by using wooden planks in a vertical position so that the evenly cut ends of these boards, when fitted together, form the work surface. This is how butcher block countertops are made. This method provides for durable heavy duty countertops and is best for cutting and chopping work.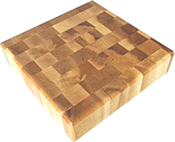 2. In the case of face grain countertops, the planks of wood are fitted together horizontally. This allows the grain of the wood to display and enhances its beauty. This method is best for decorative countertops.

The cost of wood countertops
Wood is generally less expensive than stone and many metal and solid surfaces, but more costly than laminates. The cost of wood depends on factors like the type of wood, the finish applied, the size and design and the manufacturer. Prices generally start from $30 upwards per square foot – and this may or may not include installation costs.
Buying wood countertops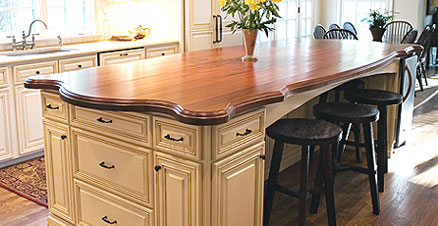 1. Wood is prone to burn, scratch, dent and moisture damage. Therefore you may want to combine wood with other material to make your countertop more practical. The areas that receive the harshest treatment such as the cooking area and the washing area can be made of granite or quartz and the rest can be made of wood.
2. You can either go in for prefabricated countertops which are available in specific sizes, materials and designs or get one custom made to a defined size, with your design and using the wood you want. You will have to send all the specifications to the fabricator who will make the countertop and ship it to you.
3. Keep the cabinetry in mind when choosing a countertop, and ensure that it complements the rest of the kitchen. Use interior design magazines for ideas and if possible, get the advice of an interior designer.
4. Wood countertops when used with hardwood flooring, mantels, cornices and molding add a sense of balance to the kitchen.
5. If you need a butcher block, setting it in another countertop or covering it around an existing countertop, is a good idea.
Installing wood countertops
Because wood expands and contracts it is important that a countertop is fitted by a professional, so there is no later warping or splitting. Often manufacturers will advise that rather than glue, slotted screw holes should be used to fix the countertops since that holds the countertop firm but also allows for expansion.
If the countertop is not perfectly level, uneven tensions can develop, leading to cracking of the wood.
Keep in mind that undermount and country farm sinks are more likely to allow water to fall on the countertop, this can cause damage to the wood, and so self rimming sinks are a better option. And for cooktop cutouts, insulation should be used to dissipate the heat.
Maintaining wood countertops
Wood countertops, and especially butcher blocks which have no protective finish like varnish, lacquer or shellac, need regular maintenance to keep them in good condition and to retain their looks. Normally periodic application of food grade mineral oil is enough to keep the wood from drying and cracking.
Ask the supplier or installer for specific care tips, especially on how to seal the surface. Wood is porous and unless it is sealed, water, chemicals and other substances can seep in and cause damage.
Under normal use, a daily wash with soap and water should be enough to keep the countertop clean.
For wooden counters, make sure to place hot utensils on trivets, use cutting boards and wipe up any spills immediately. With butcher blocks you don't need to be as concerned. You could think of fitting metal heat bars over a part of the surface next to the heat source to function as a permanent trivet.