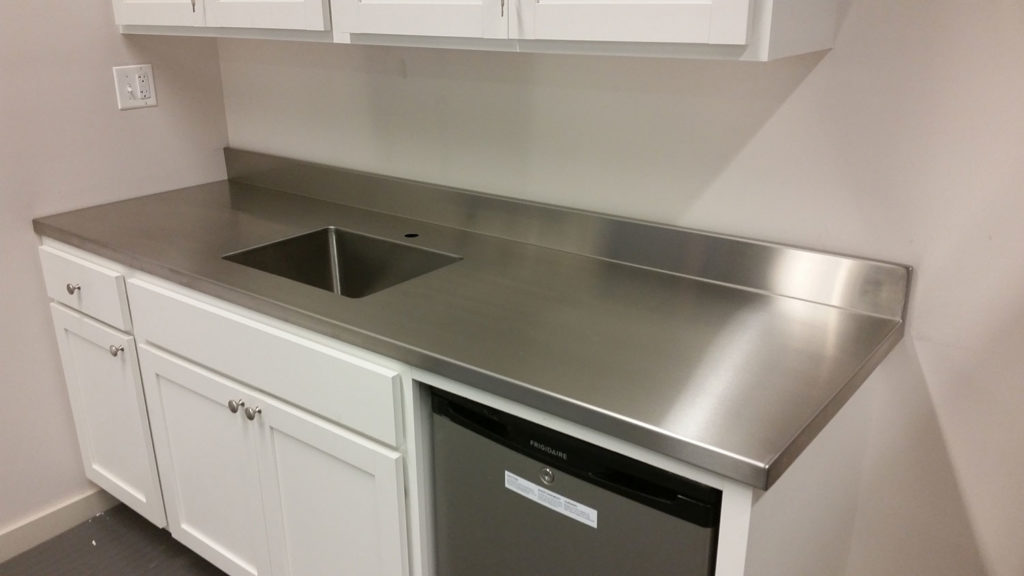 If you have always wanted a sleek and an elegant countertop for your kitchen, try the stainless steel countertops. There's no dearth of choice and you can get them either customized or off the shelf. These countertops are modern and can take a lot of heavy duty pounding. What also works in favor of these countertops is that they don't fade, rust, or chip. Hence it's an economical option.
It's important that you don't spend too much time in cleaning the countertop. Stainless steel countertops are great because they aren't porous and hence the bacteria cannot seep in. This means that your kitchen countertop would always remain hygienic and maintenance isn't an issue. These units have a long-life as they are water-proof and also heat-proof. So you don't have to think twice about how the countertops could become unsafe due to prolonged usage. This is a popular choice as the entire unit is a single piece – the countertop, sink, and backsplash can all be combined and this ensures there're no slips and seams. Thanks to this design, the task of cleaning would be that much less cumbersome.
You should go for stainless steel countertops when your kitchen is tiny and feels like you could do with some more space. Because steel reflects light it would seem like there's extra brightness; the area 'becomes' roomier. If your kitchen is already spacious, you can always do with more room. These days, countertops are available in so many different grains and styles that you would be spoilt for choice. Whatever be the theme of your kitchen and the architectural style, there's a steel countertop just for you.
The only factor that makes people want to rethink about stainless steel countertops is that they have a very industrial feel and don't look very homely. According to some people, they don't exude any warmth. Another more practical consideration is that they tend to be noisy.
How much do stainless steel countertops cost?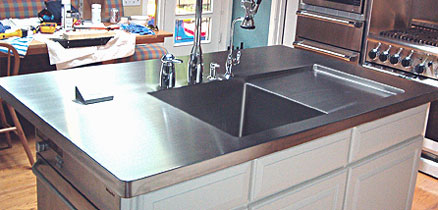 Depending upon the quality of stainless steel, it could cost you $50 and upwards. While some places do include the cost of installation, some places don't. Thus a steel countertop is as expensive as that made of granite or quartz.
What some people do is reduce the "industrial feel" by using stainless steel only for those areas that would see a lot of activity such as the range or around the sink. The rest is done up with laminate or a similar economical option.
The total cost of stainless steel countertops would be determined by the manufacturer, size, design, and how superior the metal is.
What to look out for when getting stainless steel countertops?
If you want a prefabricated steel countertop, then it would save you the hassle of having to put it together. This is cheaper but you wouldn't have much say in its look-and-feel. Alternatively, you could get the unit customized to your specifications. You can get it made just the way you want to, with any modifications or enhancements. This would cost you more than something that's readily available.
Don't compromise on the quality of the steel. You would only end up spending more at a later point of time. A superior grade and gauge means that the countertop would be less prone to staining and rusting. A good way to start off would be to check out stainless steel 304 whose gauge is 18. If you can get 16 gauge it's that much better.
Installation of stainless steel countertops
Even if you have done some woodwork before, it would be wise to hire a contractor who has installed stainless steel countertops before. A sturdy base is a must and you then attach the countertop to this underlying structure. Such an arrangement also minimizes noise. People generally prefer using plywood for the base.
You must ensure that the countertop is installed firmly and is held in place. Otherwise there could be dents and the unit would produce a lot of noise. It's hence advisable to get a professional to install stainless steel countertops.
How to maintain stainless steel countertops?
Don't use harsh chemicals to clean the countertop. You just need mild soap and water. Wipe the countertop dry with a soft cloth. Thus, cleaning stainless steel countertops is very easy and simple.
It could be a little tough to always be careful around this unit. You may not pull utensils and other appliances across the countertop. This could scratch the surface. You must not use the countertop as a cutting board. Remember that a textured finish is ideal to hide minuscule scratches.
You can always ask the manufacturer for tips on how you could maintain your stainless steel countertop and enhance its life.