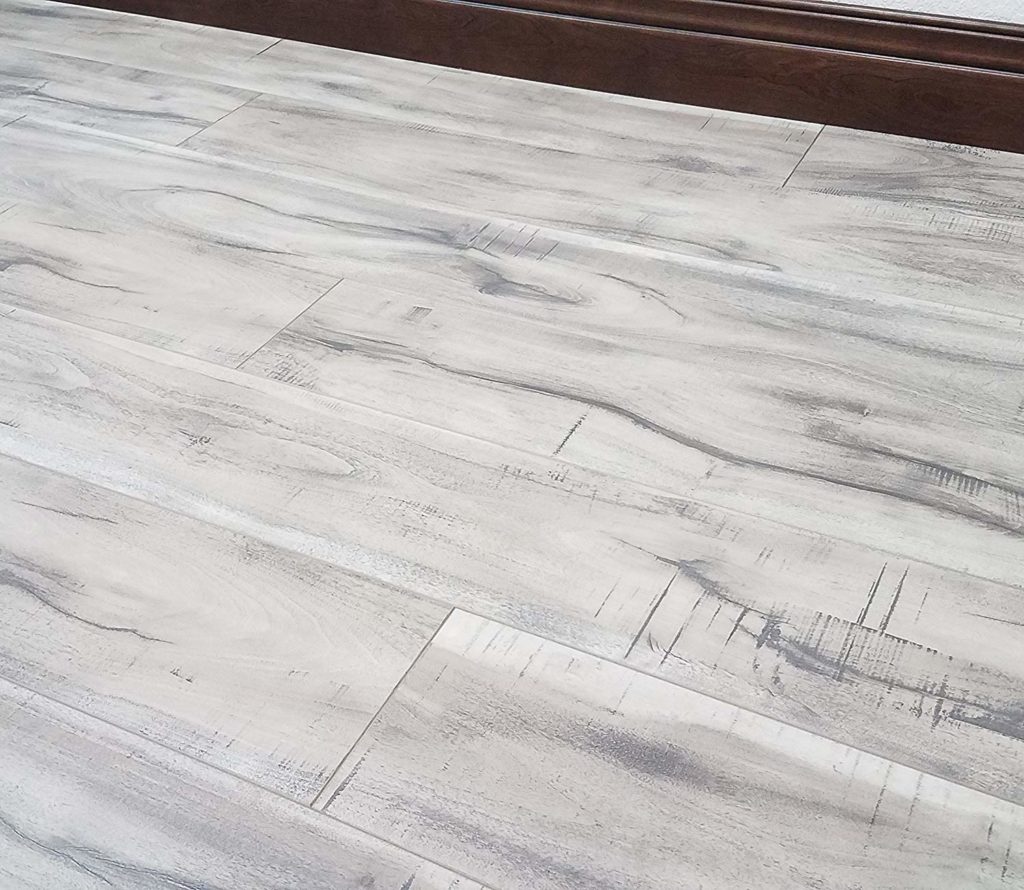 Laminate flooring is becoming increasingly popular for 3 main reasons – it's economical, the ease of installation and its durability. While all three are important, it is the last that becomes especially important, in a high-use, work area like the kitchen.
What laminate flooring offers?
Laminate floorings are among the most economical types of flooring.
High quality laminate floors are water and moisture resistant which makes them ideal for kitchen use. Not only will the laminate floor not warp or crack because of high humidity levels, it is also stain, crack, scratch and fade resistant.
Because laminate flooring is not as hard as stone or ceramics, the chances of plates and glasses breaking, when they are dropped is reduced.
Area to area transitioning is easy because the 7 to 10 mm (about 1/3 inch) thickness of laminate flooring makes it easy to adjoin to other types of flooring.
Laminate flooring is available in a wide range of designs and patterns. It can look like wood, natural stone or a ceramic finish. Laminate floors, offer looks that range from the rustic to the contemporary and sophisticated and since the flooring is available in the form of both planks and tiles, you have even more variety and flexibility in your kitchen décor options.
A few things laminate flooring does not offer
Laminate flooring does not have the same perceived value as natural flooring and does not add value to your home.
Unlike hardwood floors, laminate floors cannot be refinished or recoated.
While the life expectancy of a laminate floor is 15 to 30 years – on par with other manufactured flooring materials, it is less than that of natural materials like, stone and ceramics.
Laminate floors require an underlayment to be used to eliminate the possible "hollow" sound that may otherwise occur when people walk across them.
The cost of a laminate floor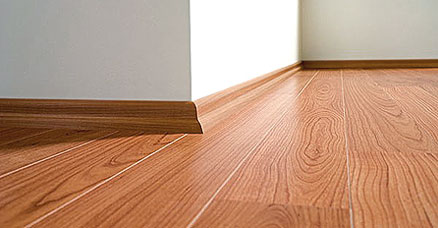 The price of laminate flooring depends on various factors including the quality of the laminate, the design and size and the manufacturer. Prices may also vary depending on location and retailer. Among the best known of laminate flooring manufacturers are Shaw, Mohawk, Pergo, DuPont, Armstrong, Bruce, Mannington, Kronotex, Alloc and Wilsonart.
The price for a laminate floor can start from $3 a square foot upwards, including the underlay. Of course, the more expensive laminates will normally perform better and last longer. Remember that a kitchen is a high traffic area, where moisture is all around and spills and stains are common. It is advisable to get a high quality laminate that will stand up to the heavy use. Top quality laminates usually have wax impregnated edges to prevent water from seeping through to the floor below.
How to buy laminate flooring
1. Get the help, if possible, of an interior decorator to find the right laminate floor for your kitchen's size and décor.
2. If you want to make your kitchen look lighter, or make a small kitchen look larger, use a light colored laminate that will reflect more light and give the feeling of spaciousness. However, make sure that the laminate floor you choose fits into the overall kitchen design.
3. When going to the store carry a floor plan and the measurements with you so that the salespeople can help you with the costing.
4. Look for laminate with higher AC ratings. The AC rating determines the laminate's ability to withstand bumps, scratches, burns and heavy use.
Installing laminate flooring
Laminate planks and tiles usually have grooved and tongue edges that lock with each other. Some laminates simply snap into place while others need to be glued together. The laminate floor is floated over the substrate which is usually plywood, cement or just the existing floor covering. It is not secured directly to the floor below.
While laying a laminate floor is best done by a professional, a competent handyman could also do the job. The floor needs to be cleaned and made as flat and smooth as possible, before the work begins. A thin foam under layer is placed first to reduce the laminate movement and sound. You may also need a damp proof membrane. Always follow the manufacturer's instructions not just for the best fit and finish, but to keep the warranty valid.
Maintaining a laminate floor
Follow the manufacturer's maintenance instructions.
Vacuuming and damp mopping is normally the only daily cleaning you will need.
Wipe up any spills immediately.
Do not use abrasive cleaning products as these can damage the laminate.
How to get the best price on a laminate flooring
BuildDirect appears to be one of the best places to buy the laminate flooring from. Besides the best prices, their customer friendly policies make buying from them a pleasure.