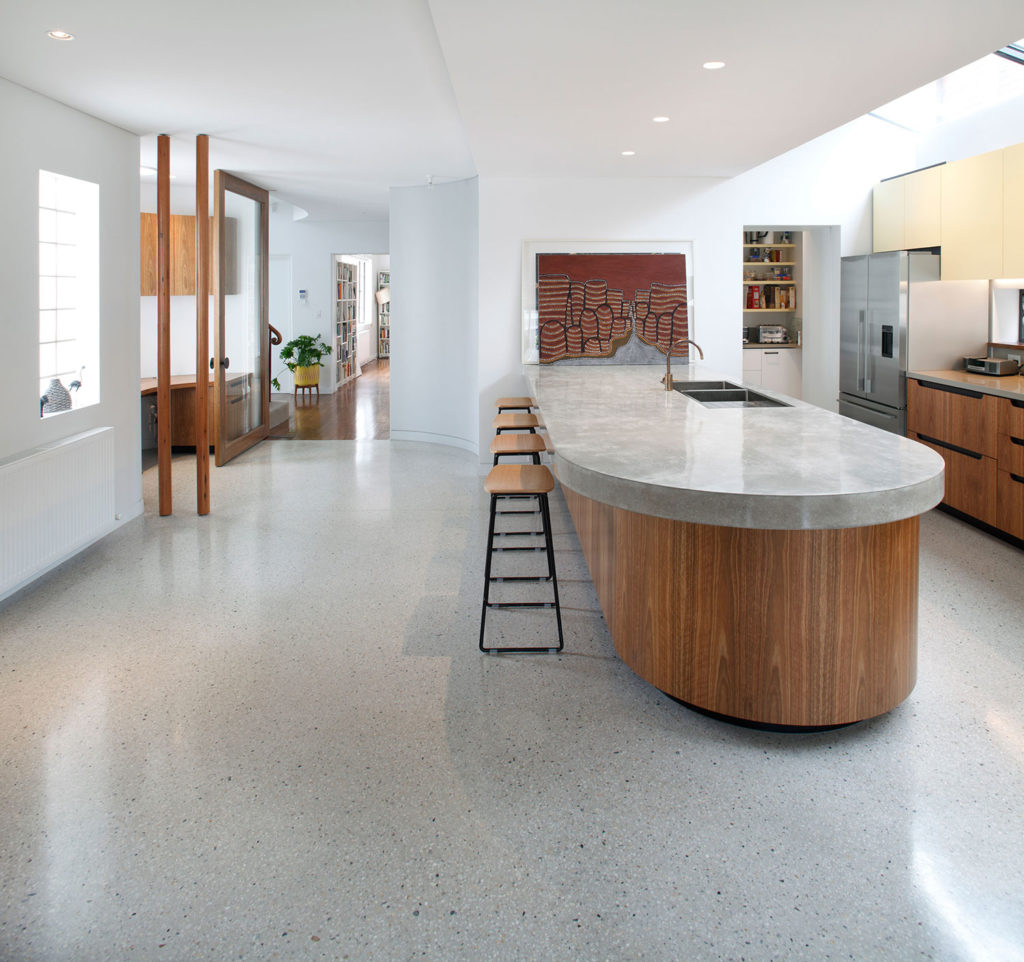 One of the more popular options these days for kitchen flooring is concrete flooring. Whatever the look of your kitchen, this type of flooring would enhance the appeal. Don't think that a concrete floor is uninteresting – you would be amazed at the range of options available. The designs, patterns and hues are all fabulous and concrete flooring is as good as marble or granite. The geometric designs that can be created on such a floor give it a certain zing. You can get a woody or an earthen finish on such floors.
This floor is ideal if you're using solar energy to light up your home. The concrete floor would absorb the heat and keep the room warm during the cooler days. And during summer, if the floor is not exposed to sunlight, it can make the area cool.
Whenever you're opting for any floor, you have to look at the durability and maintenance issues that come with it. With concrete flooring, you don't have to spend extra on a floor cover. Even if you have to replace the floor, you can just get the new flooring and install it over the old one. The maintenance cost involved in concrete flooring is low and you don't have to worry about replacing it often.
If you have a floor heating system, then concrete flooring is great as it ensures that the heat is distributed evenly. Do you have someone in your family who's sensitive to mold or other allergens? Then you must consider getting a concrete floor. Because the kitchen area is more likely to see spills, fires and moisture than any other room in the house, concrete flooring would be ideal as it's resistant to such attacks.
The problem with concrete flooring is that it can be cold during the winter. It also produces a distinct echo. But these are issues that could arise even with natural stone or ceramic tile flooring. Rugs can minimize these problems. You would have to walk carefully as the floor can become slippery when wet. What makes this floor so durable is that it's hard. But this is also why for objects that fall on the concrete floor will probably break.
Cost of concrete flooring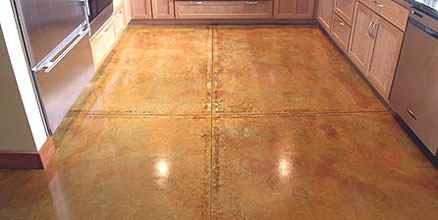 Typically, concrete flooring would cost you between $3 and $15 per square foot. Depending on how intricate you want the design to be and how much creativity is involved, it could cost you more. It's relatively expensive compared to wood laminate, carpeting or vinyl tile, but you can achieve as classy a look as you would in the case of a marble floor. With a good concrete floor artist, you can get a functional and yet elegant flooring. The return on investment of this floor is high.
Tips for buying concrete flooring
1. It's essential to know exactly what you want so you can easily explain your requirements to the flooring professional. An acid-stained or painted floor needs detailed understanding to ensure that the job doesn't go awry. Check out samples of finished flooring to get an idea about the different patterns and shades.
2. Interior design magazines or an interior decorator could help you create the right ambience in your kitchen.
3. The dimension of your room could determine the type of pattern – a bigger design would not look so great in a smaller kitchen and vice versa.
Installation of concrete flooring
In case you have the slightest of doubts about your ability to lay the floor, get a professional to do the job for you. It may cost you a little more than doing it yourself, but you're better off this way as any small mistake you make may go unnoticed until it's too late.
You may have to also get a vapor barrier under the concrete flooring to ensure that the floor doesn't become damaged because of the moisture beneath. A sealer would enhance the durability as the surface is protected from any spillage and staining.
Maintenance of concrete flooring
You would be doing the right thing by doing exactly what the manufacturer asks you to maintain the concrete flooring.
If your floor sees a lot of traffic, it would need to be maintained that much better and more often.
A sealing agent would ensure that the floor is protected against minor accidents such as spills and stains. Regular mopping and sweeping is all that's required.
Floor finish should be applied to the concrete flooring when you think it's losing its shine. This would make the floor appear as good as new.