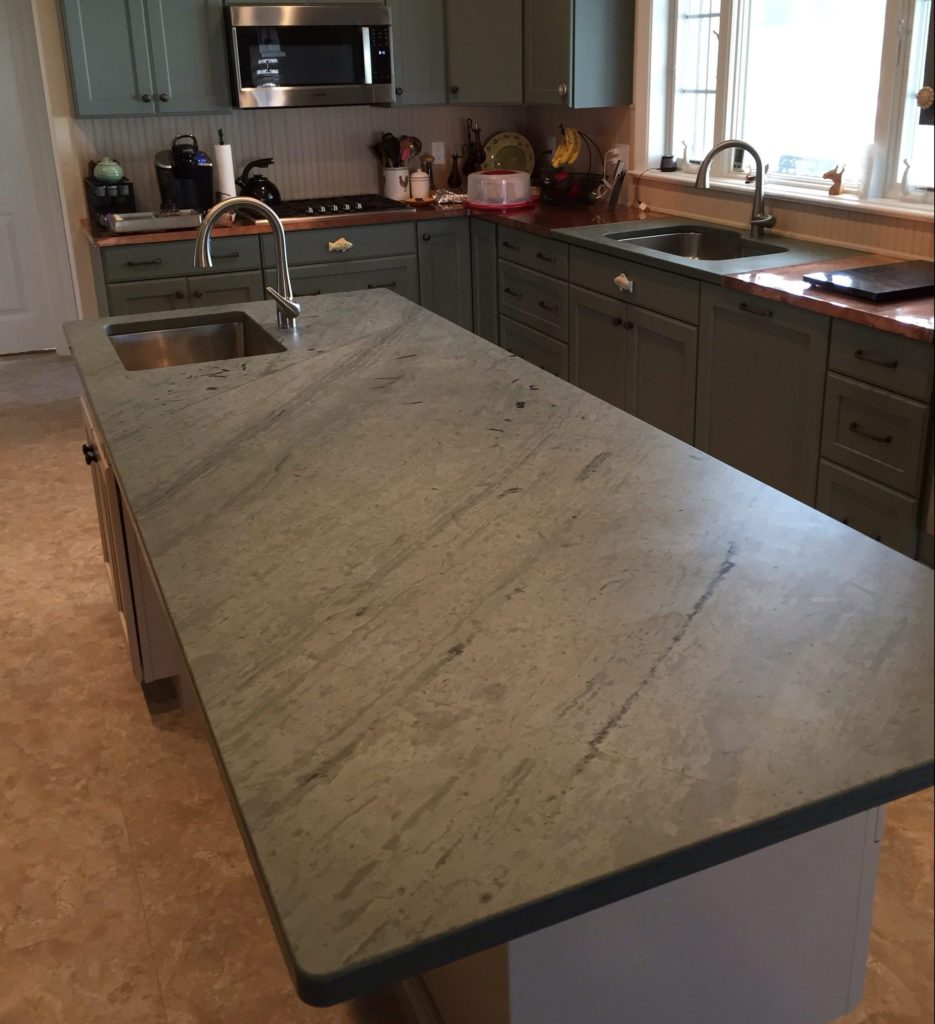 Slate countertops are an excellent choice for anyone's kitchen. They are durable, stain resistant and have a low absorption rate which will help to cut down on the bacterial growth that you usually will find on countertops. Slate has less maintenance than granite or marble; however it is just as durable and has just as much strength as its counterparts. Slate is an excellent choice for countertops and it will also provide that level of style that you are looking for.
Slate is a naturally occurring product that can be found all rather easily. Slate is usually quarried in large slabs which will then be cut down to the size that is needed for the buyer. In the United States, however, typical colors are usually what you will find. If you are looking for more exotic styles and colors of slate, then it will probably have to be shipped in from other countries such as China, Turkey, Pakistan and a number of South American countries.
By choosing slate as your designated material for your countertops, you are pretty much guaranteeing that you will have a unique, one-of-a-kind kitchen or bathroom. With each slab of slate, the pattern and color variations will be different; however, slate will still add the sophisticated and highly sought after feel that everyone is craving. Slate countertops will also add value to your home. Isn't that great? Different finishes are available for your preference, whether it is honed (matte) or polished and with the unique patterns, waves and spots, your countertops will never look more beautiful.
There are a few drawbacks to having slate countertops in your kitchen. Even though slate is highly heat resistant which makes it perfect for the kitchen, it is prone to cracks and splits. When choosing slate as your material, make sure that the edges are rounded, this will help to discourage chipping in your countertops.
Cost of slate countertops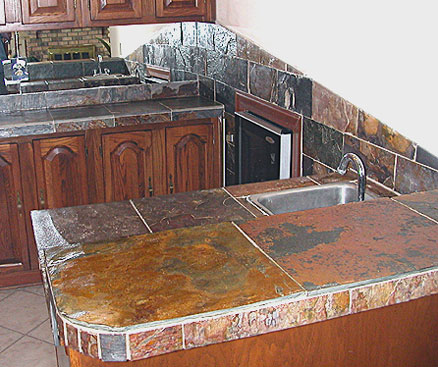 Slate is definitely comparable to granite and marble; however, it tends to be the least expensive out of the three. You can still plan on paying at least $50 per square foot, maybe more, and that doesn't include the cost of installation. Design, movement of colors within the slab, the color and the country of origin all affect the cost of the slate. More rare colors and the fact that some will have to be imported mean that you will pay a higher price. Slate that comes from the United States will end up being less expensive. If the price is still too high for you but you like the look of slate, then another option that you have is to go with slate tiles. The quality is the same, edges can be seen and they tend to be a little harder to clean along the grout lines. Another option is just using the slate slabs around areas that need the extra durability such as the stove and sinks. Then you can use a cheaper material such as laminate for the rest.
Tips for buying slate countertops
Slate slabs come is various sizes and shapes. Remember that they are usually cut to size and are usually thicker than slate tiles. Measure out the length and width that you will need so that you are sure to purchase a slab that will work.
When it comes to the tiles, make sure that the lot numbers are the same on the boxes so that you can pretty much guarantee that the color and patterns will be from the same lot. When purchasing, make sure that you buy a few extra boxes, just in case you need them. It is better to have too much than to have to return to the store to get more only to find out that they are sold out of the lot number that you need.
Another thing that you could do to make sure that everything coordinates, is to enlist the help of an interior designer. They will be able to provide a great viewpoint on whether you want cooler tones or warmer tones and how you can cut costs here and there.
Slate countertops installation and maintenance
Slate can be tricky, especially when you have to cut it. It is expensive, so it will be in your best interest to allow professionals to handle the installation of the slate countertops for you.
Although your slate countertop will require minimal maintenance, make sure you ask your installer for exact maintenance instructions.
Don't forget that you will have to re-seal the countertops on a regular basis. Sealing prevents water and other liquids from entering the pores, as this can lead to staining or roughening of the surface.
Acidic liquids such as vinegar and lemon juice can etch the slate surface, and therefore should be used with care.
Warm soapy water is the best for cleaning slate countertops. Avoid harsh cleaning liquids as they may erode into the surface making it rough.
Although slate is hard, it is not as hard as granite and can be scratched or cracked. Therefore do not drag heavy utensils or appliances across its surface. Also, never cut directly on the surface.