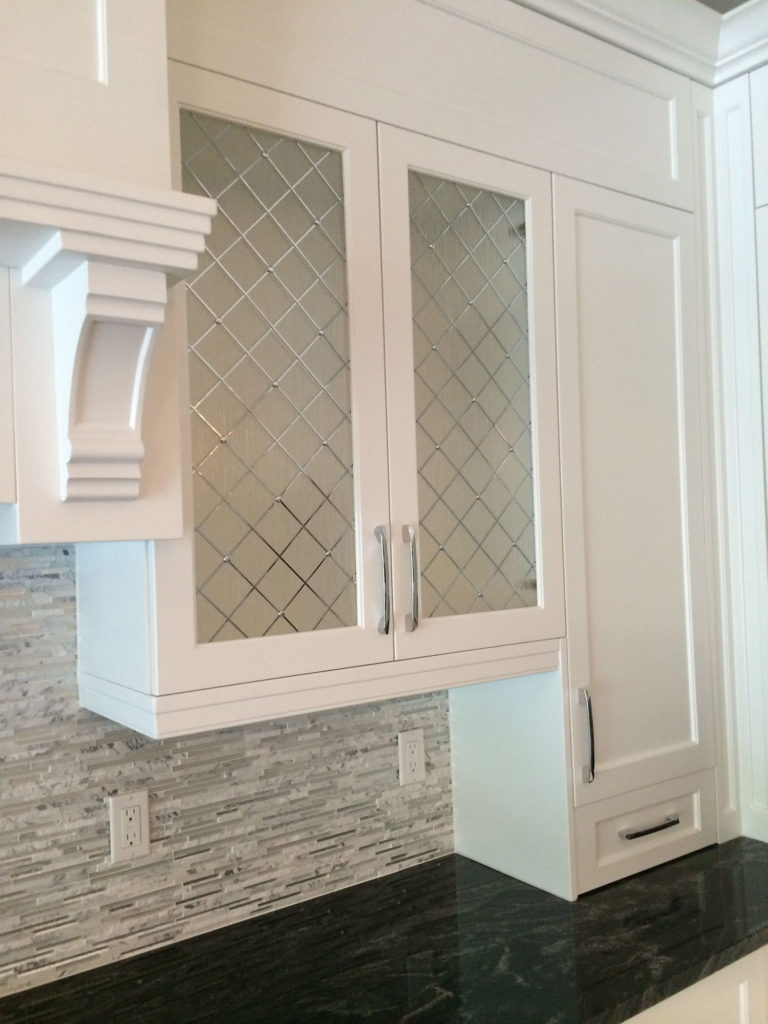 Glass door kitchen cabinets are not only a piece of furniture but a means to enhance the look and value of your kitchen. They are functional and beautiful and add elegance and versatility to the outlook of a home. You may have spent lots of money in decorating the interior of your home, but installing glass kitchen cabinets, which may be a miniscule expense as compared to other household spending, will bring sparkle in the kitchen decor.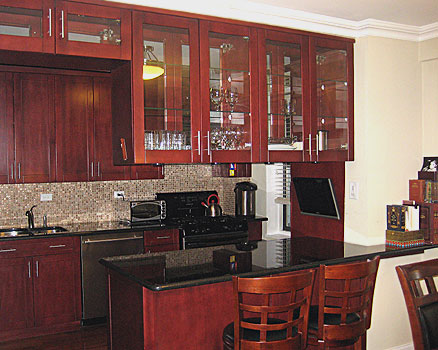 Such kitchen cabinets have doors made of different types of glass — frosted glass, stained glass, lacquered glass and leaded glass — but the frames will be made of wood, metal or plastic. Hardware of glass door kitchen cabinets is user-friendly, strong and compatible to the kitchen and the cabinet itself. But as you decide to buy glass kitchen cabinets, you must have some knowledge about kitchen cabinets with different glass doors. Four types of glass door kitchen cabinets are discussed below:
Frosted glass kitchen cabinets
Frosted glass kitchen cabinets offer an opaque look and finish which can be unique to your kitchen. They provide more open and airy feel and keep the kitchen light and friendly. If you do not want to show all your dishware and appliances, frosted glass kitchen cabinets is a right choice as frosted glass is not transparent and one cannot see what is inside. Fingerprints and smudges will also not be vivid on your kitchen cabinets and your cabinets will look new even after use. Cabinets with frosted glass doors are available in different patterns — both simple and extensive — incorporating various floral or geometric elements. Frosted glass kitchen cabinets are no doubt a perfect choice if you want to brighten up your kitchen and home.
Stained glass kitchen cabinets
Stained glass door kitchen cabinets can incorporate the colors and designs you want to have in your kitchen. Kitchen cabinets with stained glass may include designs with themes drawn from the history and literature, symbolic motifs from arts and sciences and subjects such as flora, fauna and landscape. There are also cabinets with aquatic stained glass, floral stained glass, grapevine stained glass, contemporary stained glass and simple stained glass. Floral stained glass kitchen cabinets add cheerfulness to kitchen outlook. Fish-themed stained glass kitchen cabinetry will be more elegant with kitchen with blue tile floors. Simple kitchen cabinets will have sober white, cream or yellow stained glass.
Lacquered glass kitchen cabinets
Lacquered glass kitchen cabinets are attractive in appearance as they feature a combination of the clarity of glass and the lacquer color, which is far superior to other paints and provides a stunning affect. Kitchen cabinets with lacquered glass look good with frames of materials such as wood and metal. Kitchen cabinets with lacquered glass are also durable compared to cabinets with ordinary glass doors. Cabinets with lacquered glass bring a touch of refinement to kitchen interiors. Lacquered glass kitchen cabinets are suitable for kitchen as lacquer has a resistance to humidity. Lacquered glass kitchen cabinets are also durable as the lacquer applied to the back of the glass protects from damage.
Leaded glass kitchen cabinets
Leaded glass kitchen cabinets are available in classic designs with different textures, shapes and styles. For example, there are leaded glass kitchen cabinets with raindrop textures, hammered, bamboo, marbled, striped and geometric squares. Such kitchen cupboards with lead glass look clear and beveled. Leaded glass doors show the color and the shape of the items inside but not all the fingerprints and smudges as with clear glass doors. Leaded glass kitchen cabinets also offer a prismatic look to the edges and provide a striking look to the kitchen.
Whatever glass door kitchen cabinets you choose, that must be of good quality. If cabinets are of good standard, you will get the value of your money you spend on the glass kitchen cabinets.