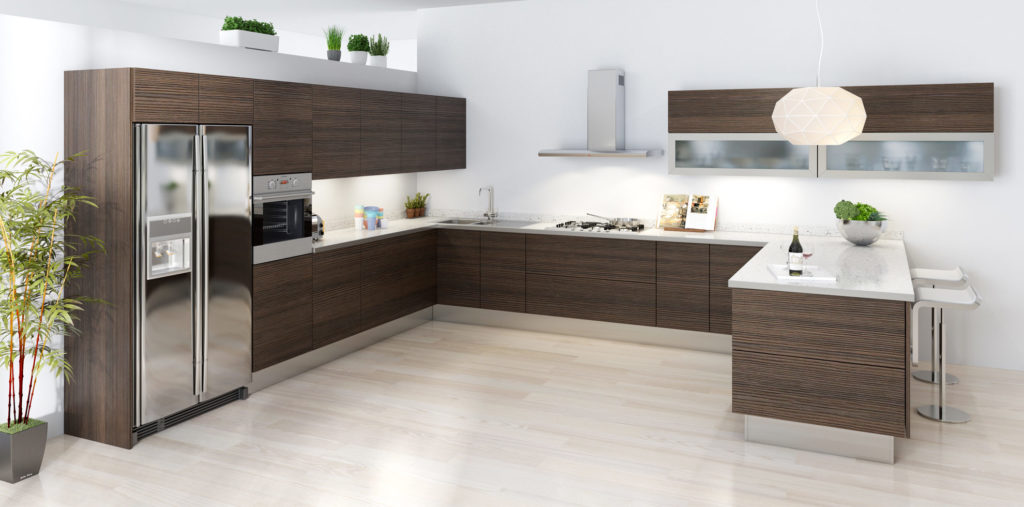 Earlier, kitchens were mainly a place to cook food, but now that is not the norm. Now, it is a place where not only is food cooked but the whole family comes together to enjoy some precious moments in each other's company. It is the area where decisions are taken and activities are planned. The kitchen is a space where you can showcase your style… you can implement a luxury kitchen design which will not only put your personal stamp to the kitchen but would also make cooking fun!
Before you start any kind of renovations, you must give some thought to the three major points: first is the luxury kitchen design – take some time and browse through various sources of information to collect ideas, designs and concepts before zeroing down on one; second is the layout of the kitchen — what you want and what will actually be the most practical and convenient in the given constraints; and third is the style… what is it that you want to convey. After you have made your decision, then there is no stopping… just indulge and splurge to turn your idea of a luxury kitchen design into reality!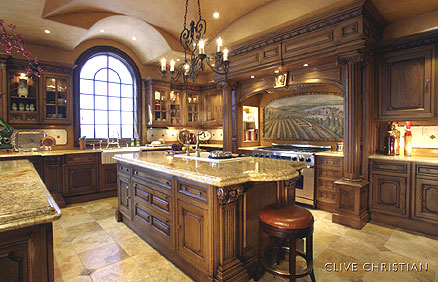 If you are planning to implement a luxury kitchen design, then there are certain items and ideas that would certainly add a lot of class and glamor to the design:
1. If there is anything more luxurious to use in your kitchen than cherry cabinets, you probably could not afford it anyway. It is one of the richest looking of all of the wood choices. Also, with proper care and maintenance, your cherry kitchen cabinets will last a long time and will continue to be gorgeous.
2. A luxury kitchen design is incomplete without high end modern appliances. You can also get your hands on those appliances that are used in restaurants and eating joints!
3. You can also replace your granite countertops with overlays instead. These overlays are kind of a cover made of granite that encompasses the countertop and looks and feels like a granite countertop.
4. You can opt for ceramic tiles instead of marble. These not only look like marble tiles but would save you some cash as well!
5. Instead of getting hardwood flooring, go for laminated wood varieties. Hardwood flooring is not only expensive but is also more difficult to maintain. On the other hand, a high end laminated wood flooring looks just like hardwood, offers more options to choose from, and is fairly low on maintenance. It won't scratch and even if it gets wet, it will still be durable!
6. You can opt for a luxurious sink. These sinks come in a lot of materials – glass, wood, stone, stainless steel, copper. Out of all these, the stone sinks have a lot of variety available and also they are the most durable. Another type of sink that is slowly but steadily climbing the popularity charts is the vessel sink. Unlike normal sinks, they are not placed below the countertop but on top of the counter. They are quite visible and would help you in creating a style statement.
7. For a high end kitchen design, instead of picking up fixtures and faucets off the shelf… go for custom made designs. They would work well in a luxury kitchen and no one would have the same fixtures as you!
8. Use a lot of stainless steel appliances in your luxury kitchen design. Stainless steel is all the rage these days and they also give a modern and sleek look to whole kitchen.
9. As in the case of faucets, so in the case of lighting… instead of picking up something off the shelf, go for custom made fixtures for lighting such as crystal fixtures.
Once properly installed, a kitchen following the high end kitchen design would definitely want you to put on a chef's hat and start making some delicious meals for the whole family. Implementing a luxury kitchen design does involve some splurging but the end result is well worth all the money spent! So, if you want to add some class to your kitchen, use these luxury kitchen design ideas and transform your kitchen into a place of comfort, class and extravagance!