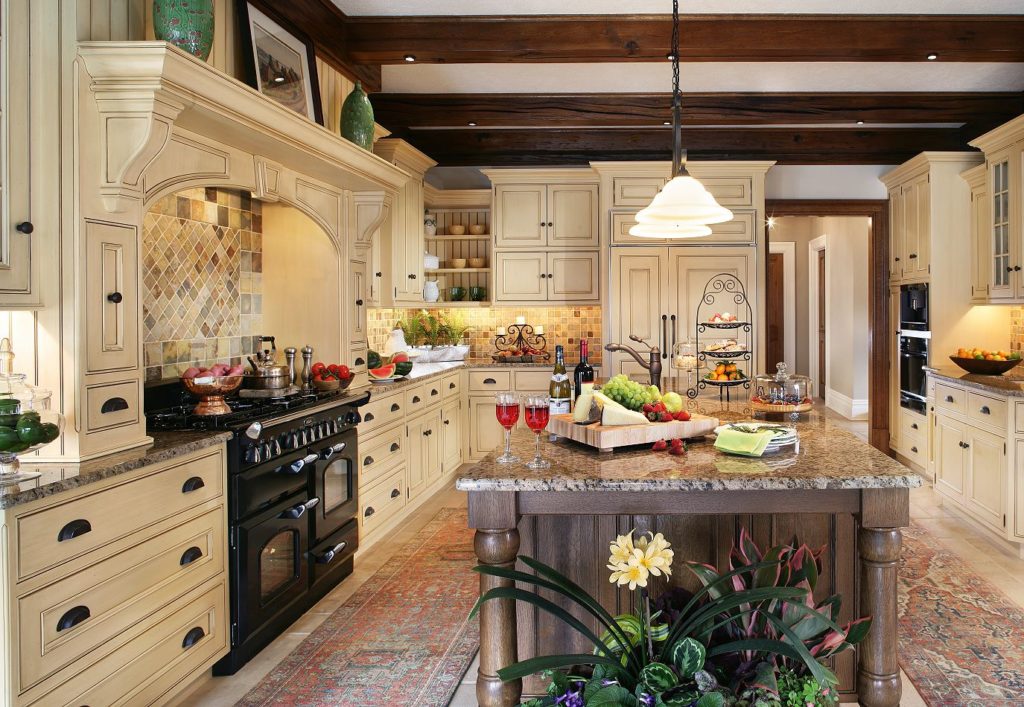 Old is gold, and in some cases truly so. Kitchens being the hub of activity through the day, they ought to have a décor that is inviting, interesting and cozy. No wonder then, that traditional kitchen designs are still quite preferred not only in country side but also in urban cities. Though contemporary kitchen design has its own style and merits, the warmth factor seems amiss in its trendy settings.
With designer kitchens, even the traditional kitchen settings have undergone a change from being boring and bland to warm and classy. Be it its wooden work over the cabinets, dining table set, the pastel color palette, natural lighting or just some small indoor plants for décor, traditional kitchen design is now associated with elegance and class.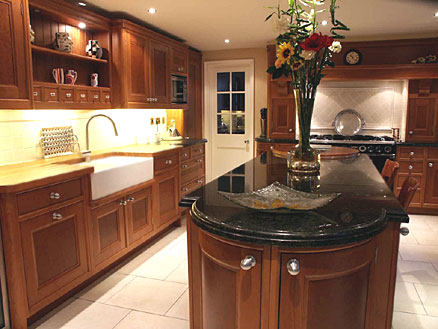 If you decide on a traditional kitchen design, be ready for some kitchenware changes like cabinets, walls, backsplashes and yes, in some cases even flooring (a colorful tiled floor would in no way match your traditional designs). A few turnarounds can give your kitchen that complete early period makeover. Here are some of them:
1. Traditional kitchen designs need to reflect the earlier times. Hence a more natural look should be planned for the cabinets (that show up first as one enters a kitchen), dining table area, backsplash, kitchen walls and the floor.
a) So you could choose brown wood, off-white shades for cabinet doors. Pastel shades on walls, like peach pink, olive green, lime yellow or just off-white can perfectly match these two cabinet colors and should be thoughtfully chosen. Knobs and handles on the cabinets should again be simple yet elegant. No trendy designs. It should rather be antique like a Victorian design on brass or wrought iron etc.
b) Your dining table may be contemporary style and may seem out of place with the traditional setting. But do not worry; you don't have to sell it yet. Just choose table cover set with delicate floral patterns or red checks or just a plain off-white table cover to give that simple and graceful look.
c) While there is little you can do about your kitchen floor (if it is already tiled with a modern design) there are again interesting options you can explore while giving it a natural wood or stone tile look. You can select floor laminates that come in almost every possible floor style. Be it stone, wooden or tile finish, a laminate is easier to cover your existing floor.
For those building their kitchen from scratch, well, you have innumerable options of actual tile, stone or wooden flooring. But a great idea would be to go for simple tiling and use some laminate work as you may change your kitchen design over years to come.
A large rug with period patterns or simple weaves can also create a good old time look. This would especially be a good option for small kitchen where rugs can be comfortably spread in that little space.
2. Backsplash areas may be small but do stand out as the sink area is the next most visible part and is more often than not used by all (putting back dishes etc.). If there is an existing design, it may be tedious to replace the entire thing. You can go for a water proof wall paper cut out to fit that area. Choose simple colors and subtle patterns.
Once the main areas of your kitchen have been given that old world look, go for arrangement changes like setting up dining table near to a large window (if available), keep some indoor plants near the window sill, arrange some bread baskets around the table, weaved vegetable basket around the worktop area, buy some affordable old era earthen pots for your cutlery section display.
Arrange a few small soft and floral design curtains around the cooking area window (if there is one). While not all these settings can be changed, as everyone keeps a budget, you can bring about one or two changes at a time and slowly you may have a complete traditional decor. After all, once you change to a traditional kitchen design, you will have it for many years to come.
New kitchens have an edge over the existing ones as almost everything can be selected around this style. However, if you are giving your kitchen a traditional makeover, you can peacefully choose the above areas for changes and the rest they say would be history!
In the meantime, here is software that would help you realize your traditional kitchen design ideas.