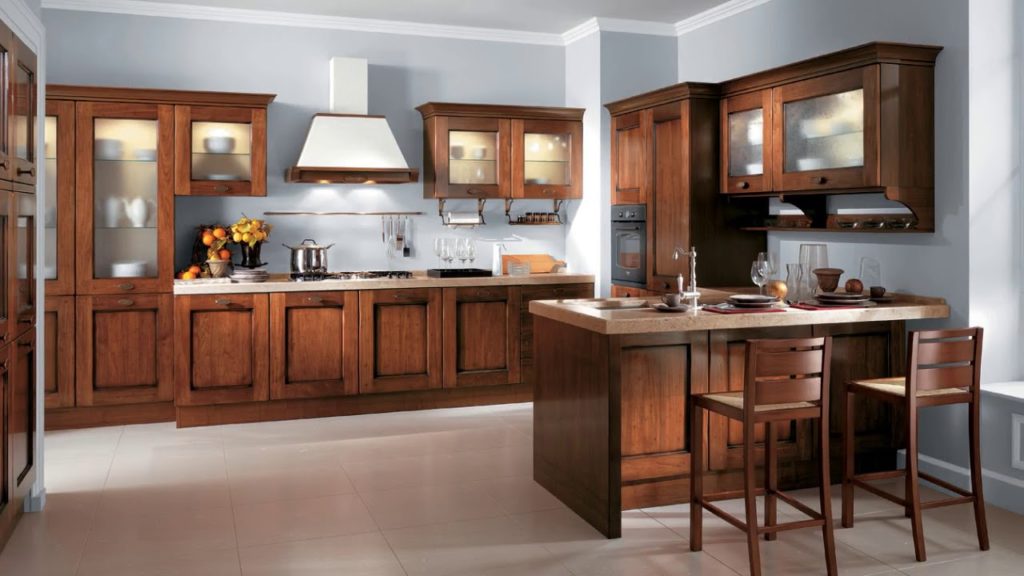 Imagine a seamless space where you can cook, dine, gossip, hang around and yet call it a kitchen? Yes, you can safely delete from your mind the image of a kitchen which was used only for cooking, used to be messy, had storage all around and was not meant for showcasing to your guests. From using the best layouts like U shape, L shape etc., it is now evolving as a special room where you can cook, receive guests and dine – all at the same time.
Why go for open kitchen design
Open kitchen design is fast catching attention with its ability to accommodate kitchenware and dining space and at the same time have a seamless extension into the living room, where you first receive your guests. This is a more comfortable design that allows conversation across the two spaces even as you cook. Whether you have a small space or a large one, open plan kitchen design can be incorporated in both. While a small space may have few seating arrangements for its island or dining space; large kitchen can certainly accommodate a more lavish dining space, not just an island but a complete dining table set.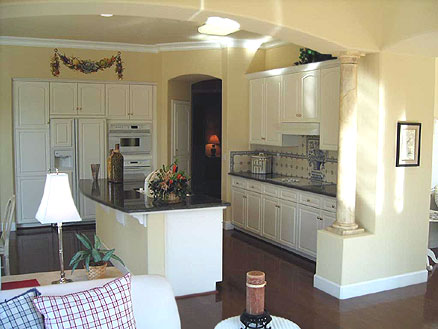 Open kitchen design serves many purposes
An open kitchen design with island is a great idea because it serves multiple purposes:
It serves as a temporary worktop area.
You can create extra storage space by building cabinets in it.
Serves as a dining space.
It can be meticulously used to hide the view of not-so-desirable portion of your kitchen from the living space. For example, you may position it in a way that your cooking area or the sink area is almost hidden by the flower arrangement or cutlery arrangement on the island top.
Organizing an open kitchen design
Small kitchens may not have the luxury of arranging everything in a flow as is the case with large kitchens, but things can certainly be planned for small open kitchen design. Foldable or extendable furniture or even a movable island can be used for dining. Use more of wall rods with hooks to accommodate your kitchenware. However do ensure it does not look over-cluttered. As far as possible, try to fit most of your not-so-pleasing kitchenware inside the cabinets or stack them in cabinets of your movable island. This would give a clean look to your kitchen.
The cooking area and the basin area also need to be kept clean at all times to avoid giving an unkempt look to your living room space. Even the dining area or the island should not be cluttered. Keep simple décor to give a clean look. Remember, an open kitchen design is not just a kitchen, it is an extension of your living room and should sync well with the overall décor and cleanliness.
Lighting and demarcations
Lighting arrangements can also play a significant part in how much of your kitchen is exposed at any time to the living area. During the day of course, there may be little you can hide; but in the evenings, keeping only dining area well lit by lamps can help take off focus from your cooking areas or sink area.
You can also have a variety of floor tile patterns to virtually demarcate end of kitchen, end of dining space etc. with different designs and arrangements of tiles, carpets, rugs or floor laminations.
Design an open kitchen properly
While designing an open kitchen, think of it as just one room with two or three virtual partitions which need different levels of highlighting. Maybe an initial design on paper or online layout will make the picture clearer. Keep the décor in sync so that no one area seems out of place or too stark in contrast. And plan for a simple yet appropriate dining space to suit your requirements.
Open kitchen design is like keeping a beautiful painting or piece of art on display for others to see. And why not, when cooking itself is an art, why not showcase it as one of your masterpieces?
What are your thoughts on open kitchen designs?
Do you have a suggestion or comment about designing an open kitchen? Please share your thoughts with us by filling in the comment form at the bottom of the page.