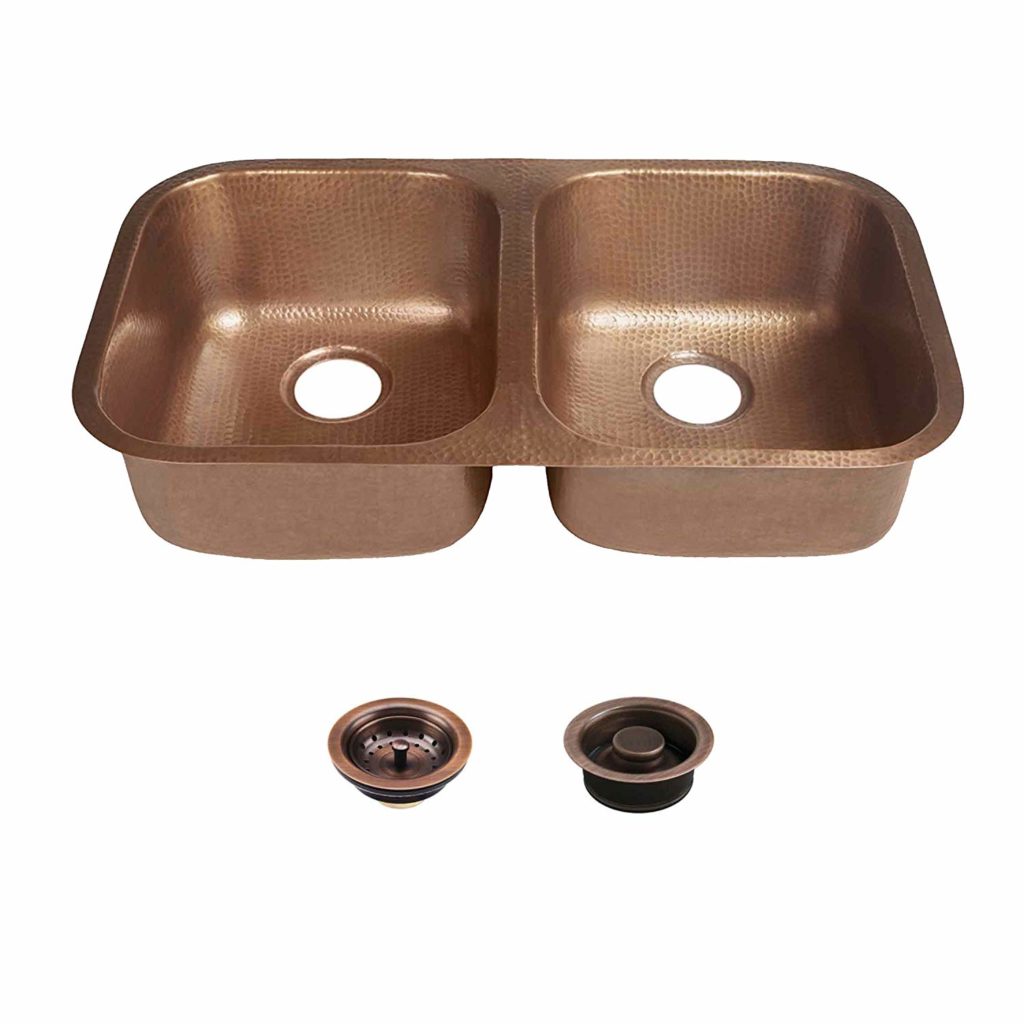 Rustically stylish and elegant, copper kitchen sinks are increasingly being used to increase the glamour quotient of kitchens. Besides their beautiful golden brown color, their texture and (in some cases) a coarse finish is what makes these copper kitchen sinks quite appealing.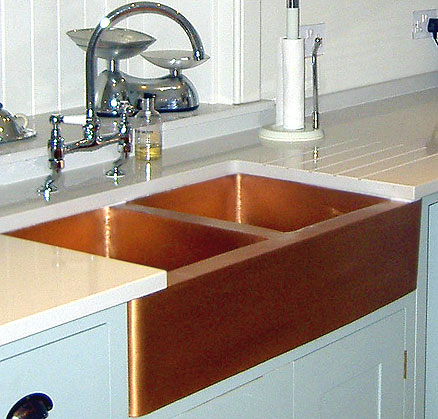 Do copper kitchen sinks make a good choice?
Copper kitchen sinks come in a variety of styles, textures, shapes and sizes. Some are factory finished while many are handmade too. Handmade finish is almost like adding a grand piece of handicraft to your kitchen! Besides, it won't rust or corrode. So you can be assured that water or dampness will not spoil it. It is antimicrobial and doesn't let fungus or mold develop easily.
However, copper kitchen sinks have a tendency to develop 'patina' – a greenish hue due to oxidization. This can be cumbersome to clean (rubbing the surface with a half cut lemon and a pinch of salt) considering high usage of a sink. Scratches develop easily as compared to stainless steel. Hot pots or pans can cause damage to the surface. Besides, it is a little expensive and high on maintenance.
Undermount copper kitchen sinks
Undermount copper kitchen sinks are generally better to install as they not only snuggly fit beneath the upper platform base, but also give a great finish to the entire look of the kitchen. Any water spills on the counter can be easily swept into the sink while keeping the entire counter clean and dry. Undermount copper kitchen sinks are generally lighter in weight, but would certainly require a careful installation to avoid a fall or leakage. The clamping or epoxy should be firm and tight to avoid the caulking from pulling off. It is best to consult with your hardware shop if you go DIY. Otherwise, a plumber can do it best.
Hammered copper kitchen sinks
Hammered copper kitchen sinks are a beauty – they add a rustic charm to your kitchen, just as in old era homes. It is a complete artwork (in terms of the rigorous process followed to make a single piece). Hammered copper kitchen sinks are made from traditional bonfire process which ensures the matte finish and golden brownish color. Hammered copper kitchen sinks are available in circular, rectangular and oval shapes along with self-rimming or under mounting options.
Copper farmhouse kitchen sinks
Copper farmhouse kitchen sinks are large, huge and spacious. Generally rectangular in shape, they are available in single or double bowl capacities. Beautifully crafted copper farmhouse kitchen sinks provide a rare combination of capacity, size, ease and style – all in one. Copper being anti-microbial ensures a clean surface despite the everyday wear and tear. Farmhouse kitchen sinks have an advantage of appearance, which allows them to be undermount with its front side exposed. This adds style and makes your copper farmhouse kitchen sink a showpiece rather than just another sink.
Copper apron sinks
Copper apron sinks are just another name for farmhouse kitchen sinks. With their country side appearance and large capacities, they are a deal to steal. Copper apron sinks are available with intricate and delicate designs on the front (the front side that is exposed) to enhance the look of your kitchen. They are available in thick rims to keep water from spilling out. So you can easily combine strong functionality and royal style with one of these copper apron sinks.
Though price of copper kitchen sinks is certainly higher than that of other sinks like stainless steel or porcelain sinks, you can be assured of a sturdy performance and elegant compliments for a long time to come. Both small and large kitchens can be adorned with suitable sized copper kitchen sinks, which will not only provide the functionality but also enhance the overall look of your favorite corner in your home.
Click here for the best deals on copper kitchen sinks
#CommissionsEarned