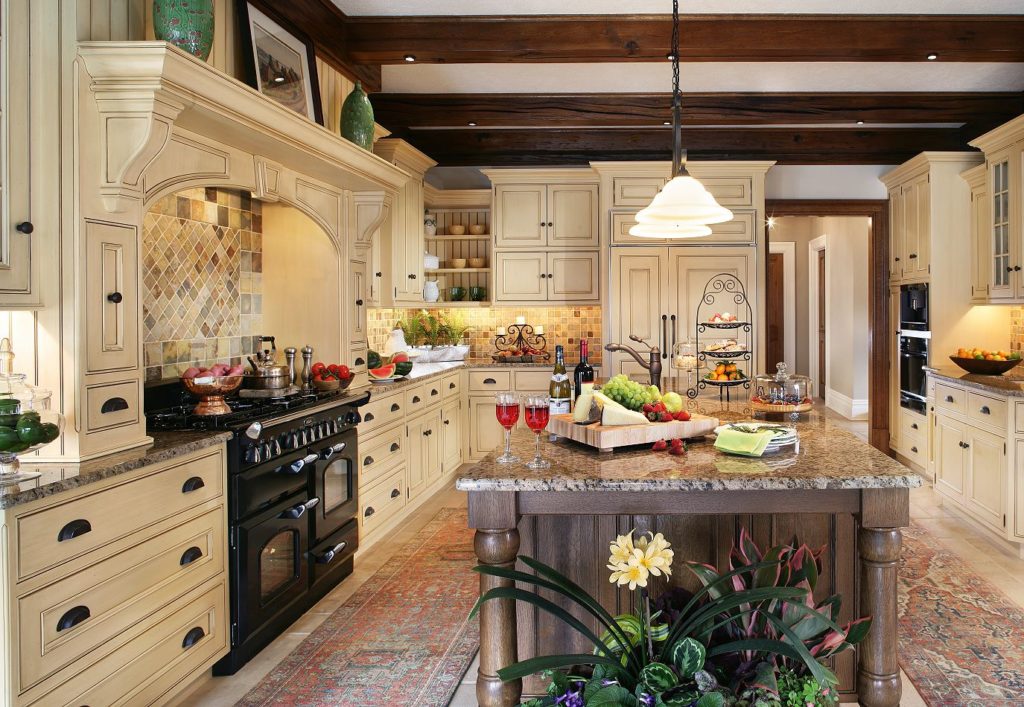 This is a guest post by Angelita Williams. If you want to guest post on this blog, check out the guidelines here.
If you've ever wanted to do something special with your kitchen but really don't know what to do or how to make the place come alive, a great starting point might actually reside with your TV. There are numerous great shows designed to give consumers some insight to what the latest trends in kitchen remodeling are and how to make your dream kitchen manifest to reality while maintaining your set budget. That said, below are our five favorites. While some may be older than others (some even in syndication) they are all great sources to turn to for some much needed inspiration. * The shows featured below are in no particular order.
1. Spice Up Your Kitchen
Channel: HGTV
Regular programming: Varies
This syndicated show might've met its end in 2009, but the way host and designer Lauren Lake transforms some of the featured kitchens can still excel some of the most outdated homeowners' kitchens well into the future. Like all the shows featured on this list, Spice Up Your Kitchen is dedicated to taking dull, lifeless and dysfunctional kitchens and turn them into something appetizing by adding some "spice". In each episode, the homeowner is given two design plans; both naturally meet the set budget and desired elements the homeowner wants. The homeowner then chooses the design plan he or she prefers.
2. Bang For Your Buck
Channel: HGTV
Regular programming: Saturdays 3PM/2C
This show doesn't only focus on kitchens (it branches out to other rooms in the house too) but kitchens are in fact a really popular room to tackle on the show. Bang For Your Buck is an excellent way to demonstrate that sometimes cheap items can have the same look and feel as costly items too. In every episode, three eager couples ready to renovate the same room in each respected home is given the same set budget. Experts then come in and appraise each newly renovated room, deciding which room has a higher value and which couple made the best investment decisions.
3. Run My Renovation
Channel: DIY Network
Regular programming: Wednesdays 10:30/9:30C
Run My Renovation is a really unique show because it actually asks for online viewer's participation in each episode. Viewers vote on what renovations they would like to see completed in a chosen room—from lightening fixtures to door handles—and a contractor and interior designer then makes it happen. Like the show mentioned above, it doesn't only focus on kitchens but they are usually the front runner.
4. Worst Kitchen In America
Channel: DIY Network
Regular programming: Varies
Ok, so this one isn't a real show, it's just an annual special program, but it's still super cool—it takes months-worth of time trying to find the worst kitchen in America and then remodels it all in a neat and compact one hour special. For Worst Kitchen In America 2012, producers looked through more than 20,000 applications until they found the absolute worst. Not only do they give the homeowner's kitchen a complete facelift, but also give cooking tips. While you can still catch the episode on the DIY network channel, times vary so it might just be easier to watch the episode online here. Last year's contestants are featured as well.
5. I Hate My Kitchen
Channel: DIY Network
Regular programming: Tuesdays, 10PM/9C
Lastly, I Hate My Kitchen, which is also featured on the DIY network channel, is a great show that demonstrates that you can still have a beautiful kitchen and use new, innovative designs and tools without breaking the break or for the most part, the need for demolition. Some of the kitchens featured are in such bad shape that they actually cause conflict within marriages.
It's a great show to watch so make sure to tune in every Tuesday.