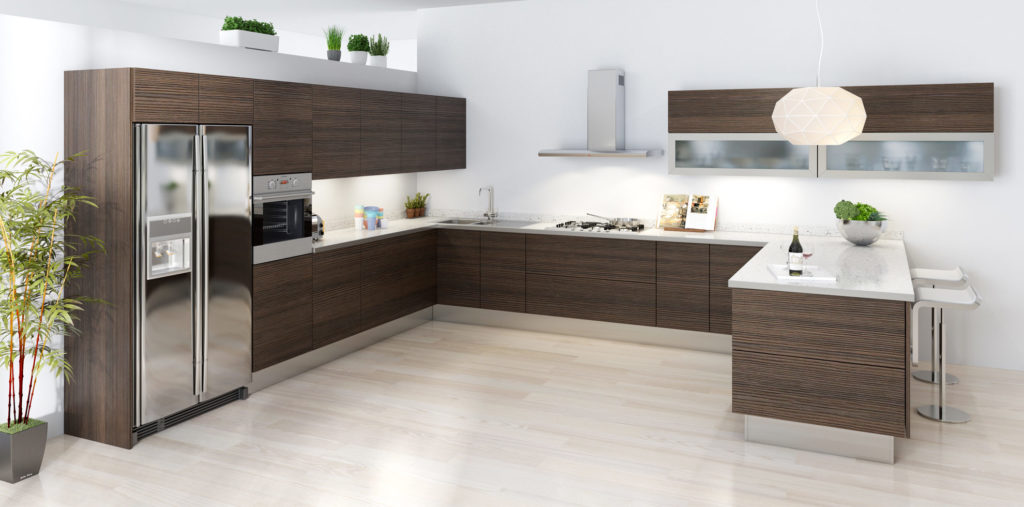 This is a guest post by George Robinson Kitchens. If you want to guest post on this blog, check out the guidelines here.
When designing and planning a new kitchen for your home there are numerous choices to be made to achieve the look you are aiming for. Solid wood has always been the most traditional choice of material for use in kitchen cabinetry and furniture, but there is nothing to stop you considering other alternatives.
Other options include particleboard, stainless steel and polymer. But what are the pros and cons of each of them?
Solid wood
A quality solid wood kitchen costs more than your standard off the shelf kitchens, which are typically built from MDF or particleboard but this additional cost, is offset by the longevity of the material. Solid wood is a versatile, sustainable material that can be manipulated in many ways to achieve a multitude of different looks. Those who find the appearance of wooden cabinets too dated for contemporary interior design can opt for a painted finish of a colour of their choice.
Using a bespoke cabinetmaker or kitchen company you can design a unique, one off kitchen that will last for years and can easily be repaired or changed i.e. repainted, sanded or stained over time should you decide you want to change the look of the space.
Particleboard
The development of particleboards created a wide range of mass produced, sheet materials including MDF and chipboard that were more affordable than solid wood and from the 1950's until now, this less expensive material has been the number one choice for kitchen cabinets in the majority of homes.
In terms of cost, this is certainly the cheapest available option and for this reason it is used to produce all of the off the shelf kitchens you can purchase from the usual kitchen retailers. But the quality of this material varies depending on the type of chemicals and resins used in the panel production and the quality of the protective finish on any end product.
It is not uncommon to see sagging in shelving where this type of material is used and it is certainly fair to say that if you are looking for a durable kitchen that will be hardwearing, you are barking up the wrong tree with this material. When damaged, it can be difficult and in some cases impossible to repair, particularly if it becomes waterlogged.
In addition to issues concerning its longevity, an off the shelf 'standard' kitchen lacks originality and flair not to mention the overly artificial feel of the materials.
Stainless steel
This is the material used in commercial kitchens as its non-porous surface means it is hygienic and easy to clean. In recent years however, this material has become far more popular in residential settings as a contemporary and stylish alternative to wood. You can choose from a range of standard sized units or use freestanding equipment, designed for use in restaurants, providing you have the space, as it is possible to create a functional and attractive design.
Cost wise, stainless steel cabinets tend to be more expensive than a solid wood alternative so the only way to use this material on a budget would be to purchase 'pre loved' equipment.
Stainless steel is a quality material that provides durability and will not rust or warp in humid conditions. This choice gives you the opportunity to create a unique kitchen and the cool silver tone can work extremely well in modern interior design.
A major downside for some people can be the fact that unless polished off, the surface shows up smudges and fingerprints and over time scratches will appear. Others actually prefer the look of the stainless steel surface once it has 'worn in' a little.
Polymer
If you are looking for something entirely different, polymer might be the one for you. This is a high density plastic and not a material you will see in many kitchens! It is typically used in an outdoor environment, as it is waterproof, weatherproof and extremely durable.
Of course this is not a cheap option to consider, as it is not a material typically used in a residential setting. But the knowledge that a polymer kitchen is capable of handling practically anything you throw at it makes it a great choice if you are looking for high quality and durability and the appearance of the polymer is right for the design of your project.
So, which material?
It is ultimately up to you to choose the ideal material for your kitchen based on your personal criteria, your budget and the design you aim to achieve. Each material offers something distinctive whether it is be aesthetically; price wise; its versatility or sheer originality.
One thing well worth doing before you make your decision is to try to see the different materials in action – in real kitchens.
Last but by no means least, you should consider the environmental price of your kitchen material. If you are keen to minimise your carbon print and use the most environmentally friendly choice available, then solid wood from sustainable sources is the winner by some way. Sadly for many people considering the environmental impact is not a consideration that will worry them but if you are concerned then talk to your kitchen designer or company about this and they will be able to advise you further.
Whichever material you opt for in the end, be sure to choose one you know that you will love for many years to come. Take your time, do your homework and then enjoy your new kitchen!
George Robinson Kitchens are a UK based company who have been involved in the design and production of Kitchen Furniture for over 20 years. George Robinson Kitchens are the natural choice in helping you plan and create your beautiful and functional Living Environment.