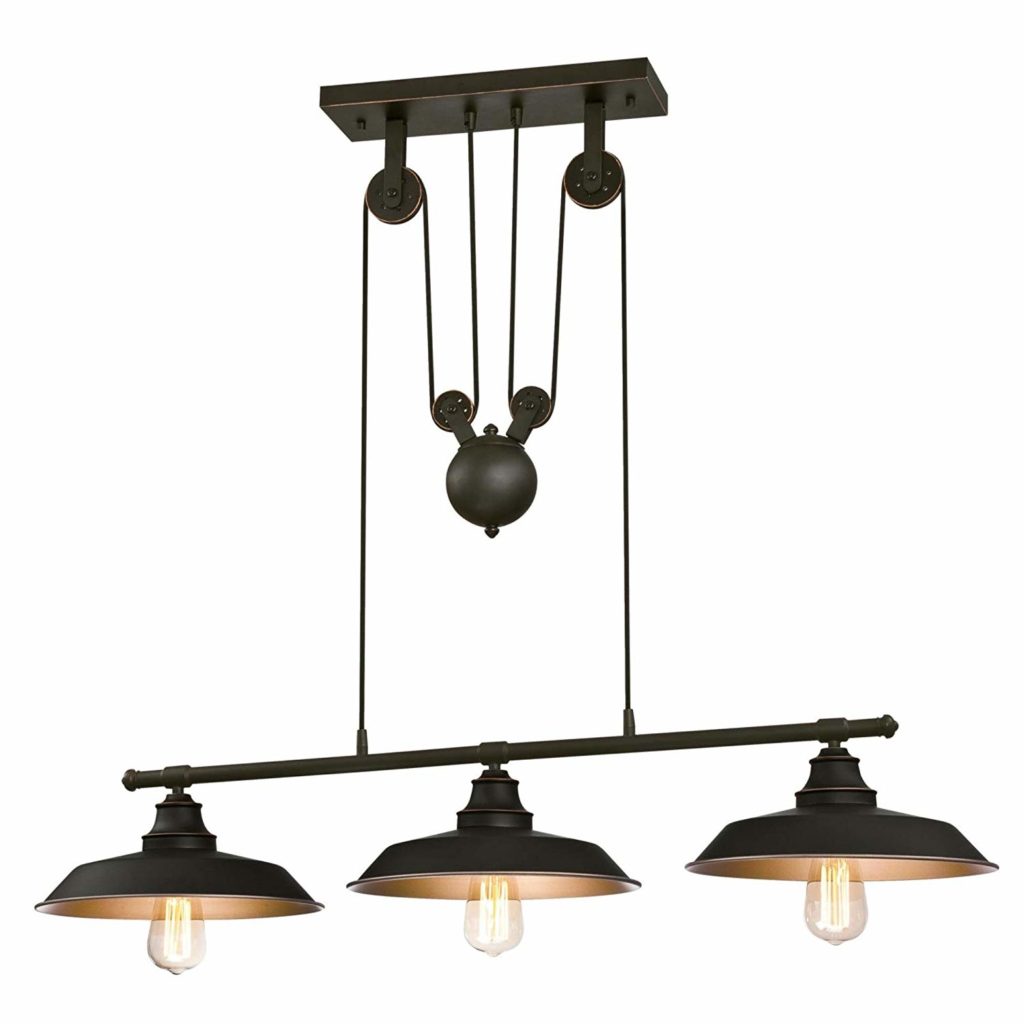 Do you ever wonder why hotels and fine dining restaurants seem more extravagant, soothing, and more comfortable than a fast-food joint? Well, apart from the food and the way furniture are set up, the big difference can be attributed to lighting elements. Try coming to a restaurant hours before opening; with all the white lights on, and you will be surprised to see that it is probably not as special and as swanky-looking as you may have thought.
When visualizing kitchens, the first thing that comes to mind are kitchen cabinets and appliances; lighting fixtures are later discussed. Some people think that luminaries are just secondary elements that can be put off at a later time. This is where people commit one of the biggest mistakes in home ownership. Most fail to see lighting as a vital and inexpensive tool that can dramatically transform any room into something that is visually impactful, cozy, and an image of perfection – much like what you see in catalogues. If you think having such a look may be far-fetched, think again. This also hides some 'imperfections' in the kitchen, making it appear spotless and picture-perfect.
If you must choose lighting fixtures, opt for types which allow you to balance function and design whilst maintaining a budget. This way, it satisfies your need for lighting without causing you to blow two-month's grocery budget. A carefully thought-out kitchen lighting plan can also help reduce utility bills, which is what every family wants in a down economy. Check out these lucky 7 ideas for inspiration and light up in style.
1. Natural lighting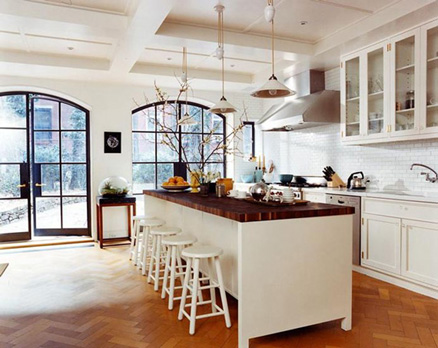 No doubt the cheapest form of lighting system, sun shining in on your kitchen can save you a lot of money in utility bills. Consider wider windows and open them up during the day or install full-length glass ones that let you enjoy the sun's glory through your kitchen. This way, you will only need to open very few artificial lights during the day. That is instantly cutting your bills in half!
2. Contemporary task lights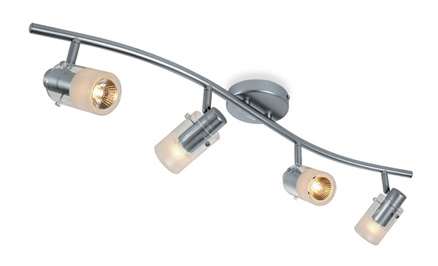 These are perfect for illuminating kitchen islands which is extremely important when you are dealing with sharp knives. Having sufficient light is also essential in making sure that the food you are preparing is in its best form – visually appealing and more importantly, free from contamination and other deterrents. There are lots of options and styles available, and they need not be expensive. You can go for aluminum pendant lights, wall-mounted, or clip-corded chrome types if your kitchen theme is contemporary. Swing task lamps are also an ideal choice since they are very versatile; you can adjust and swivel to the area where you need it. These blend well with your stainless fixtures or appliances and chrome cabinet hardware. If you are sporting a traditional theme, opt for multi-dimensional chandeliers.
3. Thrifty nifty chandeliers
Chandeliers provide a dramatic and ambient lighting that makes any kitchen look elegantly pleasant. The disadvantage though is that it is expensive… that is if you do not know where to look. Gone were the days when the only way to score a handsome chandelier is through a specialty lighting shop, which meant that you must be willing to shell out serious dough for it. Now, people are more street smart in their choices, tying value, style and function. As a result, they shop for second-hand chandeliers at thrift shops, vintage stores, and online auctions as options, apart from the usual home depot and lighting stores. You will be surprised at how much "wealth" you can find at these places. With all these options available, it is going to be one exciting hunt for that perfect chandelier to light up your kitchen.
4. Multi-dimensional lighting
We're going to emphasize once again the need to plan out everything before execution. There is more to designing a room than just layout and décor. Add depth and drama to your room by layering and having multi-switching options. This means that you have the option to have some lights open and the others closed depending on your need and preference. Too many lighting fixtures in your kitchen could mean huge costs in utility and wiring bills. However, multi-dimensional lighting solves that by balancing form and function. It also saves you from installing two or three separate lighting fixtures that can be costly in the long run. This option saves you energy and electricity costs because you have the ability to control and use what you only need. The market has caught on, and you'll see an array of affordable multi-functional lighting in one fixture at home depots, Ikea, and online stores.
5. Stick-on or plug-in lights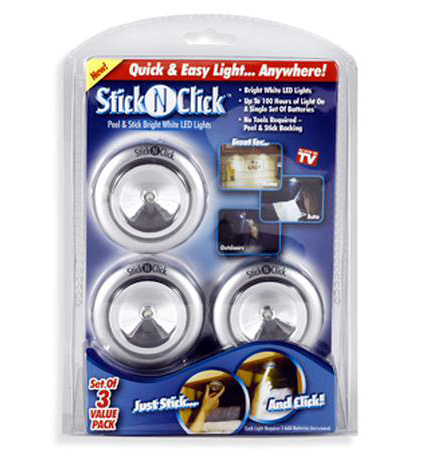 Peel off the backing and install the lights where you want it. If you've got plug-ins, all you need to do is find a socket and turn on the device. It's as easy as that. These handy devices are perfect if you're the type who wants to move things around a lot. You can place it anywhere in the kitchen without worrying about wiring since they can come off anytime. Install them under cupboards, inside drawers and shelves, or on kitchen counters. Plus, it's pretty cheap too. At $10 per pack of three, this is one handy device you can afford to stock more of.
6. LED tape lights and fixtures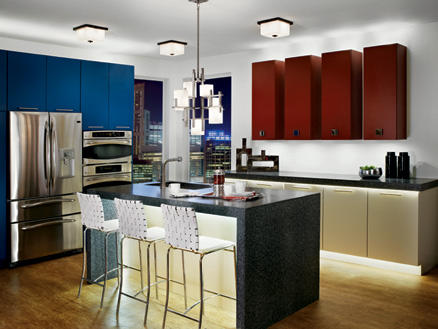 Midnight snack will no longer mean bumps and bruises from stumbling and tripping in your poorly-lit kitchen. There is now an affordable way to create ambient lighting without waking your whole household. Very flexible, easy to install and unobtrusively safe, you can use this to light up hallways or as under-cabinet lights. This stretch of light has cool hues compared to regular incandescent, perfect if you just need gentle lighting.
While they may cost a bit more than your traditional bulbs, LEDs give more value for money in the long run. When you think of the utility bills you'll be saving with these, you'll realize that you'll be getting more than what you paid for. LED lighting can last you seven years of "continuous service", a bargain at $25-$40 price tag.
7. Candle, single or lots of it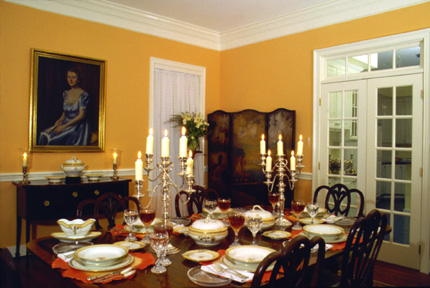 When you think of ambient lighting, why go so far as to install electric wires when you can have candles light up your kitchen mood. A single candle is perfect for quiet nights with just two people dining which is romantic and earth-friendly. But if you want to impress guests, install a tray chandelier and place lots of candles on it. It's cheap but highly dramatic, trust me.
If you're in the midst of kitchen remodeling, we recommend that you include lighting fixtures, not as an afterthought. Move it up on the priority grid. Because most lighting fixtures require complex installation with all the electrical wirings needed, it should be architecturally structured the same way as you think of your kitchen cabinets. Once you include kitchen lighting fixtures in the initial thought process, you have more time and the chance to think of both its function and style contribution to your kitchen. As the saying goes, "light up my world" can set a whole new meaning to your kitchen.
Marie Christine Sing-Umali is a blogger and home improvement enthusiast working for Kitchen Cabinet Kings, a leading online distributor of discount bathroom and kitchen cabinets nationwide. Kitchen Cabinet Kings offers RTA Kitchen Cabinets at affordable prices. Claim your free kitchen design service, discounts and know more about financing options by visiting their website.