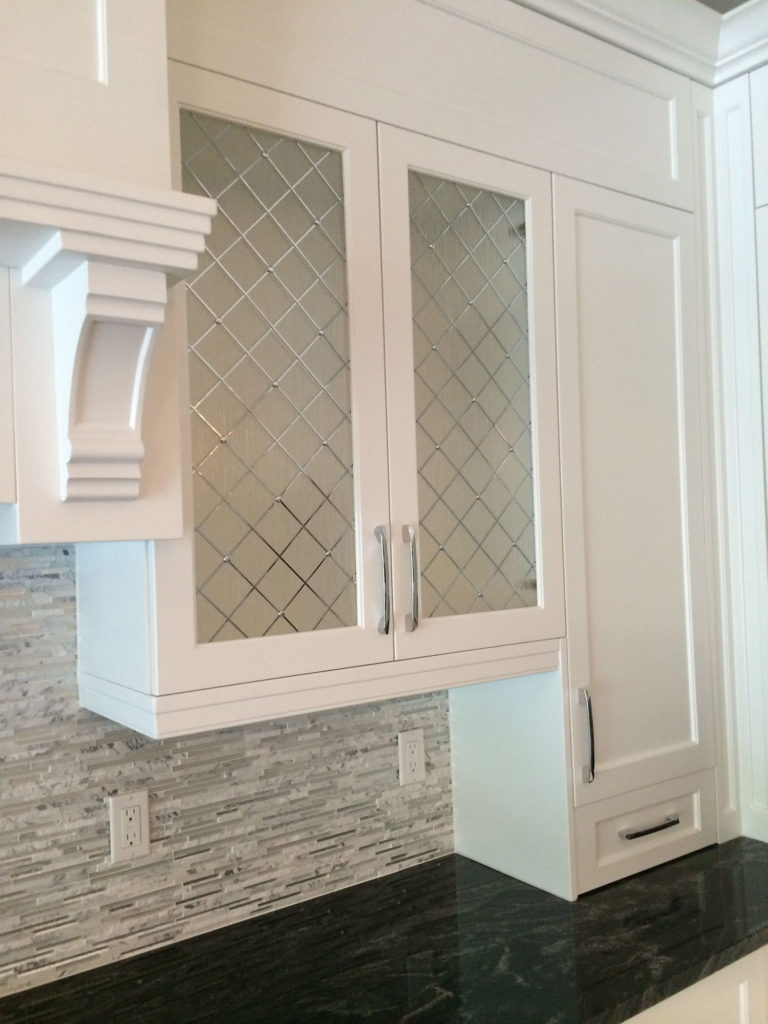 If you are looking to redesign your kitchen with glass surfaces or/and units, it is important for you to look at the wide range of different glass that is available for you to choose from before you make your final decision.
Glass can make your kitchen look big, bright and airy but it's important to ensure that it works to the style and shape of your kitchen and fits with the rest of the interior of your home. To help you along the way, we decided to have a look at some of the different ways you can let glass brighten up your home.
Etched or frosted glass
Etched glass is made by sandblasting aluminum oxide into glass. Some kitchen manufacturers will allow you to put together your own design, which they will then etch or frost onto the glass. This look is nice for when you are trying to create a theme through your home that you want to represent on your glass cabinets too. It also makes the room appear softer and looks very effective against wood surfaces.
Classic glass
This is the most common look that people go for when they have glass cabinets in their kitchen – the clear and clean look that never dates. The only downside to clear glass is that you can see every smear and smudge, so make sure you have your window cleaner at the ready.
Colored glass
Colored glass is great if you want to make a big statement in your kitchen and can look fantastic when you are going for a modern/futuristic look, or alternatively wish to add some color into a kitchen that is looking rather bland.
However, if you do opt for colored glass that is either tinted or stained, you can run the risk of making what was your idea of a clear and clean-look kitchen; appear darker due to the colors that you chose and how the light comes in through your main window. It's a good idea to make sure that you take some sample colors home to test before you make a decision as it's a lot of an expense to pay if you don't end up liking it!
Camed glass
Camed glass is when you add metal strips to bind the glass together. The materials that are used are usually, lead, brass, zinc or copper.
Textured glass
Textured glass is usually patterned with a prismatic effect. The glass is molded so that there is almost a 3D feel to it. There are variations in how it is made, such as, ribbed, beveled, bubbled, seeded, reeded, icicled, pebbled etc. The design behind textured glass is that it gives a more diffused look and feel and is ideal for creating subtle shifting of light across a room. Textured glass is usually used for furniture, enclosures and privacy windows and would look great if you have a pantry or utility room, leading off your kitchen that you want to separate off from your kitchen through the use of a door that has textured glass as panels within the wooden frame.
Mullion doors
The doors include thin strips of wood (or mullions) that separate the panes of glass. Alternatively, solid glass panels can be placed behind the wood design. Mullion doors are a great way to add character to a kitchen and allow you to experiment, not only just with glass, but by adding spot lights into the cabinets so that the light shines through. It also allows you to display your best china or glasses rather than hiding them behind fully closed cabinets.
The kitchen is the place where people spend a lot of their time, so make sure that you like what you are purchasing before you make a decision, by taking samples away from the showrooms to test in your kitchen. If you can get a kitchen manufacturer to come to your house, they will be able to measure the space and provide you with the ideal kitchen layout that you desire, without compromising on the light and space you already have and hopefully allowing some more light and space in, through the use of glass.
This article was provided by Morleyglass.co.uk, the go-to-experts for sealed double glazing window, door and conservatory units.