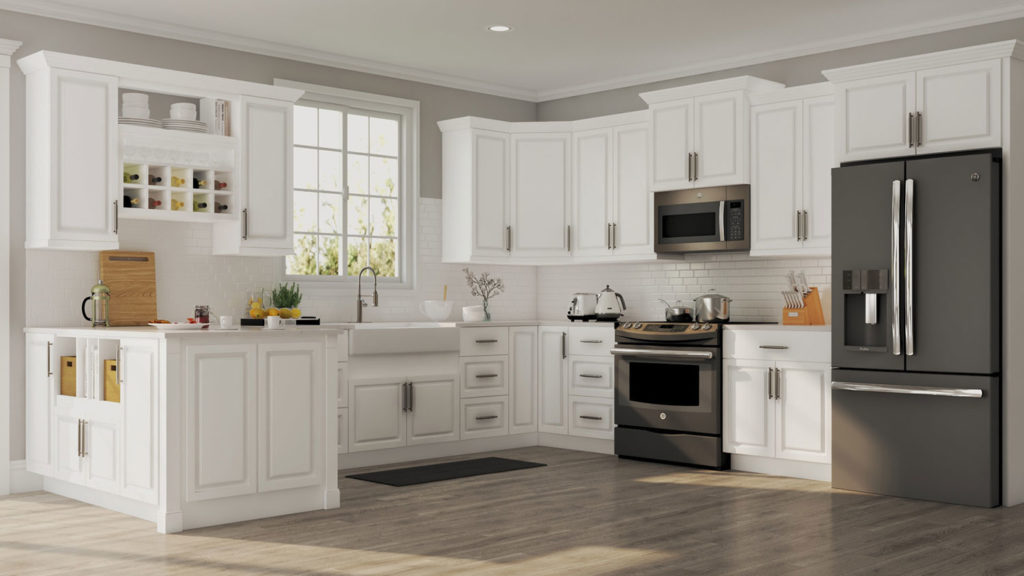 It is very likely that kitchens, especially those that include a dining place, are the most important rooms in a home. Families gather around the kitchen table to talk about what they've done throughout the day, share a meal, plan family trips and to even do school homework together. However, despite their importance, we generally don't give kitchens the attention that they deserve.
Kitchen windows are particularly neglected: we tend to take them for granted and don't really think that there are things we can do to either improve the way they look or to make sure that the ones we have are the perfect fit for our kitchen.
Kitchen windows: the basics
Kitchens get dirty easily: we cut different types of meat, we slice vegetables, peel fruit, fry food, bake cakes, have breakfast, dinner or lunch, and help our children with their homework or school projects there. That said, this means that kitchens need to be well lit, ventilated and, of course, easy to clean.
All these three conditions apply to kitchen windows as well. They need to be easy to clean and maintain, and they need to be wide enough to allow the right amount of fresh air and sunlight to come into the room.
It is also important that kitchen windows come with multipoint security locks to ensure that thieves cannot break into your home through your kitchen.
As homeowners decide to remodel their kitchen and decide to invest in new windows, there are certain things that they need to take into consideration to make sure that the replacement windows they are interested in are the right alternative for their kitchen.
Let's go over the top points that anyone looking for new windows for his or her kitchen should consider:
Size and types of windows
Those lucky enough to have a kitchen facing outdoors need to take advantage of the natural light the room receives. This means that the windows you choose should be large enough not only to let you enjoy the lovely view you have but also to let natural light in.
Ask any local window company and they will probably recommend investing in French windows and doors. They make graceful transitions between the indoors and outdoors while flooding the room with sunlight without obstructing the view with thick frames. New windows will also give you better temperature control and might even save you money on your energy bill. The overall appearance of new windows will give your home new curb appeal and may even increase the value of your property. Consider Mighty dog roofing to making the steps for new windows for your home now.
Awning-style windows are also very suitable for kitchens. Their glass panes allow natural light to enter the room and they can be easily opened or shut allowing fresh air in but not in a disturbing way. Awning-style windows are perfect if you want to enhance the ventilation of your kitchen or if your kitchen is particularly hot. They work best if they are placed above eye-level, especially above the oven.
Regarding window materials, wood windows are quite difficult to include in kitchens. They are hard to maintain and they can rot if they are constantly exposed to excessive heat or humidity. This is why they are usually confined to dining areas away from sinks and ovens.
Fiberglass or vinyl windows are probably the best choice homeowners can make if they can place a window over the sink or cooking area. Both alternatives provide home owners with options that are easy to install and maintain, and even easier to clean. An additional advantage that these windows offer is that they come in almost every color of the rainbow and they can be painted in case you don't find one with the exact hue you have in your kitchen. Also, both fiberglass and vinyl windows come with varied security features that make them attractive when home security is your concern.
Alternative uses for windows
Have you ever considered using windows to divide two different areas in your kitchen without having to build a concrete wall that might interfere with the views or disrupt the living area? You can use a grid of rectangular windows, for instance, to divide the cooking area from the dining area or your kitchen from an inner patio. Thus, this graceful arrangement creates the illusion of an open area–views are not disrupted and light can bathe the whole room.
Privacy
Ensuring the privacy of your family as you share quality time together is essential. If neighbors or passersby can see through your kitchen windows, you should consider investing in some kind of screening material. Roman shades are probably the wisest alternative: they keep curious eyes away but don't prevent light from entering into the room.
Tinted glasses can also be an alternative, especially if you need to reduce the amount of sunlight you receive daily. If you are afraid that tinted glasses can make your kitchen darker, remember that there are different shades of tint and you can choose the lighter ones.
Kitchen windows play an essential role in your kitchen. By choosing them wisely you can make a positive and long-lasting impact in your family's favorite place at home.
Mariana Sarceda is a freelance professional writer who loves reading about home décor, home improvement and interior design. She's passionate about writing and loves to make sure her home is her palace. She represents Newman Windows.