Once coffee is ground, it starts going stale pretty fast, so a freshly ground coffee is going to be miles ahead of pre-ground coffee. Grinding coffee by yourself requires some special consideration; any random grinder simply won't do. These coffee grinder buying tips are intended to help you make the right choice when choosing a coffee grinder for your home.
5 tips for buying the right coffee grinder in 2019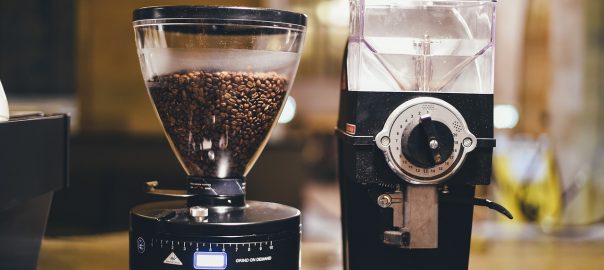 1. Say burr, not blade
Moving from pre-ground coffee to grinding your own coffee is a simple change. Yet, it has a huge impact on the taste and flavor of your cup of joe. However, grinding coffee requires a little more finesse.
A burr grinder is what you want to grind your coffee. Burr grinders give a consistent grind and that is one of the most important aspects of grinding your own coffee. Most burr grinders also have options to fine-tune the coarseness of the grind. A fine grind goes well with espresso, a coarse grind is what you want for your drip coffee machine.
A blade grinder does not have a consistent grind. You will find boulders (large chunks of bean) mixed in with very fine grind. Blade grinders are easily available, and a common mistake to make. For the love of coffee, skip blade grinders and buy the best burr grinder.
2. Don't dismiss hand grinders
It's easy to dismiss manual grinders in favor of more complex electronic appliances. Manual coffee grinders can be every bit as useful as electronic coffee grinders. In some cases, the best manual grinder may even be more efficient.
You will, of course, have to do most of the work and spend more time grinding, but manual grinders are relatively quieter. If you want good coffee grounds for an occasional cup, manual can be cost-efficient and convenient.
3. Switching between brewing methods and coarseness
Different brewing methods usually require a change in the coarseness of the grind. For pre-ground coffee, you will have to buy separate coffee for Pour Over, French Press, and espresso. With a good grinder, all you need is good quality beans and the right coarseness setting on your burr grinder.
Japanese grinders are very popular for pour over coffee. They're usually manual, but get a great grind suited for pour over coffee.
4. Choosing between ceramic and steel for your burr grinder
The most popular materials for burr grinder blades are ceramic and steel. They're both excellent materials and provide a consistent quality of the grind. The major differences lie in longevity and cost.
Stainless steel burrs tend to last longer and are more expensive. Ceramics are often used in budget coffee grinders, though their lifespans can be shorter. Encountering a stray rock between coffee beans could be a shattering experience for ceramics, though steel will take it in its stead.
This doesn't mean ceramics are an inferior material; they sometimes do show up even in high-end models. However, this is a useful distinction to keep in mind when you purchase a burr grinder for your home. You can prefer steel, but don't be prejudiced against ceramics. Let your budget and the features you want weigh-in to make the right choice.
5. Choosing the right grinder type
Commonly used burr grinders are conical burrs and flat burrs. When buying one for home use, it is very likely that you will see conical burr options, while flat burrs are more prominent for commercial use. Conical burr grinders are slightly slower, but that should be fine for home use.
Another important distinction would be choosing between a stepless and stepped grinder. Both of these are relevant to the adjustments made to coarseness settings.
A stepless grinder will quietly move to the chosen coarseness setting. Stepped grinders have "click" settings to lock them into the chosen coarseness setting. Stepless grinders offer more control over the quality and coarseness of the grind, letting you seamlessly pick the grind of your choice. Stepped grinders are dependent on the coarseness settings laid out by manufacturers.
So which grinder type should you pick? Given the sheer number of options most companies offer, it isn't that big of a difference. Still, if you're starting new with coffee grinders, pick stepped. Stepless grinders are better for those experienced with managing their preferred grinder settings.
Coffee grinder buying tips — the bottom line
When you choose to start grinding your own coffee, it is important to do it the right way. While there are fine points in making a choice, the most important coffee grinder buying tips start with choosing the right grinder type. Modern burr grinders are well-priced and offer a variety of features. I hope the tips here will help you in making the right choice for a grinder, and a delicious cup of coffee.