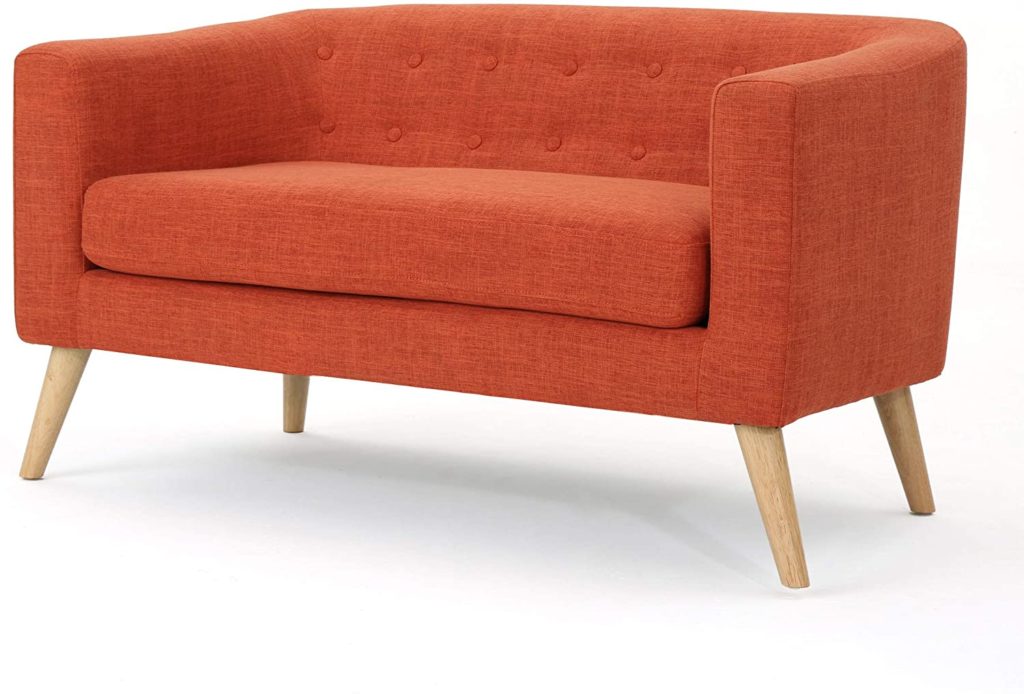 Before you dismiss the idea of a sofa near your kitchen or dining area, consider the benefits of having comfortable seating in such a space. If you have an unused breakfast nook or corner of the dining room, creating a comfortable seating area can be very beneficial.
Imagine the holidays, slaving away at the stove in the kitchen, and not missing out on a conversation because you have a place to sit with your guests as you are able to take breaks. This alone is enough reason to add a small sofa or loveseat to that area of your home. And, with the addition of a coffee table, you can also use the area for quick breakfast or snacking.
Here are some of the best ways to incorporate this unique seating idea.
Choose a slim, contemporary style
Wherever you place your sofa near the kitchen, it will be best if you choose a slim style with clean lines. These sofas offer more seating in exchange for a smaller frame. Keep in mind people will be sitting there to eat, however, so you'll want to make sure the frame and seat are of an appropriate height and durability.
Choose a loveseat over a full-size couch
Even the largest of loveseats will fit your kitchen area better than a full-sized couch. You can also get sofas that are smaller but still designed to seat 2 to 3 people comfortably. Of course, the more minimalist the frame the more seating space you can have.
Arrange the sofa around a focal point
Do you have a fireplace in the dining room or near the kitchen? This is a natural setting for a small sofa, as well as perhaps an ottoman for an additional seat. Another great place to arrange your kitchen seating area is facing the open kitchen itself, giving you a way to converse and entertain even while you prepare the best dishes you have to offer.
If you don't eat at a dining table very often, you can use the space meant for casual dining to create a seating area. If you take this option, make sure you choose a cocktail table that is large enough to accommodate those having breakfast or snacks.
Choose stain-resistant upholstery
While everyone loves natural materials these days, they don't lend well to resisting stains. Choosing a good Scotchgard polyester upholstery not only resists stains, it will also be flame retardant, an important feature for furniture that will be near cooking surfaces.
While you're at it, make sure you choose a durable and stain-resistant coffee table as well. A metal-framed coffee table with a thick tempered glass top is a good solution. You definitely want to stay away from veneers or plain woods, because these can be easily damaged by heat, even when transferred from a plate to the table.
Planning a break area in your kitchen remodel
If you are in the process of planning your kitchen remodel, consider creating a space specifically for a casual seating area. All you need is a few square feet for a small loveseat and a couple of slim accent chairs, ottomans, or stools, with a coffee table as a place to set food and beverages. If you don't have enough space for a coffee table, invest in some nice TV trays that can be used when needed.
Ready to add a sofa to your kitchen area? Shop comfortable and stylish sofas online for the best variety.