While style certainly plays a significant role in choosing the best faucet for your kitchen, you shouldn't forget about the functionality and practical factors your new faucet should have. And choosing the one that has a perfect balance of both can be tricky.
In addition, faucets now come in all shapes and sizes, materials, and price ranges, making faucet shopping an overwhelming experience.
However, with these seven tips to buying the perfect kitchen faucet, your shopping experience should be more effortless and get you in the checkout line faster.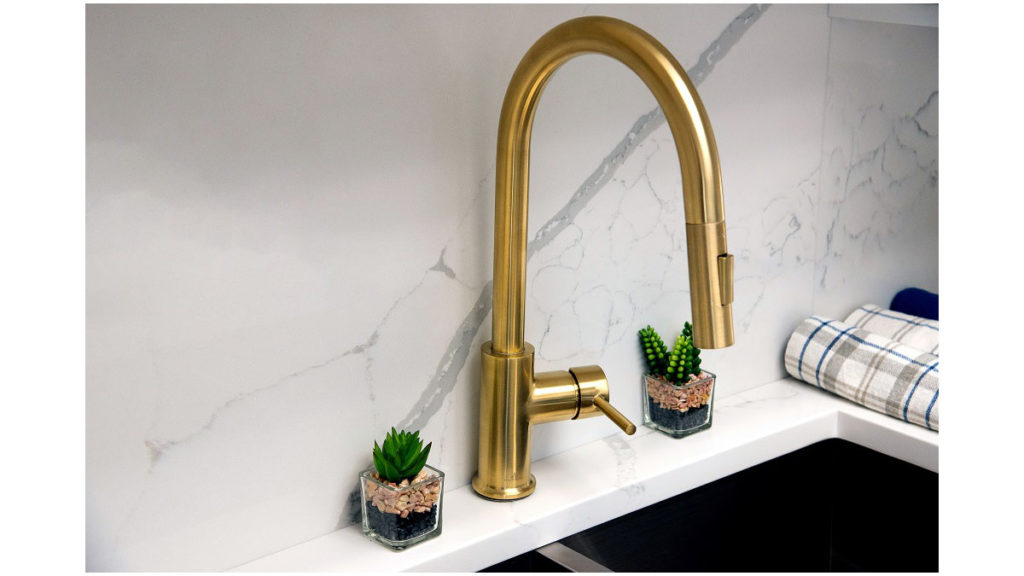 Looks can be deceiving
Most of us want the ultra-modern and smooth new faucet, but that choice would be based solely on looks.
Looks may be important, but you shouldn't compromise quality and lifespan for something that just looks pretty. The following tips are based on the advice of faucet manufacturers and designers, retailers, and professional plumbers.
1. Set a realistic budget
We all know that less money means poor quality, so don't get carried away when you see a lovely-looking faucet that's also cheap.
Chances are it lacks in the performance sector, reliability or durability. For a good kitchen faucet, plan to spend at least $100 to ensure you have a good-quality faucet that will last a long time (sponsored link).
2. Spout height and reach are important
You've found the kitchen faucet you always wanted. You know, the one with a tall spout. The only problem is you have a shelf above your kitchen sink, and the tall faucet may not fit.
No matter your desires and preferences, it would be best if you considered the layout of your kitchen. Ensure you get the correct spout height and reach to prevent sloping water outside the kitchen sink.
3. Ceramic valves are the way to go
A beautiful faucet, perfect spout and reach, and reasonable price equals purchase. But what makes a good faucet quality drop has low-quality components. One of the essential components is a valve.
A ceramic valve kitchen faucet is a winner in this case since it's proven that it's more reliable and durable than other types of valves. The best thing is- the price of a ceramic valve faucet is pretty much the same as all other faucets.
4. Faucet finishes characteristic
There are two factors you should consider when choosing facet finish.
The first factor is making sure your kitchen faucet finish matches other hardware in your kitchen. Mismatching will make your whole kitchen look bad.
The second factor is ensuring you get the faucet finish that matches but is also quite durable. Most faucets have satin nickel, polished chrome, or bronze finishes. They are all quite durable, but some are more than others.
Chrome is the best finish for faucets if durability is your priority. It is also the one that's the easiest to clean. So, chrome is best for heavy use.
Nickel (or brushed, satin, stainless steel) is also durable but prone to water spots and fingerprints. This means cleaning is a bit more challenging. And even if a nickel finish faucet comes with a protective coating, the coating may chip or wear.
Bronze (or oiled, rubbed) faucets also have a thin coating layer. But this coating is made of epoxy-like material, making these types of faucets more prone to scratches and chipping.
5. How many holes
Most of the kitchen remodeling projects are kitchen upgrade projects. This means that a lot of outdated things get replaced. One of the things that will indeed be replaced is the kitchen faucet. So now that you are remodeling your kitchen, you can try that single-handle faucet you always wanted.
But before you do, check how many holes are in the sink. Most sinks will have three holes: one for the cold handle, one for the hot handle, and one under the spout. Your new single-handle faucet may have a cover for those extra holes on your sink, but many also don't. However, all you need to do is check the label.
Switching from a side-sprayer to a pull-down sprayer will also leave an extra hole in your sink. And here's the trick- simply install a soap dispenser.
6. Single-handle for convenience
Lately, two-handle faucets have become quite popular for their retro design, especially for bathrooms, but they are still far from practical. The temperature adjustment is inconvenient for a faucet that will be used as much as most kitchen faucets do.
Single-handle faucets have all the advantages, making them a much better choice when it comes to your new kitchen faucet.
7. Consider pull-down sprayer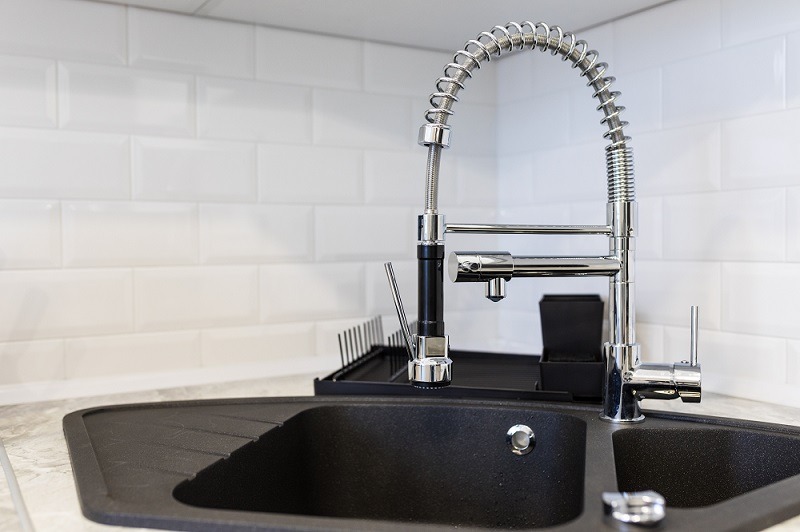 Side prayers were often the cause of many leaks. And unlike popular opinion that pull-down sprayers are unreliable, the truth is the opposite. Experts, and plumbers providing emergency plumbing repairs, say that pull-down sprayers have proven more reliable than old side sprayers.