Fashion evolves constantly, and keeping pace can be expensive. Even worse, what's trendy today may not be tomorrow. When it comes to something simple, such as painting walls, updating your home is somewhat simple and as such changing to a modern look is relatively pain free and cheap. That's not the case with kitchens.
For all but the truly affluent a kitchen is something that is changed perhaps once a decade at most. The heavy cost coupled with the stress and inconvenience of remodelling a kitchen all mean that adopting the wrong style leaves your home feeling outdated. Come January many kitchen companies are pushing their latest styles hard to those in the market, but what guarantees a timeless style?
When most think of the typical British home they imagine the classic country kitchen in a cottage. This look is the complete antithesis of modern trends. A common criticism of the contemporary kitchen style is the featureless, glossy features create a cold atmosphere that's almost clinical. Those looking for a more genuine, lived in look should instead opt for a country look.
But what makes up a classic country kitchen? As with any style change it's critical to lean into your new aesthetic as much as possible, so once your new kitchen is installed you can ensure everything compliments each other perfectly. In this guide we will be showing you the components that make a true country kitchen.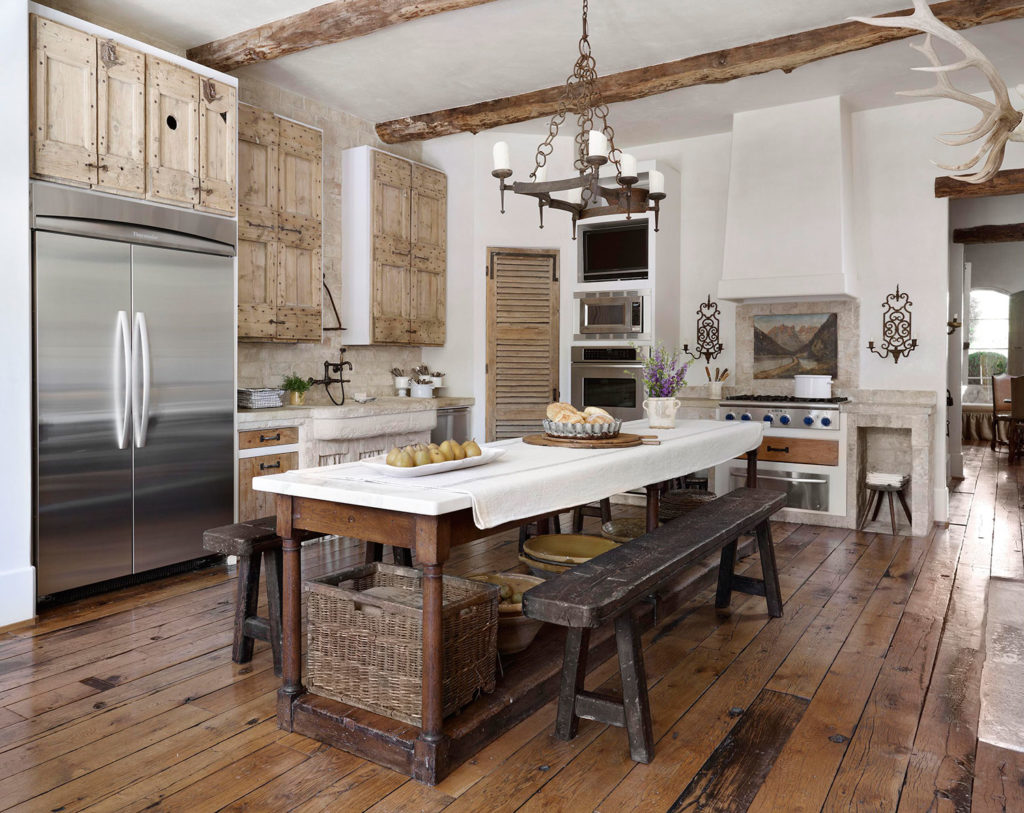 High quality cabinets
The glossy, handless look of modern designs may look neat but often doesn't give a high build quality feel. When creating cabinets for your country kitchen you will want to lean into the natural look of the wood, even painted designs often show a degree of grain.
Truly high end designs will be in-frame, meaning that each drawer and cabinet will sit in its own surround. This gives off the feeling of a bespoke kitchen, as this look needs to be created by a carpenter for your specific needs. In-frame kitchens will set you apart and can be a real unique selling point in the future of your home.
Rustic quality throughout
Quality is everything when it comes to country kitchens, given the materials used there is little margin for error. Where a modern styled kitchen can make sure of doors created from low cost materials such as MDF, there is less room to hide in traditional styles.
That quality and display of natural wood should be reflected elsewhere. When buying a new table for your kitchen a wooden finish will suit the environment better. If you have the option, using exposed beams in the space is ideal, not practical for existing spaces but something that can be done with an extension.
Added personal touches
Personality is something few look to add when it comes to a kitchen. Within a contemporary design it's also likely that owners use a more minimalist approach, which does suit the space nicely. For a country kitchen the opposite is true, getting personal touches in the kitchen is crucial to adding to the 'homely' feel.
From paintings to trinkets acquired over the years, your space should tell a visitor plenty about you. The idea is to turn the kitchen into a communal area that can easily and comfortably be occupied for hours, think long lazy Sundays waiting for the roast to finish cooking!
Naturally over exerting yourself with the personal touches can result in a tacky, junk shop look. Like many homes it's best to personalise your kitchen over time, if you've just had a new country style kitchen installed then it may be best to enjoy a slightly more stripped back look and add slowly.
Soft, light colours
Colour and kitchens have a precarious relationship. While a simpler room can easily be personalised with a feature wall or the addition of colour, a kitchen just feels different. Even the contemporary styles currently enjoying popularity don't often push colour as a defining feature.
Where country style kitchens are more unique is that the typically acceptable colours are fairly narrow. It's best to air on the lighter side, with creams and soft pastel colours. Solid white is also best avoided as the paint often changes with time, it's vital to consider how the colour will age within your selection. A country kitchen is timeless, and the kind of colours that you see in photos from 50+ years ago and remain aesthetically pleasing are the best option.
Open shelving
A kitchen is to be used, not seen, and open shelving can really help create that wide open look that a working kitchen has. Many country style kitchens are loaded with beautiful crockery, and the use of open shelves can help ensure that this is on display and accessible all the time.
As an alternative to additional closed cabinets to hide things away from prying eyes it's ideal. That being said you will need things that are worth displaying, and if you aren't already fortunate enough to own crockery worth displaying this can add a surprising expense.
Stand mixer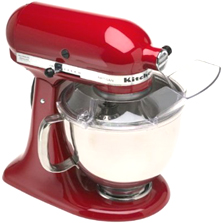 Nothing screams country kitchen like a vintage style stand mixer. The idealistic vision of them is a home cook, apron donned, creating a delicious meal for the family. No home cook is complete without a stand mixer, and often the kind that is passed through generations. Cumbersome and heavy to non-believers, the presence of one of these on a kitchen counter gives outstanding character. Many models like a KitchenAid have changed very little since the day they were first designed, and as such meet the criteria for a country kitchen perfectly.
Range cooker
A country kitchen is typically large, and as a result meals are frequently cooked for multiple people. Cooking for groups will mean having something a lot more than just a single oven. A full size range cooker is the kind of thing that is designed for this type of kitchen. Unabashedly old fashioned, with cast metal construction and design that is anything but compact and contemporary.
That being said that design is also a huge part of what most people would consider a country kitchen to be. Walking in and seeing a range cooker with its traditional gas burners just symbolises what the country style is all about.
Belfast sink
Catering for many people can be tough, and the use of a Belfast sink adds an additional layer of relief with some functional benefits. Typically made of vast ceramic, the 'face' of the basin protrudes level with the outer units. This not only adds a classic feel reminiscent of the country style but also adds additional capacity internally, ideal for washing larger pots and pans.