Year after year we are faced with ever-changing kitchen designs and style trends that seemingly transition in and out of style, however, there are many types of kitchen styles that will always stay in style and on-trend. In the world of interior design, trends will come and go, but one particular kitchen style and trend that is timeless and will never lose its appeal is the beauty of a traditional kitchen style. The most popular and renowned traditional style of kitchen, where aesthetic appeal and understated elegance can be found at the heart of the style, is that of the shaker kitchen which will never go out of style.
What is a shaker kitchen style?
The shaker kitchen style is renowned for its traditional tones with the style being very understated and minimalist, yet it is the understated design of a shaker kitchen which makes this traditional style of kitchen so aesthetic and one that can be easily fused with other style elements to create a modern twist. The most notable characteristic of a shaker kitchen is the classically proportioned cabinet doors with raised frames and flat inset panels with no further adornments besides a handle.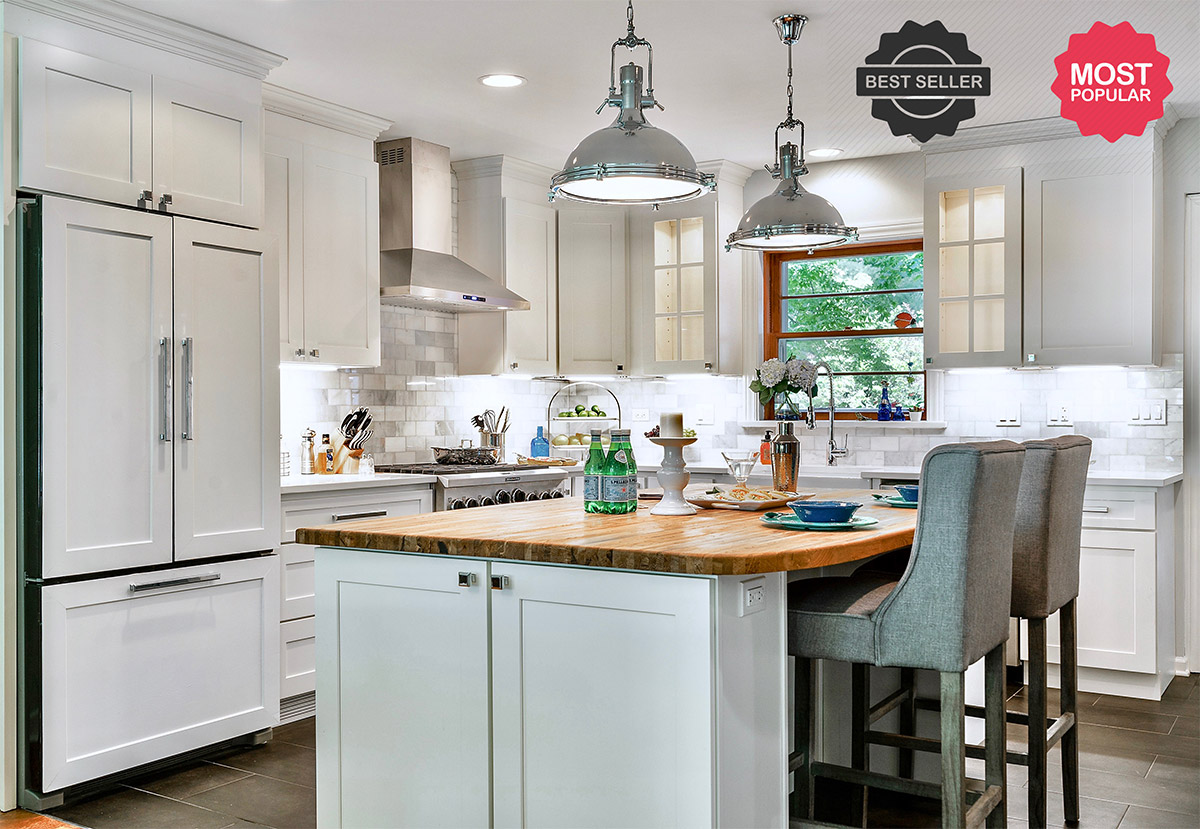 Why shaker kitchens are so popular
Minimalist and understated elegance
As we have stated, the simplicity that is embedded within the design of a shaker kitchen is very appealing to those who have a taste for minimalism and practicality. Shaker cabinets are not too loud and overly prominent and allow for concealed and seamless storage solutions, helping to achieve a de-cluttered feel to the kitchen.
Aesthetic colour schemes
The colour schemes of shaker kitchens are traditionally neutral, pale and muted, however, over the years the colour options that can be applied to a shaker kitchen have become endless. Recent colour trends for the shaker kitchen style have incorporated darker and bold-coloured shaker cabinets that contrast with the rest of the kitchen which allows for a modern take on the classical shaker kitchen style.
Continuing on from this year's shaker kitchen design trends into 2023 will be the introduction of bolder colours within the shaker cabinetry. Popular amongst homeowners are the rich hues of shades of blues and greens, such as dark teal, forest green and duck egg blue.
Expertly crafted
Shaker kitchens are made from skilled joinery methods that require professional craftsmanship. Thanks to the design of a shaker kitchen and its use of dovetail joints, the cabinetry is highly durable and will contain enhanced longevity.
Low maintenance
The minimalist nature embedded within the shaker kitchen not only lies in the style of a shaker kitchen but also in its practicality. You can expect minimal upkeep for a shaker kitchen as most shaker cabinet doors only ever require a quick wipe from time to time. The sophisticated shaker panels are resistant to heat and humidity, so you won't ever have to worry about your cabinets warping.
The style will stand the test of time
Due to the simplicity and minimal design of a shaker kitchen, the style effortlessly complements the look of the kitchen without dominating it entirely. The style is spectacularly timeless in all aspects of the shaker design and as different trends come in and out of fashion, the shaker kitchen style remains untouched and will always be one of the most popular style choices for homeowners.
Modernising a shaker kitchen style
One of the major benefits of a shaker kitchen style is that due to its understated look and feel, there are a number of different features that can be introduced in order to create a modern twist on the traditional style of kitchen. Here are some ways to help create a modern shaker kitchen:
Introduce modern door handles
Traditional shaker kitchen styles will often use a wooden knob or cup handles, however, to help modernise a shaker kitchen you should look to incorporate metal handles that still capture a minimalist and simplistic design. Think antique bronzed handles, stainless steel or chrome will help to create an eye-catching design.
Opt for bold colour schemes
As we have mentioned previously, bold colour schemes are a great option to modernise a shaker kitchen style and will be a style trend that follows into 2023. Bold shaker cabinets will make for a truly aesthetic design and the most common colour scheme that you can opt for includes dark rich tones of blues and greens which will bring life into your kitchen. Contrast of colour and materials really adds a wow factor to a shaker kitchen style so you can actually go for two-tone colour schemes, contrasting coloured tiles and splashbacks and worktops will work perfectly for a modern shaker kitchen.