If you are looking for a way to add some flair and style to your kitchen while protecting it from the damage of splashed food and water, tile backsplash may be the best option for you. Backsplash keeps your walls safe from water and food damage, because it covers the areas behind the sink, cooking range, and food preparation countertops.
Tile backsplash contributes to the stylish appeal of your kitchen by adding accents, colors, and variety to your walls. It is important to choose the right material with which to create the tile backsplash, so that it matches the current décor of your kitchen. There are many very simple things that can be done to add to the variety of the look as well, such as turning the square tiles diagonally to create a diamond-shape, or fitting them together to make mosaics. Adding a tile backsplash to your kitchen adds maximum stylish impact with a minimum investment of capital and time.
There is a wide variety of selection when it comes to shopping for the materials for a new tile backsplash. Natural stone has become very popular in recent years, such as granite, travertine, slate, limestone, and marble. There are also metal tiles made from stainless steel, tin, bronze, silver, copper, and even gold. The most common materials that tile backsplashes come in are porcelain, ceramic, and glass or recycled glass. All of these materials have their own different advantages and drawbacks, so make sure to research each one and ask for samples to look at in your own home before buying.
Once you have chosen a material to use, it is time to look for the style to match your decorating taste. Tile backsplash comes in a large variety of shapes, sizes, patterns, colors, and textures, so you are sure to find one that matches your taste and budget. The most common sizes are 12×12, 6×6, 4×4, and 1×1 mosaic tiles.
Pricing of tile backsplash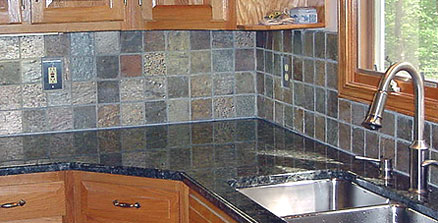 Now that you are set on what material and style you want, it is time to look into pricing. You will need to know the dimensions of the area you are tiling before buying the tile so you can purchase the proper amount. Make sure to include even partial pieces in your count, and buy extra in case any tiles break when they need to be trimmed to fit smaller areas.
Tiles come in a wide variety of prices, depending on quality and brand. There are many factors that determine prices of tile, such as the manufacturer who made it, the complexity of the design, the size of the tile, and the rarity of the material the tile is made of. Ceramic and porcelain tiles are cheaper than stone or metal ones, and rare stones like marble, granite, and travertine are the most expensive. Tiles can also be custom-made, but keep in mind that if you want custom-made tiles they can get very expensive. Stone tiles look very elegant, but are costly to buy. To keep cost down and still get the classy quality you are looking for; try mixing stone and porcelain or ceramic tiles, alternating which you use. Also, there are ceramic tiles available that look very similar to natural stone.
Buying tips for tile backsplash
When choosing the décor for your tile backsplash, be sure to pick a style and pattern that matches the existing floor, walls, cabinets and countertops in your kitchen. If the colors are too dull, they will not be noticed and can make the room look drab, but if the colors are too bright they can overwhelm the room and make it look gaudy. It is good to go with neutral colors in the middle of the spectrum that will match just about anything you add to the room. If you floor is tiled, sometimes it is possible to find matching smaller tiles with which to create a tile backsplash. In addition, if your countertops are already made of tile, the tile backsplash can simply be continued from the countertop to the cabinets. This can simplify the project, while tying the room together nicely.
Think about what kind of look you want. The texture of your tiles can add a lot to your kitchen. Do you want rugged, casual, rough-surfaced tiles, or would you prefer the classy look of shiny and sophisticated tiles?
Lighter colors will reflect more light, maximizing the space in a small area. Large patterns will also add to the illusion of a larger space.
Larger sized tiles will minimize the number of gaps that have to be filled with grout during installation. This means that you will be able to clean your backsplash much more easily.
Installation of tile backsplash
Installing tile backsplash takes a lot of expertise as each tile has to be properly laid and leveled. Moreover, incorrect handling can lead to breaking of tiles during installation or at a later stage. Therefore it is best installed by a professional installer.
An experienced installer will prepare a base for the tiles and then lay them out piece by piece without leaving large gaps. Then he will level them and fill the spaces with grout and apply sealant, if required, to form an almost uniform surface.
Maintenance of tile backsplash
Follow the manufacturer's maintenance instructions.
Warm soapy water is the best for cleaning tile backsplash. Avoid harsh cleaning liquids as they may erode into the surface making it rough.
Natural stone and unglazed ceramic tiles are porous and will need to be resealed on a regular basis. Sealing prevents water and other liquids from entering the pores, as this can lead to staining or roughening of the surface.
Copper tiles will tarnish after a period of use and the original color and shine can be brought back by using a copper cleaning agent.
A tile backsplash can add variety and style to just about any kitchen, but the design is also made for functionality as well. If you are looking into protecting and spicing up your kitchen in an easy way, a tile backsplash may be your best bet!