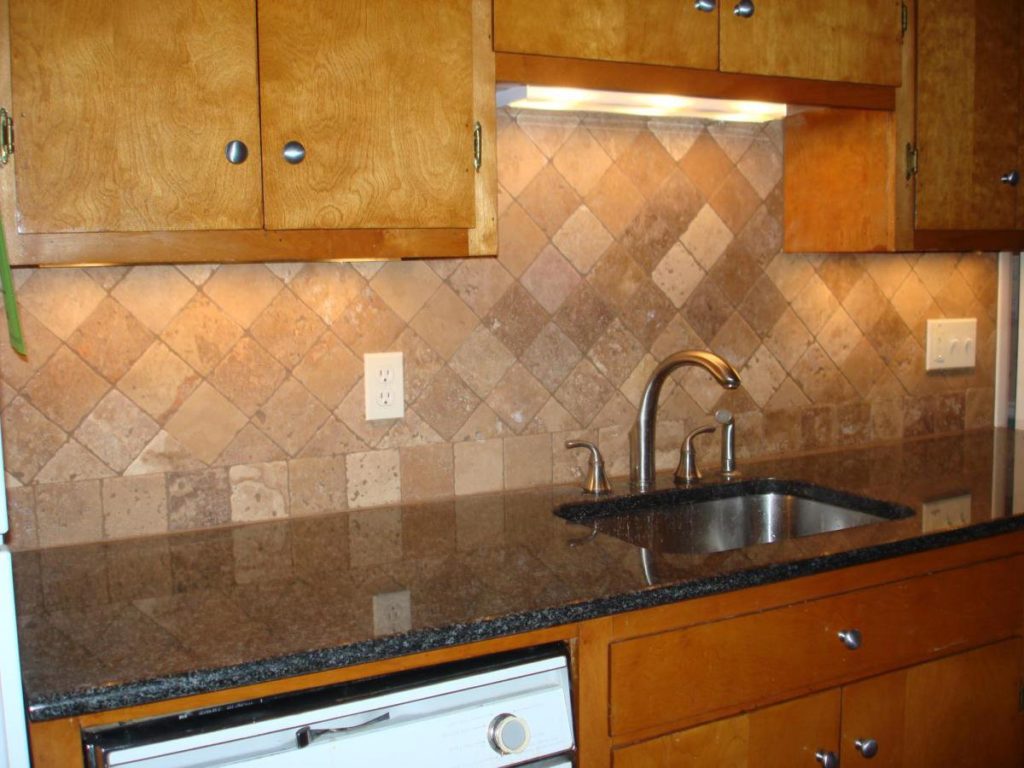 Have you ever cooked spaghetti sauce on your stove, only to discover crusty splashes of sauce all over the wall behind the range afterward? Then, when you try to clean the sauce off of the wall, you discover that it has left nasty orange splotches all over your paint. A ceramic tile backsplash can keep the walls behind your range, sink, and counters from being stained with food and water. When you have a ceramic tile backsplash, the splashes that land on the walls clean up easily and quickly, without leaving any stains.
Ceramic tile backsplash offers you a huge range of colors, designs, shapes, sizes and textures that makes matching your backsplash with the rest of the kitchen décor easy.
Installation of ceramic tile backsplash
A ceramic tile backsplash is easy to install. Tile is laid into a backsplash the same way it is laid into the floor, by gluing it in. You simply have to apply the adhesive, line up the tiles, and then let it dry. It takes a little extra effort than simply leaving the walls painted or wallpapered, but it will save you time and money in the end because ceramic backsplash can be cleaned and will not need to be replaced often like stained paint or paper. However, the average homeowner who has never laid tile before may want to consider hiring a professional to help with the project. You can pay the store where you bought it or a contractor to install it for you for a minimal labor charge. Many people may prefer this option for installing their ceramic tile backsplashes if they are not familiar with how to lay tile.
Knowing where your layout is going is also important and the size and placing of the cuts are crucial to the look and strength of the finished backsplash.
Pricing of ceramic tile backsplash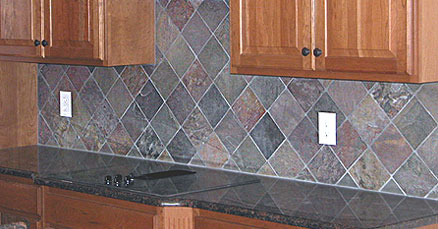 A ceramic tile backsplash is generally affordable, since ceramic tile is cheaper than some of the other materials that a tile backsplash can be made from. Prices start at around $3 per square foot, but vary greatly depending on the maker, style and design. There are ceramic tiles available that look very similar to natural stone.
Buying tips for ceramic tile backsplash
Before you purchase tile for your ceramic backsplash, make sure to accurately measure the space that the tile is to cover. Don't forget to include partial tiles in your count, and make sure you buy extra tiles, because it is very common for the occasional tile to break when it has to be cut to fit an edge or a smaller spot at the end of a row. If you do not buy extra tile, you run the risk of the tile you used being discontinued before you finish your project, and then it will be hard or almost impossible for you to finish your project.
If you need some ideas for picking out a color and style of your tile, take a look at your kitchen décor first. Bold colors will distract from your countertops and flooring, but tiles that are too bland will blend in and look dull. Pick out a tile that matches the room without overwhelming the existing color scheme. A good rule, if you already have a tile floor or countertop, is to match the style and color of your existing tile. Mosaics with interchanging colors also look nice when you incorporate the same tiles already in the room here and there.
Think about what kind of look you want. The texture of your tiles can add a lot to your kitchen. Do you want rugged, casual, rough-surfaced tiles, or would you prefer the classy look of shiny and sophisticated tiles? Your ceramic tile backsplash can be made from antiqued tiles to give your kitchen a homespun, rustic look, or you can look into standard black and white checkerboard pattern for a retro 1950's soda shop look. Lighter shades will add more light to hidden, dark areas of the kitchen. If you have a very large, open kitchen, consider a dark color to minimize the space and make it feel closer and homier. A simple design with large tiles and smaller accent tiles can help a small kitchen look bigger. There are millions of decoration options to optimize your space with a ceramic tile backsplash, and there are thousands of styles, colors, and textures. If you look, you are sure to find the style and pattern that fits your lifestyle. You can even add small tiles together to create a mosaic or a mural for something unique and creative.
Maintenance of ceramic tile backsplash
Maintaining your ceramic tile backsplash is easy and requires very little upkeep. Tiles should be wiped down every day with a damp cloth, and cleaned with a non-scratching cleaner and sponge when soiled. It takes very little effort to keep your ceramic tile clean, but it can add a large amount of style and flair to any kitchen.
Unglazed ceramic tiles are porous and will need to be resealed on a regular basis. Sealing prevents water and other liquids from entering the pores, as this can lead to staining or roughening of the surface.