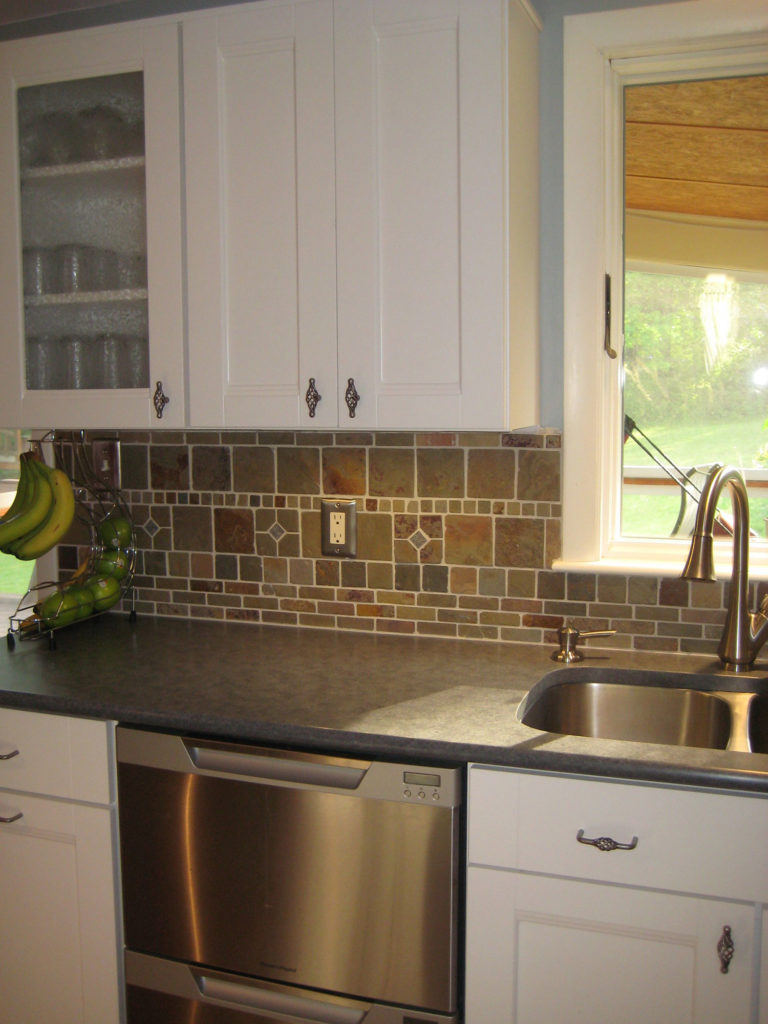 Thinking of renovating your kitchen? You may have picked out your fridge, new stove or oven and perhaps gotten a new coffee maker to match the decor. Have you also considered installing a backsplash to enhance the overall "feel" and draw all of the elements together?
A slate backsplash comes in many earthy colors, which makes it a prime candidate for bringing together many different elements in a kitchen. Some colors that you can find in slate are: Black, Grey, Brown, Beige, Blue, Green, Red, and Purple. The colors can either be the majority of the entire stone, or they can be spotted throughout it in vein-like strips, waves, and spots. The best part about slate backsplashes is that they are truly unique and the design that you have in your kitchen cannot be repeated by any other person.
Benefits to having a slate backsplash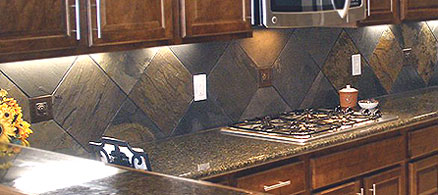 Slate is heat resistant and fireproof. It also has close to the very same durability and hardness of both granite and marble, yet commands less maintenance. Slate has a low absorption rate which will help to cut down on the bacterial growth.
Slate backsplashes are each completely different, given the color and natural design varieties available. You can also have a number of different finishes for the slate (tumbled, polished and honed) and, perhaps best of all, a slate backsplash will increase the value of your home!
How much will a slate backsplash cost
The cost of a slate backsplash is dependent on a few factors:
Who manufactured it
The tile size (if you are deciding on tiles)
Thickness of the slab or tile
Color choice
Pattern/vein formation (this is typically based on current "trends" for slate in the market)
The size of the slab or number of tiles required
If you are seeking a slate backsplash, chances are you will find them in tile form in any of the following sizes:
8×8 inches
12×12 inches
16×16 inches
Rectangular shapes
Slate tiles typically start at being $2-$3 per square foot, not taking installation costs into consideration. Slate murals and mosaics are available, but these are usually quite expensive (though incredibly stunning).
Slate backsplash buying tips
1. When you're buying slate tiles, ensure that you pick up a couple of extra boxes, as you might need them. Make sure to check the lot numbers, as you want to make sure that they are the same color and patterns.
2. When choosing, be mindful of the pattern and the color that you choose. You need to make sure that the color of your slate backsplash complements with the rest of the décor. The color should not stick out like a sore thumb, but blend in with the rest of the décor.
3. In case, you already have slate floor, you may want to choose the same slate as your backsplash (probably, a smaller size). Or maybe, if you have slate countertop, just continue the counter up the wall, with the same backsplash – making it consistent in appearance.
4. If you want a casual appearance, keep a rough finish. For an elegant and chic look, go for a shiny appearance.
5. To minimize grout lines, opt for large slate tiles, as there won't be so many gaps to fill in with grout. You will thus have less to clean.
6. In addition, you will find that polished tiles are much easy to clean.
7. Mix and match – you don't have to use only one tile color or size for your slate backsplashes. Mix and match to create a unique look.
8. Lighter shades will reflect more light on the work surfaces – such as your sink, cooking range and countertops. If you have a large and open kitchen, only then would dark colors be more apt.
9. You can use your slate backsplashes in a brick fashion. These are made of small rectangular slate tiles, and look extremely attractive. You will find this available in small tiles on sheets, and to facilitate easy installation, the sheets are backed with a sturdy mesh.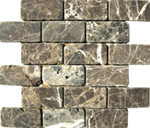 How to install a slate backsplash
Given how easy it can be to break or chip slate murals, mosaics and tiles, it is best to hire professionals to do the installation in your kitchen. They will know how to prepare the surface for the tiles to be set on, and will also be able to make the spacing between the tiles as small and straight as possible. He or she will also know what types of sealants, grouts, and adhesives to use so that your slate backsplash looks as good as it should.
Professional installers need to decide how to arrange the tiles and where to cut the tiles, which can be very difficult for the beginner or novice handyman.
How to maintain your slate backsplash
As with anything that you purchase, it is best to check with the manufacturer's instructions for how to clean it in case there are any treatments applied to the stone. You may also need to re-seal your slate backsplash from time to time, simply to prevent discoloration and staining of the stone.
Warm water and soap should be all that is required to actually clean your slate backsplash. Be careful about the cleaning materials that you choose, however, as abrasive cleaners and cleaning products can easily scratch and damage your beautiful slate.