A copper backsplash can contribute to the ambiance of your kitchen. Copper comes in a variety of warm finishes and variations in tone, and there are many different types of copper to choose from when you are considering your options.
Copper backsplash comes in varied shapes and sizes. You can use standard square or diamond-shaped pieces, or larger sheets that cover bigger areas. A whole solid sheet of copper is more expensive, but can be used in one piece to create a seamless look.
Copper backsplash is available in different finishes, from brushed, textured, hammered or embossed with animals, floral patterns and other shapes.
Copper backsplash is very durable. In addition, copper also functions as a natural anti microbial surface, which means that it wards off and prevents the growth of micro-organisms. This is a great property of copper as the wet and damp conditions around the sink are a breeding ground for micro-organisms.
Cost of copper backsplash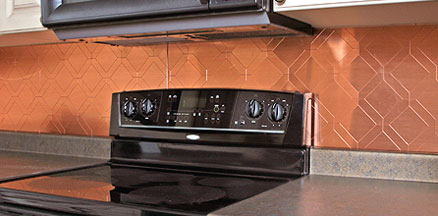 Copper backsplash can be quite expensive and starts at around $20-25 per square foot. But, this can go higher. Moreover, installation is not included in the price generally, so always make sure you check that first.
Many factors determine the prices of copper backsplash, such as: the manufacturer who made it, and how pure the metal content is. The complexity of the design – brushed metals are more expensive than fogged metals, and if you want diamond plaiting or a riveted effect, you may have to pay even more. The size of the copper sheet needed to cover the area, or how many smaller pieces of copper are needed. The thickness of the metal also affects the price.
Also, to keep costs down, you may want to think of using smaller tiles instead of one solid piece of copper. Though, keep in mind that if you opt for smaller tiles there will be gaps. Food, bacteria and water get into these gaps and it gets more difficult to clean.
Copper can also be integrated as accents with porcelain or ceramic ones – this gives the backsplash a more unique look and is definitely more cost-effective.
Copper backsplash buying tips
1. You will first need to know how big the area to be covered is, to make sure you have the correct amount of copper. Include all square footage of the area to be covered, and allow a little room for overlap so the pieces can be cut to fit awkward or strangely shaped areas, such as the crevasses where corners and walls meet, and around electrical outlets.
2. When you are trying to pick out the style of copper you want to use for your backsplash, make sure you go with the current theme in your kitchen or what it will look like when you are done.
3. The warm, blush color of copper adds the illusion of size and depth to a room, and brushed copper is especially elegant in kitchens. For a more unique look, it is possible to purchase copper in a variety of different finishes, including swirled copper, etched copper, fogged copper, or riveted and diamond-plated copper.
4. A polished and honed copper backsplash will give your kitchen a more contemporary look.
5. For a completely unique look in your kitchen, aged copper adds a rustic appeal to old-fashioned homes.
6. Keep in mind that most appliances come in a variety of metal finishes as well, and a kitchen with a copper backsplash and matching copper appliances can be elegant and breathtaking.
7. Copper oxidizes naturally when exposed to moisture and air. It also tarnishes due to this, and gets a greenish patina. If you're the type that fancies that rustic look of the patina, then this is the thing for you. If not, lacquered copper backsplash is something to consider, as it will be protected from water and air, thus preventing any discoloration.
8. There are many manufacturers that sell tiles of different materials with the surface covered with a copper finish. However, with solid copper tiles you are assured that it won't flake, chip or rub off when cleaning.
9. When buying copper sheets, you should know that it comes in a large variety of thickness. When the material is thin, it is easier to cut and place around corners. However, when the material is thin, it tends to curl and dent much easily. Moreover, thinner copper sheets won't do a good job of hiding wall imperfections as thicker sheets do. In general, if the surface of the wall is smooth, and you need to form a copper sheet around a corner .020 or .032 thickness will be appropriate as backsplash. If you don't want to form the material or the wall is not smooth, .040/.050 will be more appropriate as its durable and dent resisting copper backsplash.
Installing copper backsplash
It is advisable to hire a contractor who has experience in installing copper backsplashes.
An adhesive or copper liquid nails are used to fit the copper pieces. This adhesive is one that is specifically used for metals.
The contractor also needs to use a strong base like plywood and attach copper pieces on that. This prevents dents as well.
Copper backsplash maintenance
Follow the manufacturer's maintenance instructions.
Upkeep on a lacquered copper backsplash is fairly simple. Use a soft damp cloth to clean. It is important not to use any harsh chemicals as these tend to strip the lacquer. You also may have to get your lacquered copper backsplash re-polished after years of use.
Since copper oxidizes with time, you should make it a point to use a copper cleaning cream on it in order to keep the raw, natural color. Unless, you do like the oxidized look and that's what your aiming for. (Note: It is only pure copper that oxidizes, lacquered copper does not.)
Bear in mind that copper is subject to scratching and is also pliable to denting.