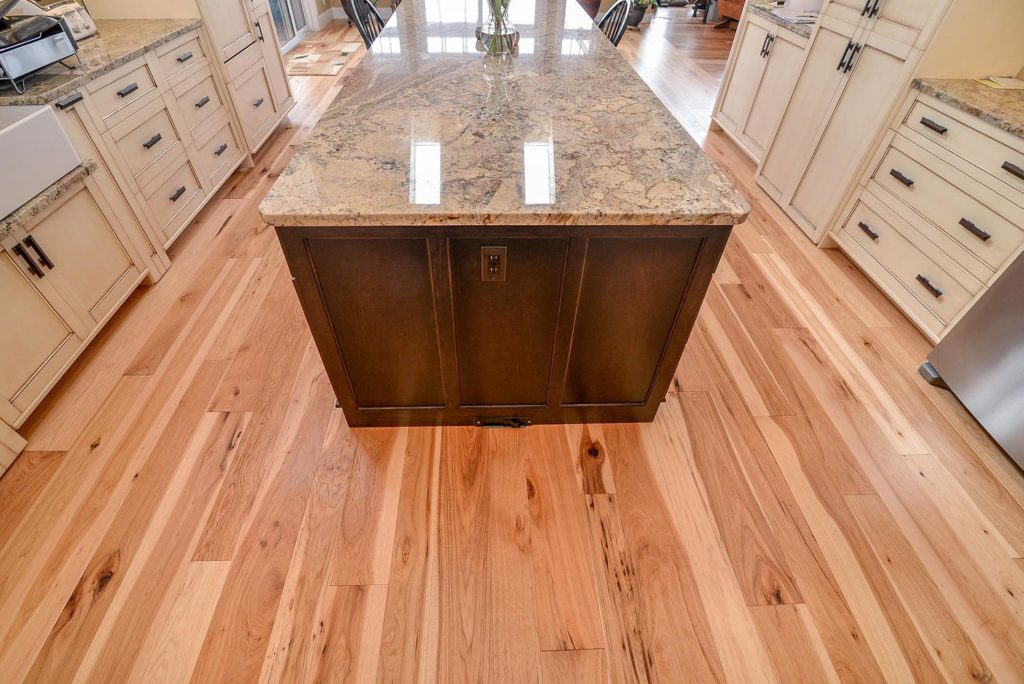 Hickory floors add heaps of style and beauty to any kitchen, and they can raise the value of a home as it is a natural wood.
If you take proper care of your hickory flooring it will last you a lifetime. If you find your flooring looking drab, you can always refinish it. This is one of the biggest advantages of wood flooring.
With its natural beauty, hickory flooring gives any room a rustic kind of feel. It also provides warmth to your feet, and is ideal for kitchens.
With Janka rating (an industry standard for wood hardness) of 1820, hickory is an extremely hard and strong wood. It is stronger than oak as well as maple.
A noteworthy difference between hickory and maple or oak is that the color variance of hickory is high to extreme. The different grades of hickory flooring, especially the lower ones have a wide variety of color from white to darkish brown tones. This gives the wood a very dramatic look. Moreover, these color variations are not just between different boards, but quite often within the same board itself.
Cost of hickory flooring
You will find that hickory flooring can be rather expensive. The price starts from around $3-4 per square foot, and can go even higher.
Basically the price depends on a number of different factors such as construction of the wood (if the boards have grooves and tongues for easy installation), size and thickness of the boards, quality of the wood, finish, whether it is solid hickory or just engineered.
Whatever it may be, and even though you may find it expensive, remember in the long run, you will save your money, because hickory flooring is durable and will last you a lifetime. You won't need to make any changes or replace. You can easily refinish it, to give it a newer look.
Tips for buying hickory flooring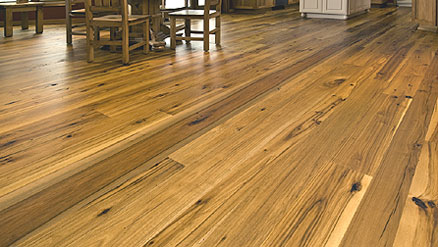 1. You can buy hickory flooring in different grades. These grades determine the perfection/quality of the wood. Though hickory of the lower grades is cheaper and may have more imperfections, it is closer to the naturalness of the wood, and is ideal for a rustic kitchen.
2. Also, when buying your hickory flooring, think about the thickness of the flooring. This is important for stability. The thicker boards are stronger and many people prefer them as they feel somewhat better.
3. The size of your kitchen will determine the size of wood planks to be used. General rule of thumb is that for bigger rooms longer planks are advisable and for smaller rooms the opposite holds true.
4. For a brighter and more spacious kitchen, choose a lighter shade of hickory flooring. It's perfect for a smaller kitchen.
5. Hickory flooring is available in unfinished and pre-finished types. Pre-finished hickory floors are advisable for kitchens as they are processed at factories. This makes them stronger and more durable. Moreover, they are more resistant to spills, humidity, UV rays and scratches. You'll most likely get better warranty deals with pre-finished hickory flooring.
6. Engineered hickory flooring is a special type of pre-finished hickory flooring. It is a manmade product that is made of layers of plywood that make up the core or the underside of the flooring. The top surface is made of solid hickory. These layers are placed in such a manner that the core and top are laid across each other. Due to this, engineered hickory floors are stronger and dimensionally more stable. They are also more resistant to humidity and extreme temperature. They are perfect for kitchens, both at ground level and below it.
7. Engineered hickory floor is also more ecologically friendly. This is because the plywood is constructed of softwoods that grow quickly and are plentiful. Thus, less hickory is used.
8. You will find a wide variety of styles in hickory flooring.
Plank flooring – consists of wider, linear planks of hickory.
Strip – which is linear hickory flooring, but is not that wide.
Parquet – a series of hickory flooring that is geometrically arranged.
Installation of hickory flooring
Hickory flooring can be installed by gluing, nailing or floating.
It is recommended that you use a professional contractor to handle the installation of your hickory flooring. Hickory reacts to the changes in the climates during the year. It often retracts as the conditions become dry, and then re-expands as the moisture is introduced into the air. As laymen we are unaware of this. Professionals are aware of all these details. Moreover they have the necessary expertise to handle any issues that may crop up while installing the hickory flooring.
Maintenance of hickory flooring
Follow the manufacturer's instructions when it comes to care and maintenance of your hickory flooring.
Hickory flooring requires little upkeep to keep it looking new, beautiful, and clean. You will simply have to use a broom on it once daily, or as often as necessary, and a wet mop with cleaning supplies that are safe for use on wood as needed to keep it clean.
Mop up any spills immediately or the water/fluids can seep through the crevices and cause the wooden planks to swell.
It is also recommended to put throw rugs in high-traffic areas, like in front of the stove and sink, to keep the hickory floor from becoming needlessly worn.
How to get the best price on a hickory flooring
BuildDirect appears to be one of the best places to buy the hickory flooring from. Besides the best prices, their customer friendly policies make buying from them a pleasure.