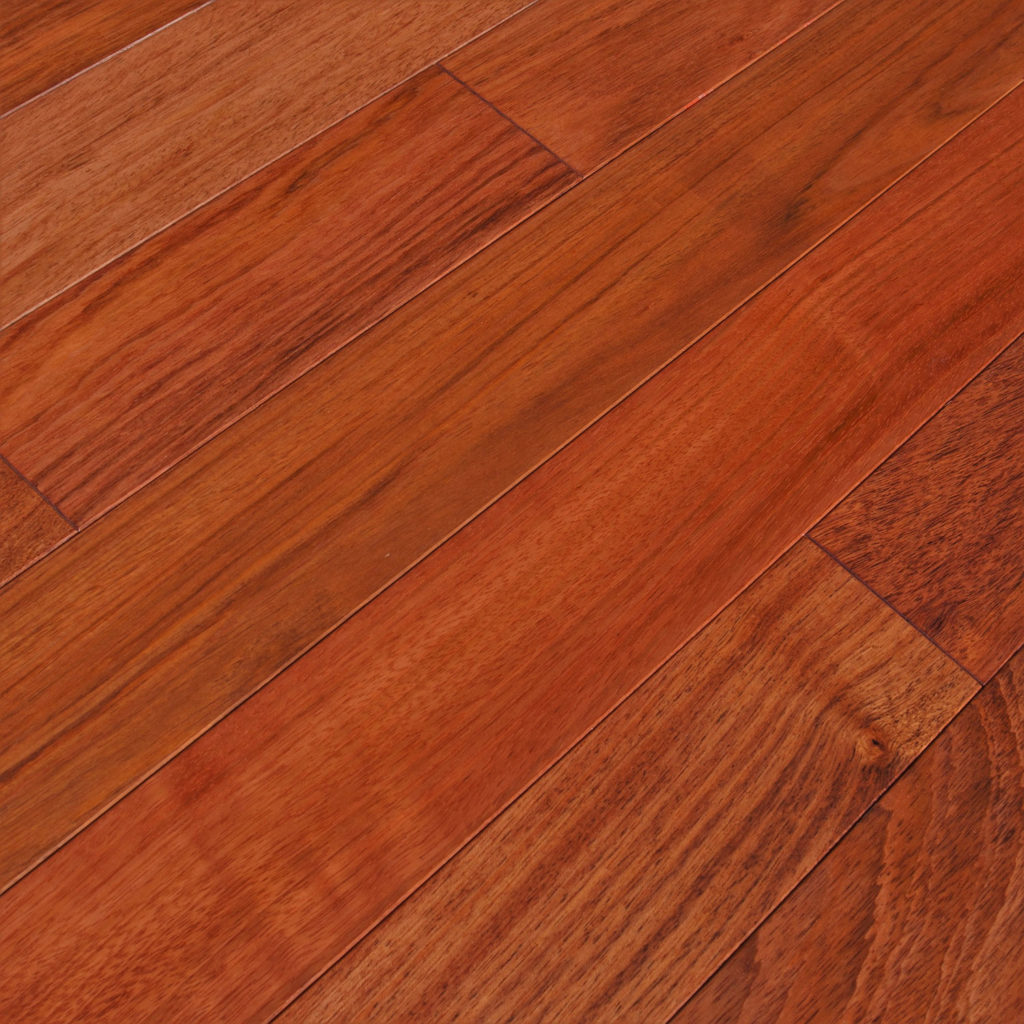 Brazilian cherry is also known as Jatoba. It is a great choice for flooring as it offers value to your home. The addition of Brazilian cherry flooring tends to psychologically suggest class and elegance. It helps in leading to a faster sale of your home at a high price.
The great thing about Brazilian cherry flooring is that it is long lasting and versatile. If you take good care of your Brazilian cherry floor, it can easily last for the life of your home. True, you may have to refinish it, every now and then, but you should know that the original wood will hold up well.
Brazilian cherry wood is considered to be one of the hardest and most dense woods. It is much harder than both, maple and oak and has a Janka rating of 2350. This rating is an industry standard for wood hardness.
You should be aware that the higher the level of hardness, you won't have to take as many precautionary measures to prevent damage to the surface.
Brazilian cherry flooring is a very smart choice for high-traffic areas such as kitchens. Kitchens especially benefit from the hardness of a Brazilian cherry floor, because it also repels moisture.
The dark red wood is interlaced with strands of black wood grain, giving it a depth and beauty that is hard to match with other types of wood. These warm, rich colors blend together very nicely, adding depth, warmth, and elegance to any kitchen.
Highly resistant to dents, scratches, termites and fungi, Brazilian cherry flooring is great if you have pets.
Cost of Brazilian cherry flooring
A Brazilian cherry floor can start around $4 per square foot before installation, but the price varies depending on finish, quality, thickness, size and manufacturer. However, because of the durability of Brazilian cherry flooring, it will save you money over the years of use you get out of it without replacement.
Also keep in mind that when it does become worn and needs to be upgraded, your Brazilian cherry floor can be sanded down and refinished with a new stain and seal, which not only increases the life of your floor, but also allows for adaptability in remodeling without the need for a whole new floor.
Tips for buying Brazilian cherry flooring
1. Pick out a Brazilian cherry floor that will match the current style and décor in the kitchen that already exists or that will match the finished style of the room.
2. Remember that Brazilian cherry has a tendency to darken from tan to deep reddish-brown several months after installation. This reveals its beautiful cheery color.
3. A Brazilian cherry flooring looks very nice when paired with black furniture, counters, and appliances because the wood has natural color variations that range from dark, rich red to black.
4. Use longer planks of wood for big kitchens and for smaller kitchens shorter planks are more apt.
5. There are various grades available for Brazilian cherry flooring which ascertain the quality of the wood. The highest grade is the best. Keep in mind that while the lower grades may have more imperfections, they are closest to the natural beauty of the wood.
6. Remember, the thicker the boards, the stronger the floor. While thicker boards may cost you more in up-front costs, remember that the more durable your Brazilian cherry floor is, the longer it will last.
7. It is highly recommended that you purchase all the materials needed before beginning, as well as some extra to account for warped boards, cracks, improper cuts, and other mishaps.
8. Brazilian cherry flooring is available in the pre-finished and unfinished variety. You will find that the unfinished type is cheaper and also offers you the option to custom design. Yet the pre-finished Brazilian cherry floors are more advisable for rooms like the kitchen because they have high quality finish that is already applied to it at the factory itself. This makes them more resistant to scratches, spills, UV rays and humidity as well. In addition, the factory treatment of the wood also rids it of any surplus moisture. If you purchase pre-finished floors, you will find that the warranties are better than the warranties of the unfinished ones.
9. Engineered Brazilian cherry floor is another, more special type of pre-finished Brazilian cherry flooring. It is a manmade product and is made up of layers of fiberboard or plywood that make up the core or the underside of the flooring. The topmost surface of this flooring is made up of a solid layer of Brazilian cherry. These layers are placed in such a manner that the core and top are laid across each other. This is one of the main reasons that engineered Brazilian cheery floorings are considered good and sturdy and particularly good for the kitchen, more so for kitchens at ground levels or below it.
10. For under floor heating, this engineered Brazilian cherry flooring is very effective.
Installation of Brazilian cherry flooring
You can nail, glue or float your Brazilian cherry floor during the installation process.
It makes sense to hire a qualified and skilled contractor for the installation as they have the necessary experience.
Wood flooring tends to react to the changes in the different seasons through the year; a professional contractor will be able to advise you with installation.
Maintenance of Brazilian cherry flooring
Follow the manufacturer's guide and instructions to a tee when it comes to maintaining your Brazilian cherry flooring.
A damp mop works best for cleaning wooden floor. A vacuum is handy as well. Never also allow any water to just sit on the wood. If you spill water or any other fluids, make sure to wipe it immediately. If you leave the water as is, the moisture can seep through the crevices and cause the wooden planks to swell, and you definitely don't want that to happen.
In frequently used areas such as near the sink, use area rugs to prevent the Brazilian cherry floor from getting spoiled.
How to get the best price on a Brazilian cherry flooring
BuildDirect appears to be one of the best places to buy the Brazilian cherry flooring from. Besides the best prices, their customer friendly policies make buying from them a pleasure.