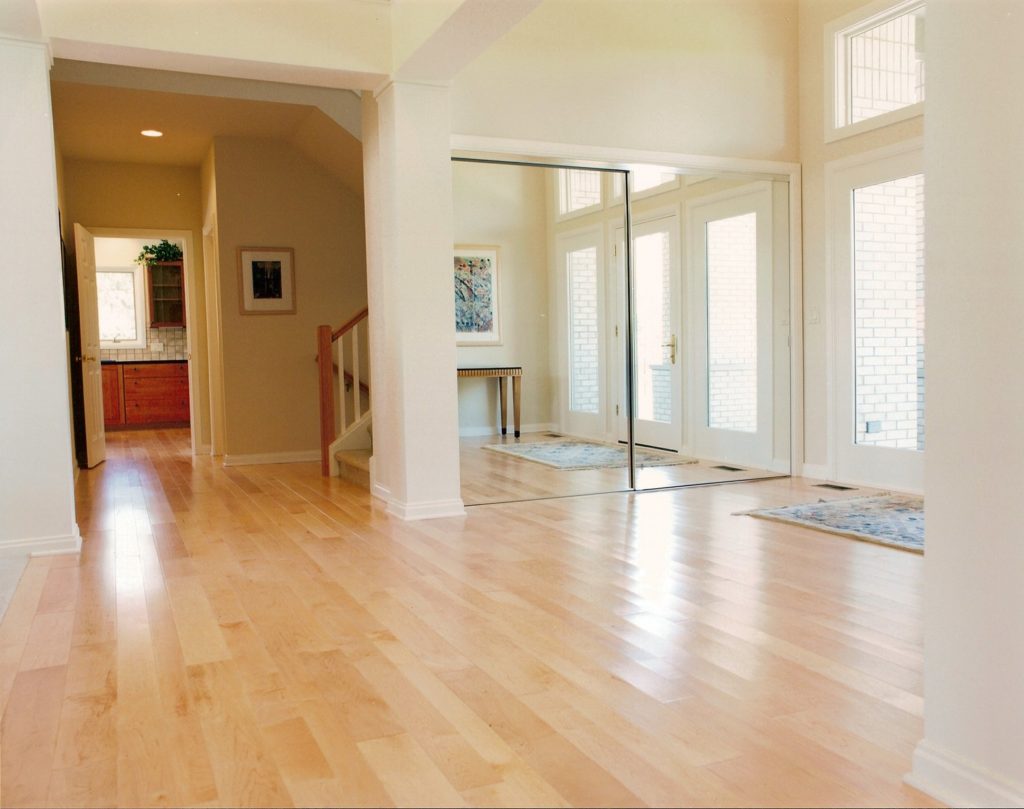 If you have been looking for an affordable, easy way to update your kitchen and make it look elegant and stylish, maple flooring can give you that option.
Due to high resistance to wear and tear, maple is a great choice for your flooring. In addition, maple floor also provides natural beauty, and warmth and an easy feeling on the feet. This particularly is great for kitchen floorings.
Maple is durable and hard – it increases the value of your home as you don't have to keep changing your flooring. With the proper cleaning and care of your flooring, your maple flooring could last you for generations.
If you prefer light colored wood (a little lighter than oak wood), maple is a great option. It is quite often creamy white (though often found in reddish brown or stained). It has a light grain, clean lines and adds to the brightness of the kitchen.
One not so good thing that we can point out about maple flooring is that it is not ecologically friendly, nor is it sustainable. Often reclaimed wood is used for making wood flooring and a lot of this is made by chopping trees for their lumber.
Cost of maple flooring
The cost of maple flooring starts at around $3 per square foot before installation costs, but varies depending on the style, thickness, size and quality of the boards, and manufacturer.
There is also a difference in price depending on whether the materials are prefabricated, as with snap-together kits, or more traditional boards. However, because of the durability of maple flooring, it will save you money over the years of use you get out of it without replacement.
Tips for buying maple flooring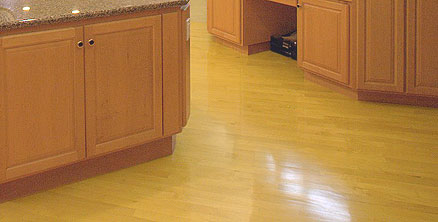 1. Maple flooring is a very versatile option for your kitchen because it can be used in many different ways to create different styles. It can be laid in a traditional plank design, or with more intricate parquet designs.
2. It can be left unstained to look very light and airy in color, or it can be stained very darkly to create a rich, warm feel. Because the color of a maple floor can be easily varied with the amount and color of stain and varnish applied, they are easy to adjust to any décor in any home.
3. The size of the kitchen will determine the size of the wooden planks you choose. Long planks are preferable for big kitchens, and shorter planks are more apt for smaller kitchens.
4. When buying your maple flooring, consider the thickness of the flooring, as it's important from a stability point of view. The thicker the flooring, the better the product.
5. You can buy your maple flooring in different grades; with grade one being the best. Though the lower grades have more imperfections, they are closer to the natural beauty of wood flooring.
6. Maple flooring is available in pre-finished and unfinished varieties. Though unfinished variety is more affordable and also offers you the option to custom design, pre-finished maple floors are more suitable for kitchens as they have a high quality finish to it which is applied at the factory. Thus pre-finished maple flooring is stronger and is more resistant to scratches, spills, UV rays and humidity. Any excess moisture is also gotten rid of with the factory process. With pre-finished floors you will also find that the warranties are better in comparison to the unfinished ones.
7. Also available is another type of pre-finished floor which is engineered maple flooring. It is manmade and is made of layers of plywood that make up the core of the flooring. Maple layers make up the surface of the flooring. These two different layers are cross-laid upon each other. Due to this feature, engineered maple floorings are also good for the kitchen, especially for rooms at ground levels or below it.
8. This engineered maple flooring is considered to be more environmentally friendly. This is because the plywood is created of fast growing softwoods, which are in abundance. With this, less of maple is used.
9. For under floor heating, this engineered maple flooring is very effective.
Installation of maple flooring
Wood retracts as the climate changes and becomes dry. It re-expands as moisture is released back into the air. So, you want to be aware of how maple flooring reacts to the changing climates through the year. And thus, it makes sense to use a professional for installation. These are trained and experienced people who know how to handle it professionally, unlike us.
Maintenance of maple flooring
Once you install your maple flooring, make sure to keep it well swept with a dry dusting cloth or a broom, and mop.
Clean up spills immediately, because liquids can seep into the cracks and cause the wood to swell and warp.
Area rugs and mats can be placed in key areas in your kitchen such as in front of the sink. This helps avoid scratches and indentations.
After years of use, it is to be expected that any flooring will look a little worn and older, but maple flooring can be refinished. Refinishing is one of the amazing qualities of this type of flooring.
How to get the best price on a maple flooring
BuildDirect appears to be one of the best places to buy the maple flooring from. Besides the best prices, their customer friendly policies make buying from them a pleasure.