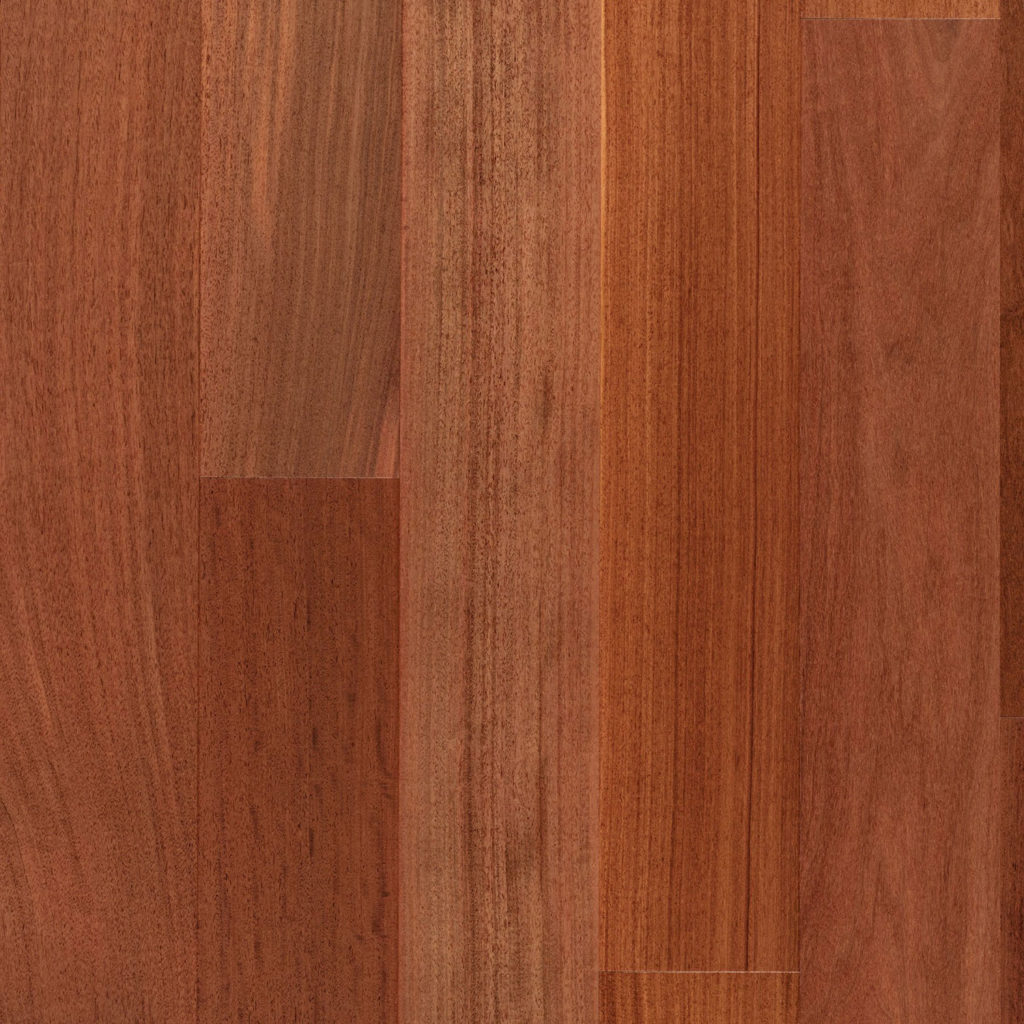 Santos mahogany is the most preferred species of mahogany among the various other species such as Honduran (genuine) mahogany and Red mahogany. When it comes to high action and humid areas such as kitchens, Red mahogany and Santos mahogany can stand the test. However, Red mahogany is rarely available, and therefore Santos mahogany flooring becomes the first choice for kitchens. This is because of its high degree of hardness and durability.
On the Janka hardness scale (an industry measure to denote hardness of wood), Santos mahogany has a rating of 2200, which leaves genuine mahogany far behind. It is even harder than maple and oak.
Santos mahogany (also called Balsamo or Cabreuva) has a beautiful reddish brown color and looks appealing to the eye. Due to its compact grains Santos mahogany flooring is naturally resistant to scratching, denting, rotting, insects and fungi. Therefore having pets should not be of any concern.
Due to its rich texture and royal appearance Santos mahogany flooring can give your kitchen a sophisticated look, adding value and increasing the resale value of your home.
Cost of Santos mahogany flooring
Apart from the cost of installation, you can buy Santos mahogany flooring for $4 per square feet and upwards. Pricing depends on certain factors such as the quality, size and thickness of the planks. Unfinished material is cheaper than prefinished material. However, you will incur extra costs for sanding and finishing if you buy unfinished Santos mahogany floor. As you decide on your budget, keep in mind that good quality Santos mahogany flooring will last longer, giving you value for your money.
Tips for buying Santos mahogany flooring

1. Santos mahogany flooring is available in different quality grades. The higher the quality grade, the more uniform the pattern and color will be. On the other hand, lower quality grade material will have larger color variations and may have knots. First grade material is always the best as far as quality and looks are concerned. Some prefer lower grade Santos mahogany as it looks more natural.
2. If your kitchen is bigger you must choose larger planks to give your Santos mahogany flooring a seamless look. This will also make cleaning easy. If your kitchen is smaller, smaller planks will do.
3. It is important to choose planks of the right thickness. Thicker planks will give solidity and sturdiness to your Santos mahogany flooring.
4. While choosing the color variation keep in mind your kitchen theme and furnishings. The natural color of Santos mahogany flooring blends well with kitchen furniture and countertops that are dark in color.
5. Santos mahogany flooring comes in two types: unfinished and prefinished. Unfinished Santos mahogany flooring is more rugged and can be sanded and polished at home as per your tastes. Prefinished Santos mahogany is more preferable as it is factory treated and coated in order to preserve its quality and strength. Although prefinished Santos mahogany floor is comparatively more expensive, it is best suited to kitchens with a high level of activity, as it has a higher resistance to humidity, spillage, scratches and the harmful effects of direct sunlight. Furthermore, it carries a better warranty.
6. These days engineered Santos mahogany flooring is in vogue. This is because it is specially manufactured in the factory and the Santos mahogany plank is reinforced by using a lower layer or core of fiberboard or plywood to give it stability and durability. The lower plywood layers and the upper mahogany layer are placed perpendicular to each other and subjected to extreme pressure at the factory. The end product is stronger and good to look at. If your kitchen is at ground level or below, engineered Santos mahogany flooring would be the best for it.
7. If you have an under floor heating system, engineered Santos mahogany flooring would work well with it.
Installation of Santos mahogany flooring
Santos mahogany floors can be installed by floating, gluing down, stapling and nailing. This takes a lot of hard work, expertise and patience, and therefore is not a DIY project. It is therefore recommended that you get it installed only by experienced and licensed contractors. This is because correct installation of the sub floor and flooring plays an important role in how your Santos mahogany flooring will perform in the long run.
Santos mahogany, similar to other hardwoods, expands and contracts with changes in seasons and temperatures. Therefore the planks must be properly installed in order to keep them from getting warped or developing gaps in between them. Well installed Santos mahogany flooring calls for minimum maintenance.
Maintenance of Santos mahogany flooring
Always follow the guidelines provided by the manufacturer for care and maintenance of your Santos mahogany flooring.
For best cleaning results, you can vacuum or swab your Santos mahogany floor with a moist mop.
In areas of high foot traffic and areas where there is a possibility of spillage, you can place area rugs to lessen the seepage, impact and the resulting wear and tear that may be evident in the long run.
Do not let spilled liquid sit on the Santos mahogany flooring, but immediately wipe it off. This will prevent the liquid from seeping into the gaps between the planks and causing the planks to swell.
Although Santos mahogany floors last for a long time, they may show signs of wearing with time. As with any hardwood floor, you can refinish your Santos mahogany floor and bring back the shine.
How to get the best price on a Santos mahogany flooring
BuildDirect appears to be one of the best places to buy the Santos mahogany flooring from. Besides the best prices, their customer friendly policies make buying from them a pleasure.