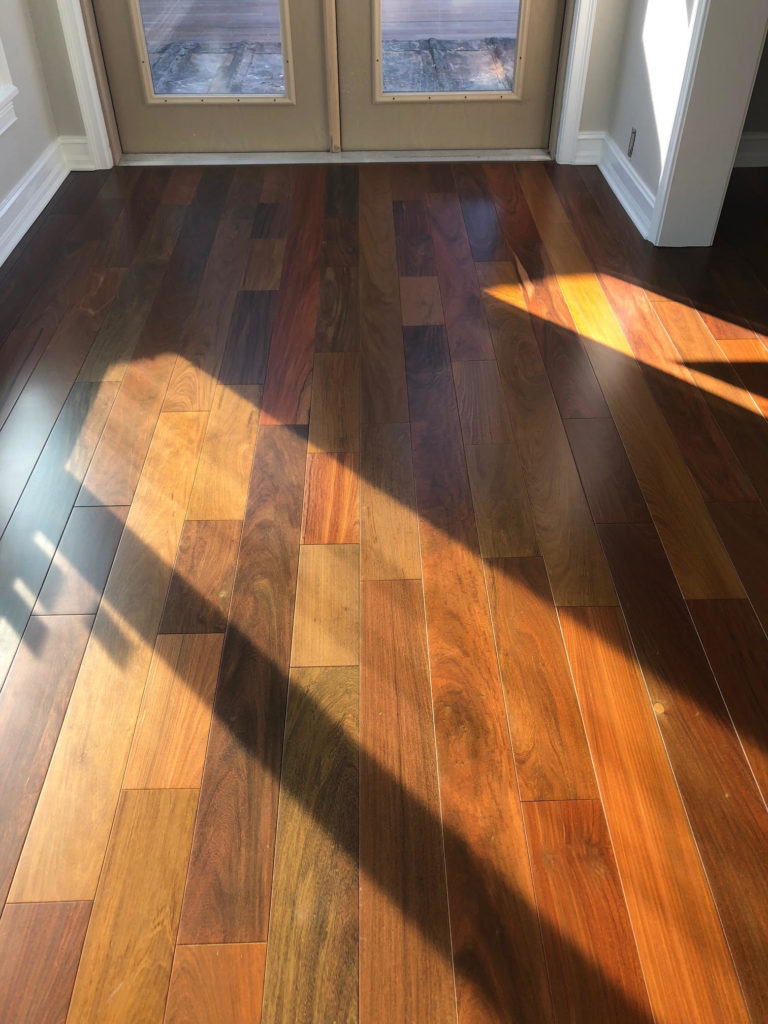 Brazilian walnut (also called Ipe or Lapacho) is the hardest kind of hardwood available for kitchen flooring today. Brazilian walnut flooring is preferred to traditional Black walnut flooring because it has a much higher Janka hardness rating (an industry measure to denote hardness of wood) of 3684. Brazilian walnut is even thrice harder than oak.
This hardwood is grown in Brazil, Bolivia, Venezuela and Guatemala. Due to its exceptional hardness and durability, Brazilian walnut flooring is ideal for kitchens, where there is moist and rugged usage. Brazilian walnut floor cannot be easily scratched or dented. Therefore having pets should not be of any concern. Due to its immense denseness, Brazilian walnut flooring is insect, mold, rot and fire resistant.
Apart from being durable, Brazilian walnut flooring is aesthetically appealing. It is available in various colors from yellowish green to dark brown, and various grain patterns from consistent to irregular. Although the newly milled wood displays a variation of color shades and hues, it seasons into a rich dark brown uniform color with time.
Brazilian walnut flooring adds style and sophistication to your kitchen and sets the theme. It therefore gives your home a rich feel and a higher resale value.
Cost of Brazilian walnut flooring
Although Brazilian walnut flooring costs more than traditional hardwood flooring, it is a great investment as it lasts longer, giving you value for your money. Apart from installation costs, Brazilian walnut floor of basic quality costs around $5 for a square foot and increases as you go in for higher quality, thickness and finish. Prices also vary from manufacturer to manufacturer.
Tips for buying Brazilian walnut flooring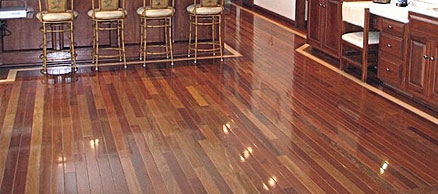 1. You can choose from different quality grades; the higher the quality grade the more elegant it will look, and the lower the quality grade the more natural and rustic it will look. Brazilian walnut flooring of first grade material will have more uniform color whereas lower grade material may have more variations and knots. Both extremes will offer you their own aesthetics.
2. While choosing the size of the planks, take into consideration the size of your kitchen. For bigger kitchens always choose longer planks for more uniformity. Since Brazilian walnut flooring has a beautiful chocolate color, it is ideal for outdoor kitchens.
3. While choosing the thickness of the planks, it is obvious that the thicker the planks the more sturdy and stable your Brazilian walnut flooring will be.
4. While choosing between unfinished and prefinished Brazilian walnut flooring for your kitchen floor, it is better to go for the pre-finished one, since the planks are factory treated to give them a better finish and make them resistant to spilling, scratching, UV rays and moisture. Furthermore, they carry a better warranty than unfinished ones. Unfinished planks are cheaper and can be sanded and customized during installation.
5. For more rugged use, you can choose an engineered Brazilian walnut floor. This is a specially designed prefinished material that consists of a lower layer or core made up of fiberboard or plywood. The upper layer is made of solid Brazilian walnut that is cross laid over the core. This not only gives structural stability to your kitchen floor but also makes it more resistant to moisture, spills and extreme temperatures. If your kitchen is at ground level or below, engineered Brazilian walnut flooring would be the best for it.
Installation of Brazilian walnut flooring
Hardwoods shrink and expand as a result of changes in temperature and humidity. Therefore you must get your Brazilian walnut flooring installed by an experienced and licensed contractor. Improperly installed floors may develop gaps in between the planks as a result of contraction and expansion of the wood.
Maintenance of Brazilian walnut flooring
Always follow the guidelines provided by the manufacturer for care and maintenance of your Brazilian walnut floor. Get your doubts cleared and questions answered by the manufacturer.
In order to keep your Brazilian walnut flooring clean and beautiful, you can vacuum it or use a damp mop to clean it.
To protect your Brazilian walnut flooring from the daily wear and tear, you can place area rugs at high action areas such as the sink. This will keep the surface from getting scratched or dented.
Never allow spilled water or other liquid to sit on your Brazilian walnut floor. It may seep into the joints and make the edges of the planks expand. Therefore wipe off any spilled liquid immediately.
Although your Brazilian walnut floor can last a lifetime, they may show signs of wearing with time. As with any hardwood floor, you can refinish your Brazilian walnut floor and bring back the shine.
How to get the best price on a Brazilian walnut flooring
BuildDirect appears to be one of the best places to buy the Brazilian walnut flooring from. Besides the best prices, their customer friendly policies make buying from them a pleasure.