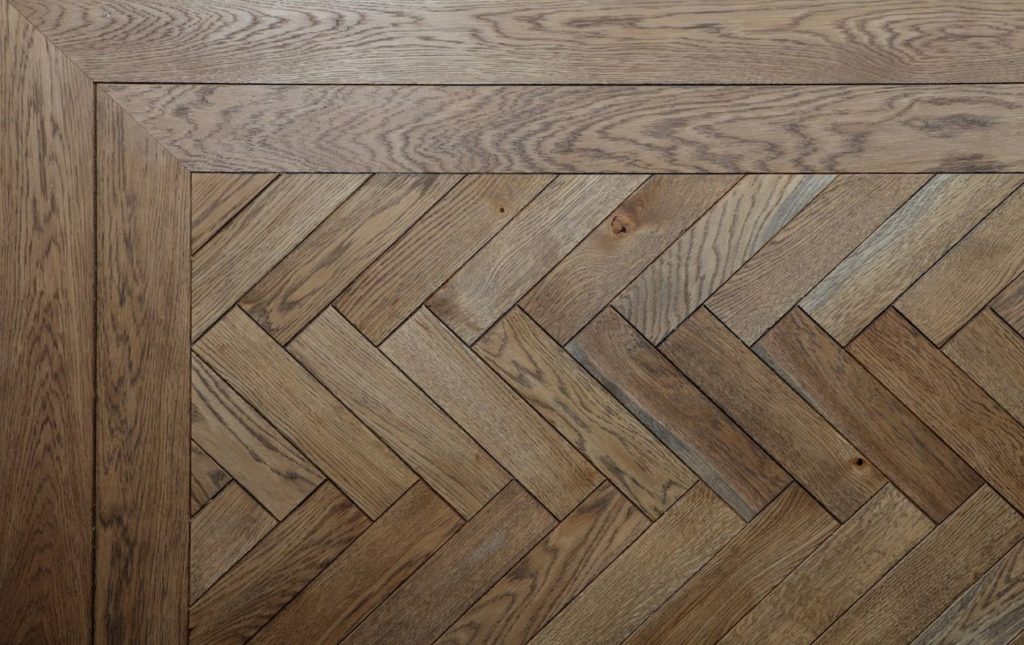 Parquet flooring is a type of flooring where small wooden pieces are arranged to uniformly form geometric and angular patterns across the entire floor base. The main advantage of parquet is that you can get your floor to look unique by choosing a unique pattern and design. In order to do this, different types of woods may be used. You can choose from various popular patterns such as herringbone, mosaic, brick, ladder, medallions, checkerboard or even basket weave.
Besides its aesthetics, parquet flooring is tough, resistant to moisture and easy to maintain, making it ideal for kitchen flooring. The small wooden pieces are arranged in various directions thus reducing cross gain expansion, making the entire arrangement more stable and breath taking.
Parquet flooring brings in a feeling of novelty and vibrancy, adding value to your home and leading to a quicker and beneficial resale deal.
Cost of parquet flooring
No matter what your budget is, the cost of parquet flooring can be flexible enough to meet it. You can get a good deal for $3 per square foot to begin with. The cost will depend on whether you choose natural or engineered parquet. Other factors affecting the pricing are the type of wood, design, quality grade, thickness and finish. Prices differ from manufacturer to manufacturer. Medallion parquet floor is a piece of art and requires special effort. Therefore it is more expensive.
Tips for buying parquet flooring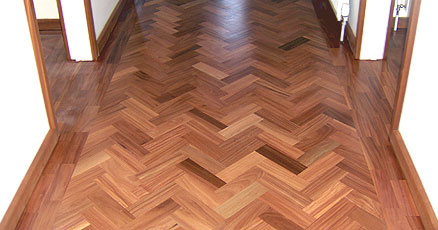 1. Although softwood can be used for parquet flooring, kitchen areas call for hardwood such as oak, hickory, mahogany, maple, beech, teak or Brazilian cherry.
2. For darker parquet flooring, mahogany is suitable whereas oak can be used for lighter shades.
3. Always buy more boxes of parquet wood tiles than you need at the moment. These will come handy in the future for minor repair work which can be done without disturbing the entire flooring.
4. Always buy first grade material. By doing this you will ensure that the wood is of uniform color and do not contain knots. Some people prefer to buy lesser grade material simply because they are more close to nature and are also comparatively cheaper.
5. Buy the thickest parquet flooring material you can afford. This will bring solidity to your floor and prevent incidences of warping in the future.
6. Keep your kitchen color scheme and theme in mind while choosing the color and pattern of your parquet floor. Well installed parquet flooring will not only stand out but will also blend well with rest of your kitchen décor without looking too loud.
7. You can choose between unfinished and pre-finished parquet floor. Unfinished flooring, although cheaper, will require to be finished at home with oil, stains or lacquer. Prefinished parquet floor comes readily finished at the factory and is more resistant to spillage, scratching, moisture and the harmful effects of direct sunlight. Furthermore it carries a better warranty than an unfinished one.
8. For extra durability you can choose engineered parquet flooring. This is a special type of prefinished flooring that is reinforced by adding an extra layer of plywood underneath the actual parquet tiles. Engineered parquet floor is suitable for ground level kitchens where moisture is at the maximum.
Installation of parquet flooring
Installing parquet flooring takes a lot of skill, patience and hard work. Therefore it may not be a DIY project. It is best that you hire an experienced and licensed hardwood contractor because a well installed parquet floor will last longer and call for less maintenance and repairs.
You can have your parquet flooring installed on both, concrete or wooden sub floors after applying an adhesive. Another type of parquet flooring is floated. It is made up of wood tiles that lock into each other as the edges contain tongues and grooves. In this type of method, no adhesives are used and the floor rests on a rigid foam underlayment.
After installation, see to it that there aren't any large gaps in the surface, or else moisture may get in there and lead to warping.
Maintenance of parquet flooring
Always follow the guidelines provided by the manufacturer for care and maintenance of your parquet flooring.
For best cleaning results, you can vacuum and swab your parquet floor with a moist mop. Do not use harsh liquid cleaners.
Place area rugs in those areas in the kitchen that are frequented most – such as near the sink. By placing rugs at such spots, it prevents the regular wear and tear which is pretty obvious after a couple of years.
Do not let spilled liquid sit on the parquet flooring, but immediately wipe it off. This will prevent the liquid from seeping into the gaps between the wooden pieces and causing them to warp.
Although parquet floors last for a long time, they may show signs of wearing with time. Occasionally a few wood tiles may require replacing. As with any hardwood floor, you can refinish your parquet floor and bring back the original shine.
How to get the best price on a parquet flooring
BuildDirect appears to be one of the best places to buy the parquet flooring from. Besides the best prices, their customer friendly policies make buying from them a pleasure.