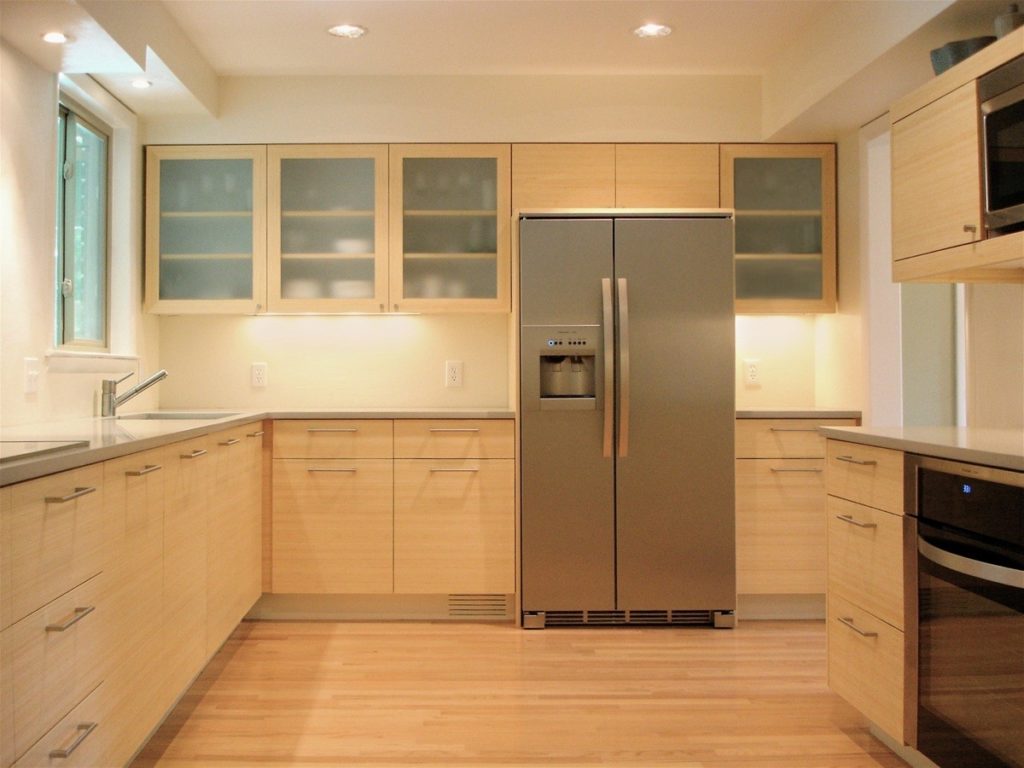 Bamboo kitchen cabinets are synonymous with green and eco-friendly. They are unique in their look and designs. They are different from other ordinary kitchen cabinets made of wood, metal and plastic. Bamboo cabinets provide kitchen an extraordinary look, a hip ultra-modern touch that you will not get even in expensive kitchen cabinets. And now people are accepting bamboo kitchen cabinets like other bamboo-made furniture at their homes because of the many advantages they offer.
Advantages of bamboo kitchen cabinets
Strong and durable – Bamboo kitchen cabinets are strong and durable as bamboo is harder than many woods such as walnut and oak. Cabinets made of bamboo will also not warp and shrink with any changes in the weather and they offer better dimensional stability than cabinets made of other traditional hardwood products. In kitchen cabinets made of bamboo, the overall fittings, including doors and drawers, will also not degrade overtime. Bamboo kitchen cabinets can withstand water, sun and everyday use.
Unique aesthetic appeal – Bamboo kitchen cabinets offer a hip natural look to a kitchen. They look appealing with ultra-modern and high-tech kitchen appliances such as stainless refrigerators and micro oven. They also enhance the appeal of classic kitchen appliances such as antique dishware and kitchen furniture. Bamboo kitchen cabinets go well with all types of kitchen furniture as well. And if your kitchen has other bamboo furniture, then bamboo kitchen cabinets are the perfect fit.
Eco-friendly – Kitchen bamboo cabinets are natural and environment friendly. They do not exhume any toxic chemicals that will be harmful to your health. There will be no plastic peel or glass particles or any harmful substance if you have bamboo kitchen cabinetry at your home.
A better alternative to particle board and other hardwoods – Kitchen cabinets made of bamboo are no doubt better than cabinets made of particle board and many other wooden cabinets. Whatever may be the colors of your kitchen walls and tiles, bamboo kitchen cabinets go well with all types of kitchen background.
Multi-purpose use – Bamboo kitchen cabinets can be used as indoor as well as outdoor cabinets. If you have cottage kitchen or beach side kitchen, bamboo kitchen cabinets will be a right choice. They are also easy to install and easy to move because they are light in weight.
Easy for maintenance – It is easy to maintain bamboo kitchen cupboards. You can wash them regularly with water or with some light detergent solution regularly. They do not need any special chemicals for cleaning.
How to choose bamboo kitchen cabinets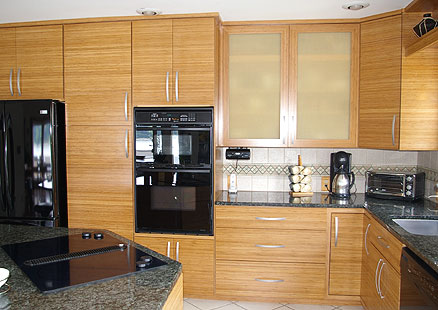 1. Look for quality material – While buying bamboo kitchen cabinets it is important to check that the bamboo is appropriate and strong enough to use in cabinetry. Bamboo used in kitchen cabinets can be sub-standard. Various grades of bamboo are available in the market, so take time to select better bamboo types. You can ask the cabinet maker to check where the bamboo comes from and how it has been processed to make sure you buy quality bamboo kitchen cabinets. Some bamboo kitchen cabinets may be made of laminated bamboo plywood and that is not right kind.
2. Check adhesive and finishes used – Know from the manufacturers or the stores about the finishes and adhesives used in the bamboo used in the kitchen cabinets you are buying. Go for the ones that use low or no formaldehyde. The color of the bamboo varies and depends on the types of finishing. Also the color of the bamboo varies depending on the variety and the location the bamboo has grown.
3. Budget is also important – Bamboo cabinets will be cheaper compared to other kitchen cabinets made in other woods such as oak, maple and birch. However, whatever the cost may be, look at your budget and get one that meets your needs.
Spend some time on the Internet browsing the websites to know more about bamboo kitchen cabinets. See the pictures available on the websites and compare them, you will get better ones for your sweet home.