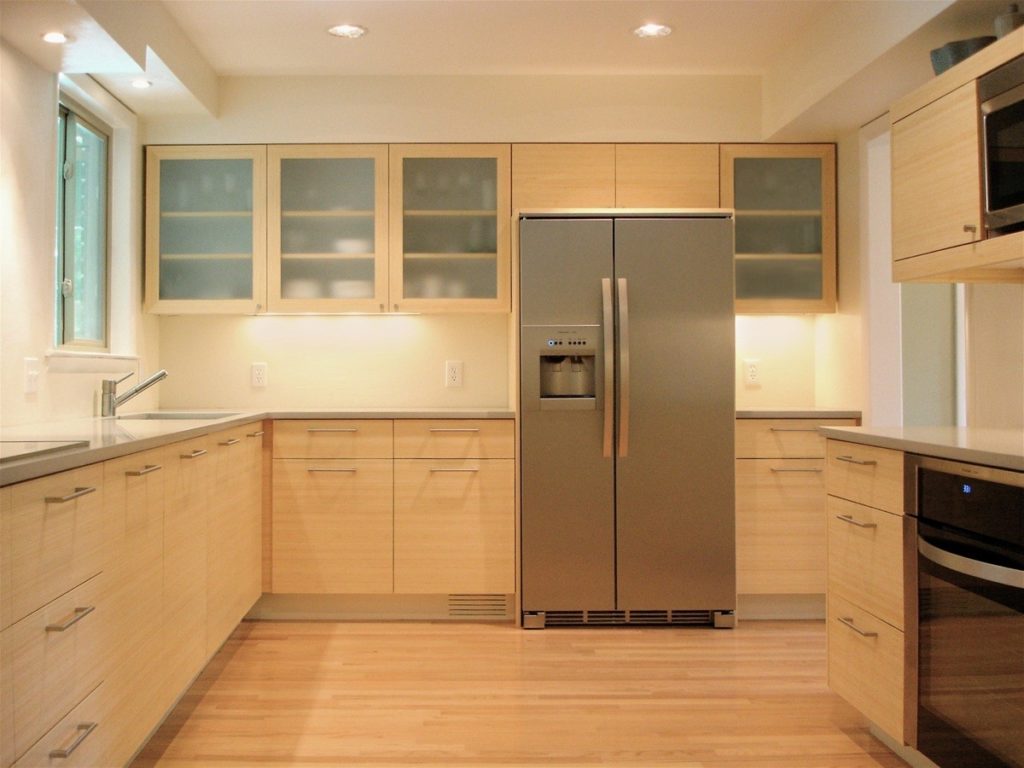 Living in a very environmentally conscious age, it is important to know the potential hazards of everything around us. There is an influx of a whole range of eco-friendly products (also known as "green" products) in the market and you can get anything from green kitchen accessories to eco-friendly paint. Kitchen cabinets are one of the most essential things in every home and they are not as toxin-free as we think them to be.
When you plan to remodel your kitchen try to use eco-friendly products like eco-friendly kitchen cabinets. Here are few important things you need to keep in mind before buying green kitchen cabinets:
Urea formaldehyde – This, very popular adhesive used for wood and wood-based products, has been defined a "human carcinogen" by the World Health Organization (WHO). Though, when used in very small amounts this does not pose any health hazard, the Environmental Protection agency strongly recommends very minimal use of it. The problem mainly arises when the urea formaldehyde comes into contact with heat, the emissions get intensified and more concentrated. The kitchen is a place where the temperatures are normally high; so try not to use products that contain urea formaldehyde as their primary adhesive.
Low VOC – While looking for green kitchen cabinets, ensure that there is no or very low Volatile Organic Compound – better known as VOC. This is a part of paints, and majority of the finishes that are used to seal the exterior of cabinets. Emissions of VOCs produce high levels of harmful gas in the air. Though available on request, the advantage of the low VOC level is that it is odor-free as well.
Durability – While going for green kitchen cabinets it is very important to check for their durability. A good quality green cabinet should be able to sustain 20 yrs of good use. Since most will not plan on remodeling their kitchen every few years, it makes more sense to use good quality products even if they seem a little more expensive. Though green cabinets may be a little more expensive, look out for deals in local papers and the Internet. While making any purchase through the Internet make sure you check the shipping costs as well.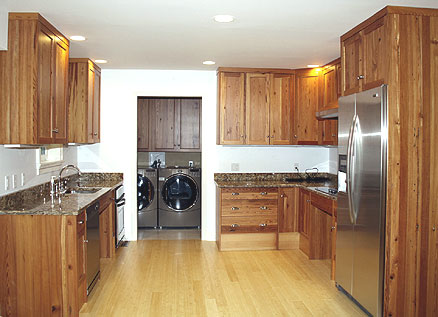 Buying green kitchen cabinets
Here are a few choices on green kitchen cabinets:
1. Bamboo – This is a choice of most environmentalists as it takes less than half the time for the bamboo to reach its size as compared to the other types of wood. Bamboo looks very soothing to the eye and can give a completely different look to your kitchen. Green kitchen cupboards made of bamboo are very sturdy and also have an enviable durability.
2. Recycled wood – If you are very keen on reducing deforestation, recycled wood is the way to go. A surprising aspect of recycled wood is that it is actually stronger than most of the commercial wood used for making cabinets in the market today. Also, the durability of recycled kitchen cabinets would be very high. These recycled wood cabinets are usually made from old solid wood and all they would really need is a good low-VOC finish to give them a perfect look. Not only will recycled wood be sturdy but also easy on your pocket.
3. Reclaimed kitchen cabinets – This is another popular choice while planning to go green with your kitchen. Reclaimed wood has been used by a lot of manufacturers who come up with something innovative through using them. Not only would this be an affordable option, the quality might be quite good as well because the person doing away with his/her previous cabinet might just want to change the way his/her kitchen looks. If you find a cabinet that suits your home and your need, just pick it up and customize it a little if required. Reclaimed wood may also come from heritage buildings, so you never know what kind of treasure you are getting your hands on.
Thankfully, the consumers' needs are echoed by the manufacturers who provide high quality, durable and affordable eco-friendly kitchen cabinetry. With an influx of so many green products, you are sure to find something that will fit your needs and budget perfectly.