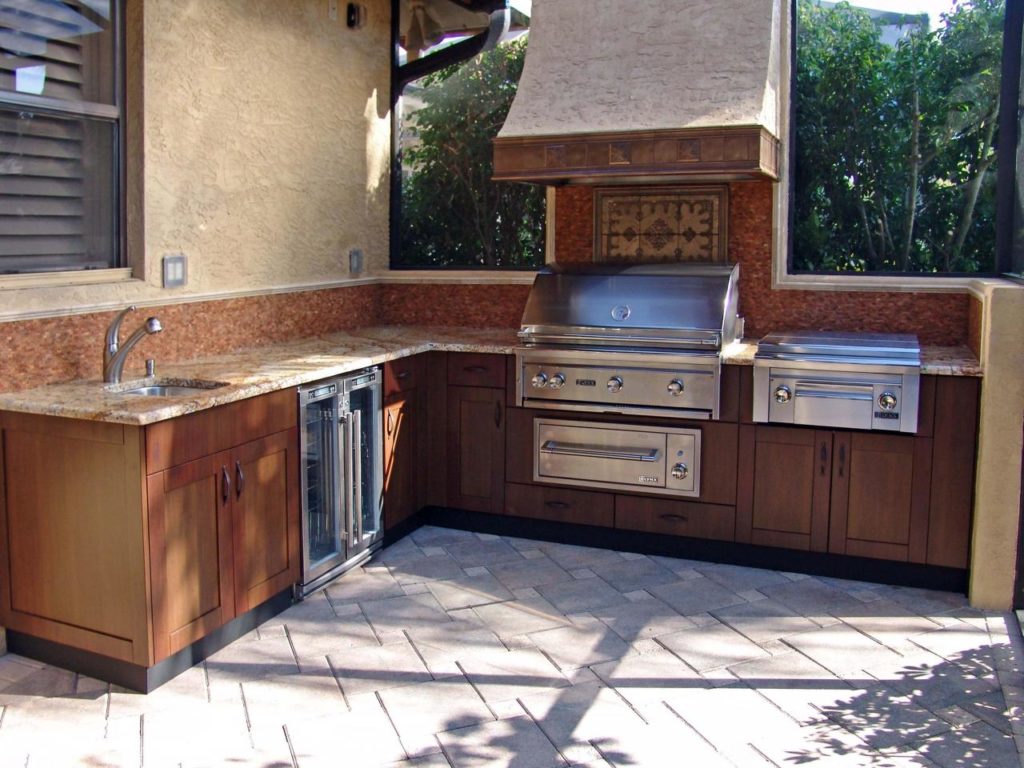 An outdoor kitchen is like an extension of the house. You can cook in the lap of nature! Here are a few tips on an outdoor kitchen design that would help you in setting up an outdoor kitchen for yourself:
1. If you are on a budget and are not in a mood to splurge much, you can make an outdoor kitchen on an already constructed structure. It could be a terrace or a patio. But, do remember that an outdoor kitchen, like a normal kitchen, would require electricity connections, a gas source, plumbing lines and lighting fixtures.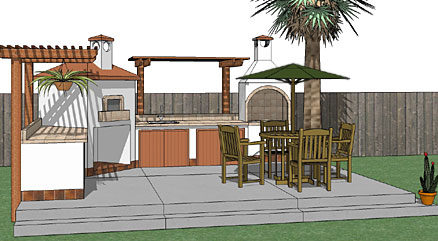 2. You would also need to install an outdoor grill as it will be your main source of cooking food. You can opt for a gas grill, an electrical grill or one that works on coal… entirely your choice.
3. Another addition that you should work into your outdoor kitchen design is a wood-fired pizza oven. Not only they would aid you in making absolutely lip-smacking pizzas but would also add an authentic and decorative touch to your outdoor kitchen.
4. For the lighting need in your outdoor kitchen design, opt for halogen lights. They are easy to install and affordable as well.
5. Other points to think about are – where to install a sink, gas range, storage areas and electricity points… there are a lot of varieties available in these as well.
6. An over-indulgent addition to your outdoor kitchen would be a warm and cozy fireplace… cuddling with your family and friends on those cold winter nights!
7. The most important thing to keep in mind while working on your outdoor kitchen design is that there are some materials that would work very well in a normal kitchen but would not last in an outdoor kitchen. You should get those materials that are weather resistant, that would be able to withstand all kinds of weather. Go for materials such as teak and hardwood for storage… you can also opt for stainless steel or aluminum for the sink and other appliances. Plastic would be an ideal choice for chairs and tables.
8. The layout is another important aspect of your overall outdoor kitchen design. The most convenient ones being the U shaped or the L shaped kitchen. You need to make space for a dining area, cooking area, storing area, and washing areas.
9. As mentioned before, a grill is an integral part of an outdoor kitchen design; it is advisable to use fire resistant materials such as bricks and stone to make an area where you can place your refrigerator, drawers, sink and other products.
10. While designing the layout of your outdoor kitchen, make sure that you place the faucets near the cooking range and the refrigerator.
11. Also, make sure when you are opting for metals, go for those metals that aren't susceptible to rusting.
12. While designing your countertop, leave space for storing pots and pans.
13. If you are worried that during extreme weather conditions, you won't be able to enjoy your outdoor kitchen, then you can place the grill and the stove under a nook of stairs… you will use up the dead space and the cooking area would be safely tucked inside.
14. You can also place the outdoor kitchen amidst lots of plants… they will add a dash of color to the whole kitchen.
15. If you are not very comfortable with a fireplace or your budget doesn't allow you to build one, then you can install a heater for those cold winter nights.
The concept of outdoor kitchen design is slowly gaining lot of popularity. There are times when you do get tired of cooking in the confined space of your kitchen, and then an outdoor kitchen literally offers a breath of fresh air. These kitchens are also an ideal space to host some relaxed get-togethers or some laidback barbecue nights.
Here is a software that would also help you with the creation of your outdoor kitchen design.