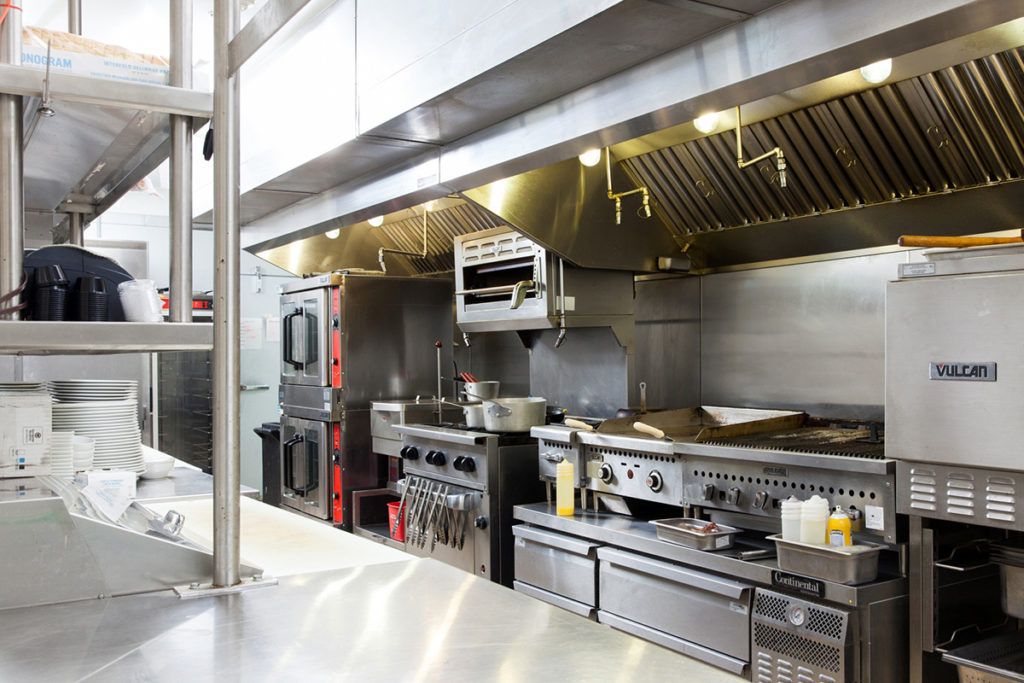 While selecting a kitchen design for your house you have plenty of good options to choose from, but when you have to choose a kitchen design for your restaurant or canteen or for any other place that is for commercial use, then selecting the kitchen design is tough. This is because when you want a kitchen design for your home you give priority to looks and beauty, but for a commercial kitchen design — functionality and efficiency are given the top priority. In a commercial kitchen design you have to be very careful about hygiene and cleanliness, so accordingly a layout for a commercial kitchen design is made.
Designing a kitchen for a house is much easier than making a commercial kitchen design. It is a pretty hard process, but there are ways to make this process simpler for yourself or the designers.
The factors to consider in commercial kitchen designs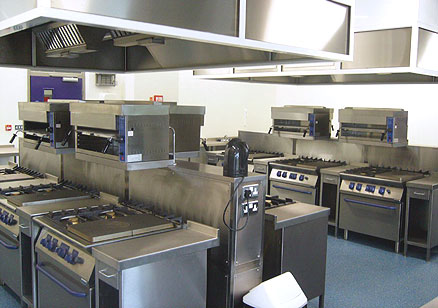 The things that play the most important role in a commercial kitchen design are the layout, ventilation and equipments. Though these three things are of utmost importance, they depend on what type of a commercial kitchen you are planning to build. These three factors will be different in a cafeteria kitchen, a high end restaurant kitchen or a fast food joint kitchen. There will be some things that you will need in one kitchen but not in the other. So it is always advised to keep the commercial kitchen design very simple, efficient and useful.
Essentials and non-essentials
To make the process of designing a commercial kitchen easier, you should first make a list of all the items that you will need in your kitchen. This list of kitchen items should first include the things that are mandatory for your kitchen, the things without which your kitchen cannot work. Then you should list the items that are not necessary, but would help in carrying out the work smoothly.
Space and organization
A commercial kitchen should always have a lot of space, because a cluttered kitchen will cut down the work efficiency and cause a few other issues. If you organize the kitchen essentials properly and avoid overcrowding of things, you will have the best workspace. Availability of enough work space is the most important thing for a commercial kitchen design.
Laws and regulations
Another important thing to be kept in mind while planning a commercial kitchen design is to be aware of the zoning laws and regulations that ensure a healthy and safe environment. You should make sure that you are spending the major part of money in the right direction, by following the stated rules and regulations. It is always suggested to be in touch with the zoning commission to get knowledge about what all things are prohibited and what all are allowed. The legal formalities and other laws should also be taken care of. Commercial kitchens are designed for long term use, so one should take ample time to complete the designing process, because making alterations in such kitchens is a tough job.
Costs
You should work with sensibility while designing a commercial kitchen. You should become as thrifty as you can, so that you don't end up wasting all your money. While purchasing the equipments opt for simple yet reliable equipments that can be relied upon for long term use. It is always better to purchase good quality stuff and not be lured by cheap equipments because they might cost you more in the long run; but do not run for costly equipments that might not bring much advantage to you. It is advisable to go for stainless steel equipments because they are durable, strong, easy to clean and prevent food poisoning.
Though preparing a commercial kitchen design is a mind game, but once you have a good kitchen with you, you can run your business smoothly for years together without facing a single hurdle. A person has to work with sensibility and awareness while designing a commercial kitchen.
Also, be sure to check out the Planner 5D Online Kitchen Planner. This kitchen design software will be of great help to you while designing a commercial kitchen. The program will also help you visualize your commercial kitchen design project in realistic 3D.