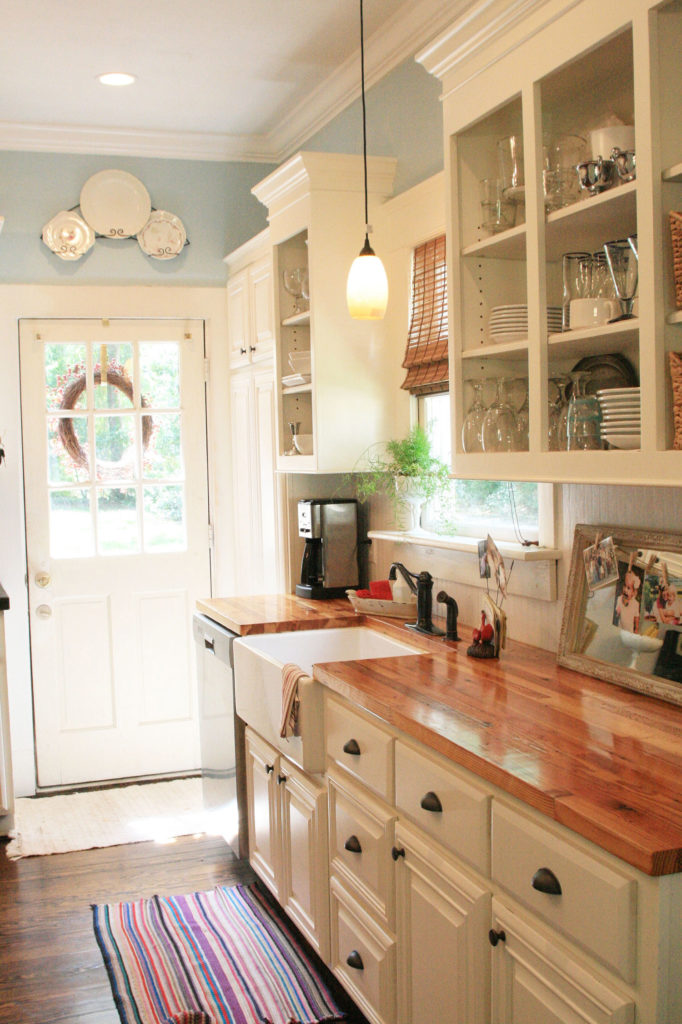 This is a guest post by Walls and Floors. If you want to guest post on this blog, check out the guidelines here.
Trends are constantly changing all the time and it can be hard to narrow it down and pick just one to then take the plunge to redecorate your kitchen. Maybe the current fashion is a rustic, country cottage look. But, it may be the case that no sooner have you bought your handmade, wooden, rustic dining table, and then you discover a futuristic, minimalist trend is the way to go instead. Maybe it's time for you to simply ignore the trends and fashions, accept the fact that they change frequently and just go with what you personally like. After all, it's your kitchen and you're the one who will be in it every day, not magazine publishers or designers. So here are a few tips on how to achieve some of the most popular kitchen designs that often tend to be in fashion anyway.
Rustic countryside
This look is a particularly good one to go with if you live in a cottage in the countryside. This is partly because most of what you will need to create this look can actually be found in your back garden. A wooden kitchen table and chairs are some of the first things you need to invest in. Having a stone floor is also a key element to achieving this look. The look is meant to be very natural so if you want to have any tiling on the walls, stick to neutral colors. A dove gray color is one option, or you could even just play it safe and go with a classic white. Black slate tiles can look amazing if you don't have a stone floor already so consider investing in them for a really rustic, authentic look. Fresh flowers should be placed in vases around the kitchen and on the table. If they are from your garden or the local countryside, that's even better. You will be able to bring the local environment into your home. The look is meant to be very natural and casual so a carefully made-up bunch from the local florist just won't look right.
Minimalist chic
To make this look work, you need to think 'less is more'. There should be absolutely no clutter or anything lying around the kitchen at all. Put all utensils away and keep ornaments to a minimum. Think white cupboard doors, a glass-topped kitchen table and black or silver accessories. Kitchen tiling needs to be in fitting with the non-existent color theme so steer clear of both brights and pastels. Try having just pure white tiles and dark, granite worktops. Chairs made of wrought iron and upholstered with white fabric cushions will fit in well with this style. Any coffee machines, waffle makers and various other appliances that are not in constant use should be tidied away into cupboards, leaving the work surfaces as bare as possible. The kettle and microwave should look very modern and be either brushed metal or patent black. You need to incorporate some shine into the kitchen to make this look work, so ensure you have cleaning cloths at the ready to polish all the work surfaces and try to avoid buying anything with a matt finish.
Color pop
A trend that can work really well in the kitchen is the color pop. It is essentially picking a key color and including little pops of that color around the kitchen. Use utensils, appliances and various other accessories to bring out your chosen key color. You need a base color to be quite neutral so stick to a cream or white. Kitchen tiles should match this uniform color, but add in a few statement tiles to accentuate the color pop theme. Utensils like the toaster and kettle should also be the same color, along with the curtains. The key is to make sure you don't go over the top with the color. You want to achieve little bursts of color, rather than complete overkill. This trend is particularly useful because it can be developed with the seasons. For example, green and yellow both work well in the summer, while a red or raspberry shade is cozier for the winter months. It's important to remember that while you are picking a distinctive color, you don't automatically have to have everything in the same shade. Although you don't want shades that clash, a very pale, pastel pink can work well together with a deep raspberry shade. You'll have a color theme, rather than a uniform two-shade look.
This guide was written by Walls and Floors who are one of the UK's largest suppliers of tiles. Find them at www.wallsandfloors.co.uk