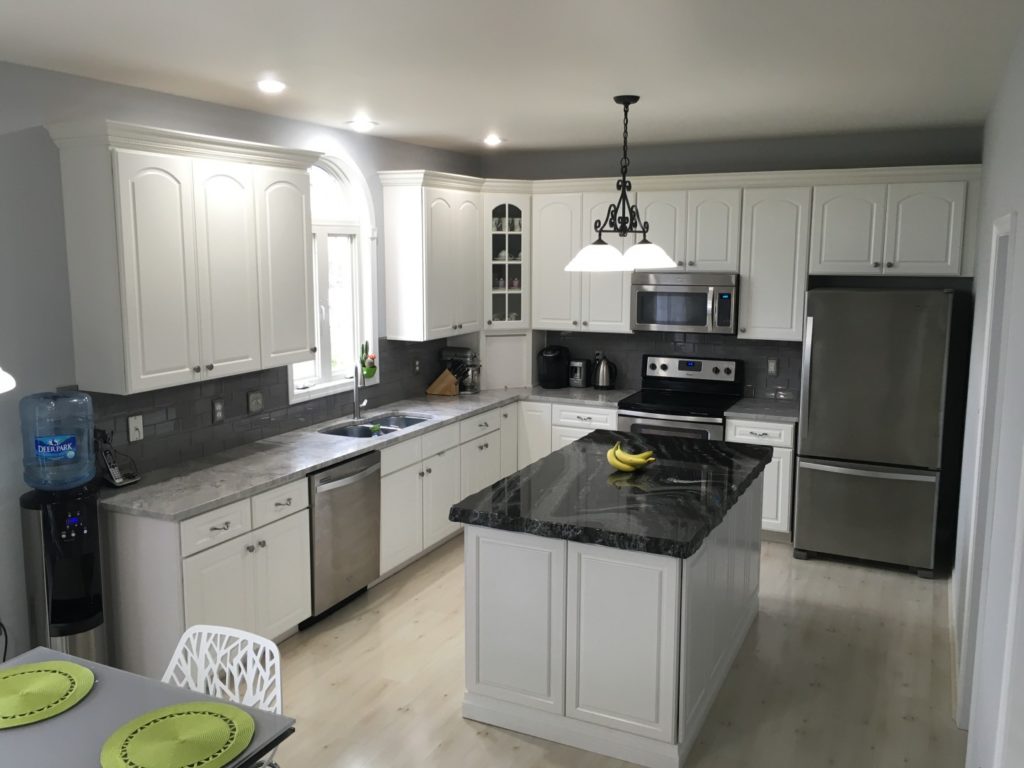 This is a guest post by Laurel. If you want to guest post on this blog, check out the guidelines here.
So you want to transform the interior of your home? There are many ways to make changes to a home. Painting the walls, getting new furniture, replacing flooring, and re-decorating are all ways to change up your home design. In this article, we will discuss how you can improve the look of your home with granite countertops.
Granite countertops are incredibly elegant surfaces. These countertops are usually found in the kitchen or bathroom of the home. The vast array of different granite colors can make choosing a color for your home design easier than ever! Are you worried that you may not be able to match any granite color with your home? Don't fret! The information we provide in this article can help you make the decision.
The kitchen is the heart of the home because it is where we eat with our family and friends. The countertops in the kitchen are used multiple times daily, so do yourself and your family a favor and make them beautiful! When deciding on a type of granite color, you need to be familiar with all the different colors and designs.
Here is a list of the most common granite designs
Marbled Granite – Marbled granite countertops give a natural look to the more modern looking granite. Solid granite colors tend to look more modern, while marbled granite portrays a more rustic atmosphere.
Speckled Granite – Speckled granite counters make the kitchen seem sleek and professional. When added with stainless steel appliances this granite design adds just the right amount of texture to the kitchen.
Solid Granite – Solid granite countertops add a glossy look to the kitchen. These countertops are often used in modern home designs, as they look like one solid color from far away but close up they have an intricate stone design.
Next is a list of the different granite colors for kitchen countertops
Dark Brown Granite – If your home design has a natural, earthy decorative theme, you should consider using dark brown granite. The dark color hides fingerprints and smudges which makes this color great for families with children. Dark brown granite blends well with the rest of the kitchen, while adding a subtle earthy tone.
Black Granite – Black granite countertops are used in more modern kitchen designs. The combination of black granite and stainless steel creates a contemporary look. Black granite usually has shimmering speckles that add character. These sleek shimmers make the black color sparkle.
White Granite – Although white granite does show dirt and crumbs more than any other color, it adds an elegant look to any kitchen design. White countertops also are most common in modern decoration. It is virtually impossible to find a pure white granite countertop. Most shades of white have flecks or streaks of grey or light brown. These markings add character to the countertop.
Colored Granite – Installing colored granite can be a scary task. How will you ever know what colors will match your home design? This is why granite samples are important in the process. Looking at a wide array of different granite color samples will help you make your decision, but you will be surprised to find that more colors will work with your design than you originally thought.
Now that you have an idea of the different colors and designs available for your kitchen transformation, it is time to get to work. Do some research and narrow your choices down to three of your favorite colors, then go from there! If you follow these tips, you will be well on your way to a new looking kitchen!
Laurel is a representative of Oldcastle Surfaces, a granite countertop company in located in the southeastern United States. Laurel loves sharing her expertise advice on choosing granite colors for home design.