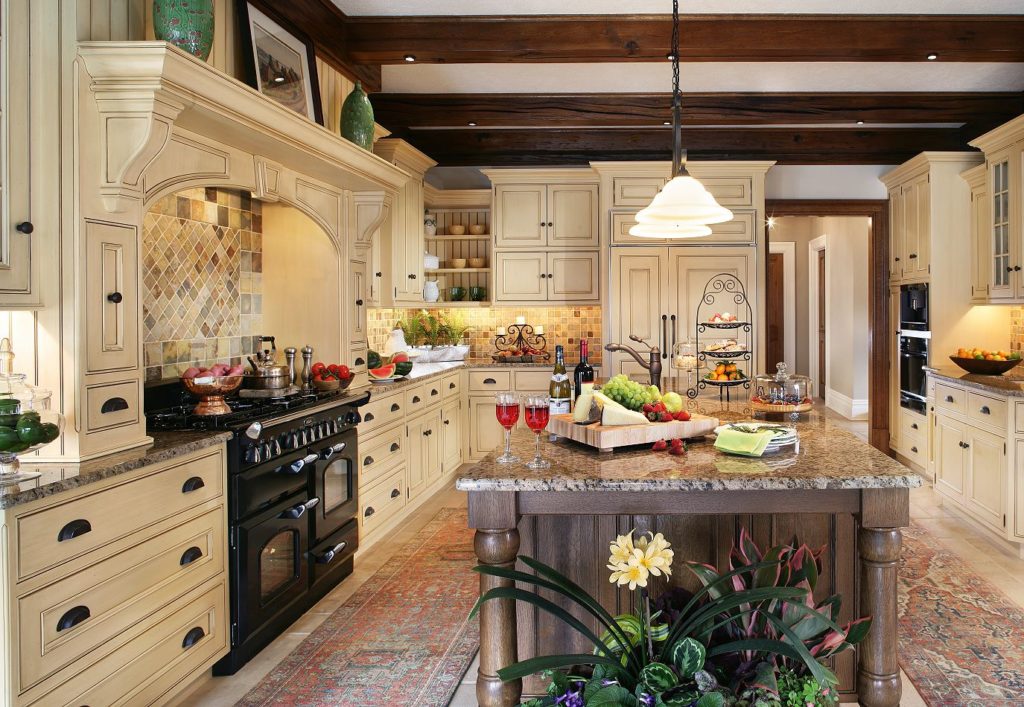 The Kitchen; the heart of your home. Some kitchen trends never die, whereas others wax and wane in popularity year by year. People have mixed opinions over whether or not bright colors should be used in the kitchen, whether a modern look is in right now, whether it is all about keeping it classical and so on and so forth. Your own choice of kitchen design may depend on the style of your property in its entirety, particularly if you have a historic or listed property.
As with any older property, it is essential that your home design choices fit well with the construction of the property. The aesthetic works well, the value of the property remains high and you can also sometimes get 'retro' or 'vintage' kitchen features at a lower cost. Whether you want to re-create a complete classic kitchen, or you simply want to add a few traditional features to a modern kitchen, we've put together six Antique touches to give your kitchen a truly traditional feel.
1. Copper sink
The stark metal of the copper sink often provides a stunning contrast to the elegant wooden cabinets of traditional kitchen design. While nowadays everything is made from resilient stainless steel, there is something ultimately satisfying about seeing a solid copper basin with matching taps to add a classic air to your kitchen. As a sink that is also naturally resistant to bacteria and made from a metal that is easy to shape, you can easily fit it into a kitchen of any shape or size.
2. Ornate lighting
Think beautiful chandelier or rustic 'fisherman's light' ceiling pendant. While lighting your kitchen properly is important, details such as your choice of overhead lighting can really affect the way an entire kitchen looks and feels. Ornate lighting that is both functional and attractive to look at is a great way of adding a classic touch to a modern kitchen.
3. Arches, beam ceilings etc. – architectural elements
Many classic kitchens feature exposed ceiling beams as a part of their overall design. A staple for any style of traditional kitchen; exposed ceiling beams work well with almost any type of décor and can also add an air of charm to an otherwise cold atmosphere. Kitchens can sometimes look rather sterile – all those faceless appliances and cabinets staring at you. Exposed ceiling beams add a natural splash of color to the room that brightens it up in a subtle way.
4. Cast iron cookware
Large casserole pots, versatile skillets and good old fashioned saucepans; while you may have the more modern version of these accessories, sometimes you can strike gold by finding an old pot or pan in your local antique store. Modern pot and pan making methods have been streamlined in order to maximize production and minimize time. Unfortunately, some of the resilience of cast iron cookware has been lost in this process. Add a classic touch to your kitchen once more, and never have to buy another casserole dish again when you invest in genuine vintage cookware.
5. Elaborate cabinetry
Experienced carpenters would spend hours upon hours creating unique and beautiful pieces of cabinetry for their clients. Elaborately carved kitchen cabinetry is as rare in modern kitchens as it is expensive, but to give your kitchen that traditional touch, it is essential. Some companies specialize in producing custom cabinetry only, and will have a number of artisans working for them who can provide uniquely styled pieces for your home.
6. Glass front doors
Glass front doors are a beautiful way of making smaller kitchens appear larger. Glass front doors fit in with practically any kitchen theme and also add class to your kitchen, particularly if you are short on space.
Choosing the right features to make your kitchen shine is essential. While not all fashions and fads are ageless, it is certainly possible to put together both classical and modern features to make a stylish kitchen that suits you.
Article provided by Mike James, an independent content writer working together with luxury, bespoke kitchen designer Artichoke Ltd. who were consulted over the information in this post.