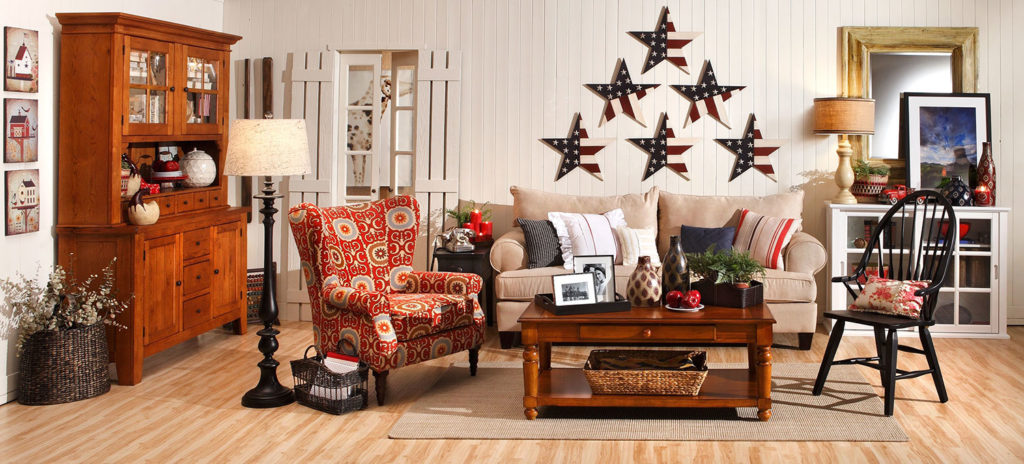 Americana is a very popular style of decorating that is appealing to many homeowners because of its casual nature. You can't scroll through Facebook, Instagram, or Pinterest without seeing a home inspired by one of the many forms of Americana décor!
From materials and accessories that are easy to clean and care for to the primitive nature of the color schemes and décor, Americana décor is easy to implement in any home. The only thing you have to decide on is which type of Americana décor you want to use. Discover the various facets of Americana décor that can be used to breathe life into your home.
Patriotic Americana
Patriotic home décor is probably one of the most commonly found in homes across the United States. It is a style of Americana that celebrates the red, white, and blue symbols of liberty in our country. You'll often find patterns and imagery that feature the stars and stripes, 1776 motifs, or ads from the World Wars throughout this home decorating style. Popular wall colors include neutrals like beige or tan, but you can also find rust red and navy blue used. The look comes together by accenting with accessories that feature wrought iron, tin, or checkerboard motifs to really capture the patriotism.
Nautical Americana
If you love the romance of old New England towns, the nautical Americana style of décor is perfect for your home. America originated on the New England coast, which makes shore birds, ships in bottles, shells, and even anchors easy accessories in a nautical Americana theme. Nautical shades of red and blue are sprinkled throughout this theme, with white furnishings serving as the anchor in the space. Neutrally colored walls are ideal so as to avoid distracting from vibrantly colored (sometimes patterned) textiles in the space.
Primitive Americana
From folk art to vintage ads and wooden tramp accessories, the Primitive Americana style of décor embraces elements derived from nature. Think dried flower arrangements set in a watering can or Mason jar, pillows or shams that feature faded or checked fabrics, and furnishings made from wood, taffeta, or wicker. Texture is a vital element in Primitive Americana, making accessories that feature rusted or worn metals, coarse fabrics like burlap or spun cotton, and Berber capering ideal. The color schemes in this style are very simple, often neutral shades of cream, white, or beige.
Western Americana
Anything that draws your mind to the cowboy lifestyle, from distressed leather to cows, horses, and weathervanes, can be found in the Western Americana style. Rich desert colors are popular in this home decorating trend, like midnight blue, camel tan, and any other color you can find in a desert sunset. Accent elements in geometric patterns work wonders in the Western style of Americana, as do pieces of pottery, rustic furnishings, and vintage elements.
Modern Farmhouse Americana
The Modern Farmhouse style brings a simple sense of warmth through natural textures and elements of wood and galvanized steel. Cream is the wall color of choice in this style of Americana décor, paired with other neutrals or bright accents in shades of red, blue, orange, or yellow. Natural wood elements, whether they're furnishings, wall panels, or exposed ceiling beams, are a staple in Modern Farmhouse design. White-washed wood elements are also very popular in this design style. Incorporating this look into your home is super simple, as you can often find accessories and wall décor at thrift stores and flea markets! Antique signs and rustic chalkboards add to the charm of Modern Farmhouse Americana.
Whether it's your master bedroom, kitchen, basement, or formal living space, you can use Americana-inspired themes and décor throughout your home. The best part? You don't have to choose just one! These themes can be intertwined, which means you can use Nautical Americana elements in your bathroom and a mix of Modern Farmhouse and Primitive Americana throughout the rest of your home. It really comes down to your personal preference.
For all of your Americana decorating needs, visit Piper Classics.