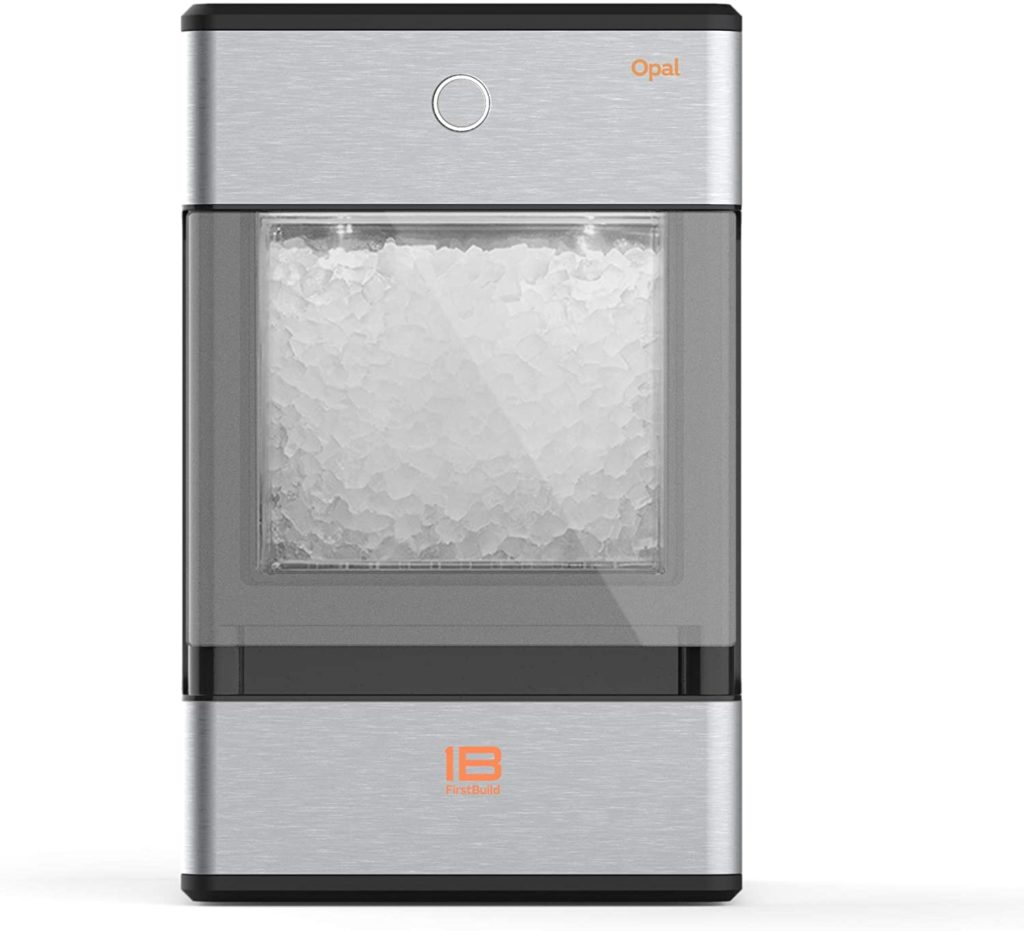 Nugget ice makers are becoming more popular, especially as the designs get better and smaller, and more homeowners can fit them within the kitchen countertops. We will be looking over the Pros and Cons of this nugget ice maker to see if it lives up to the hype.
This nugget ice maker is a tabletop model from the Opal range. Let's take a look at this in-depth review of this ice maker to see if it is worth pursuing.
What is nugget ice?
Nugget ice or compressed ice is excellent in drinks because it is known for its smooth, soft, and crunchy texture. Because the ice is so compressed it has a much slower melt rate than regular ice you would get out of your freezer.
You may have had nugget ice at your favorite restaurant. And now with the Opal Countertop Nugget Ice Maker, you too can have this style of ICE right from home.
How large is this nugget ice maker?
In terms of size, this nugget ice maker is not the smallest or largest in a bunch of ice machines for the home. It stands at 17.25 inches at its highest point, and the width is 10.5 inches with a depth of 15.5 inches. It weighs 44 pounds. The Opal is not a small nugget ice maker, and you will have to think out where you would want to put this in your kitchen before purchasing.
What does this nugget ice machine look like?
In our opinion, the Opal ice machine looks good. It has a smooth stainless steel finish that gives it a sleek look. With only a single central control button that is set above the viewing window, which keeps the illuminated light to a minimum. We like this about the look of this ice machine.
Water source
Like all ice machines, you either have a water source that is run directly into the machine or you need to fill up the water reservoir. This particular machine requires you to manually fill the water reservoir.
What are the ice rates and amounts this machine will produce?
This machine should provide you with enough ice and the capacity to keep the drinks flowing.
Reservoir capacity: 3 pounds of ice
Ice made per hour: 1 pound
One full reservoir of water: Produces ice for three hours
Features of the Opal Countertop Nugget Ice maker?
A lot of the newer machines now allow you to control the ice machine via Bluetooth and sensors allowing you to control the ice machine from your tablet or smartphone. What can you control? You can turn the ice machine on and off, dim the facial LED light, make ice, or schedule to run.
Things you should be aware of with this machine
Because it has a sensor that will tell the machine your water level is low or your ice is high enough that it stops producing ice you should keep an eye on the ice bucket.
The ice can tend to stack up on one side causing the sensor to stop making ice when in reality there is still more room. You will have to simply move the ice so it falls to the open sides and the machine will start producing more ice.
Pros
Makes excellent nugget and oval cubes of ice
Sleek stainless steel design
3 pounds of ice holding capacity
Remotely able to control machine
Cons
Ice staking on one side will set off sensor to stop producing ice
Large and heavy for a portable ice machine
The empty reservoir will not alert you to refill
In closing
We hope this review on the Opal Countertop Nugget Ice Maker has shed enough light to help you make a more informed decision about purchasing a nugget ice maker. While not perfect this machine will produce some great formed compact nugget ice cubes for your next party. From a pure standpoint of making nugget ice we like this machine a lot. As far as the size that may be a sticking point some of you cannot move around.
Byline:
Adam Smith is the owner of checkthereview.com who specializes in kitchen products and gadget reviews.