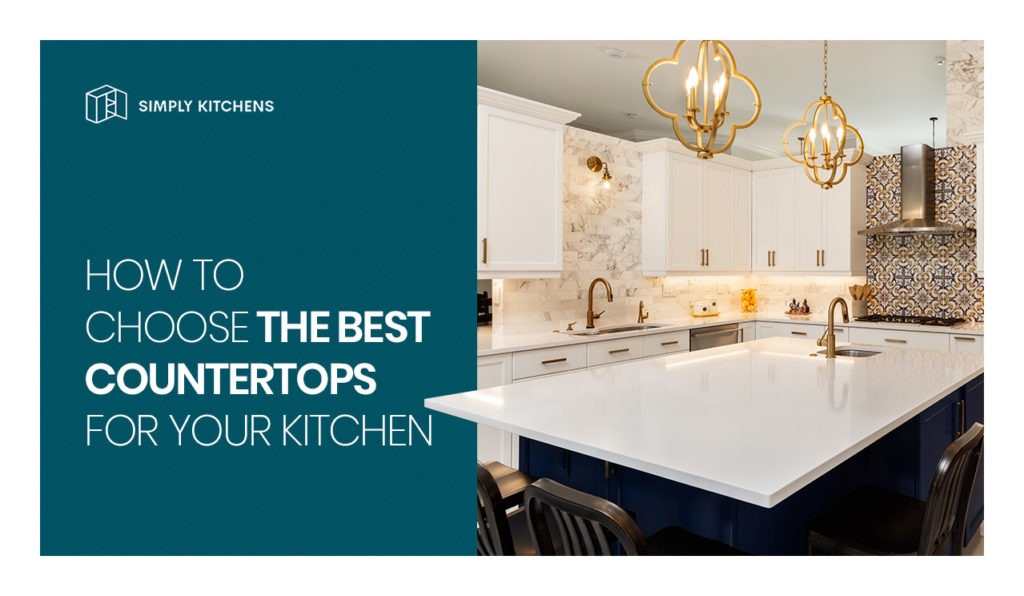 Whether you're embarking on a complete kitchen remodel, on the hunt for a quick update, or just plain weary of your old kitchen countertops, you're in luck; there are a variety of attractive and functional countertop materials to choose from today.
Your kitchen countertops can become a focal point in the room, so deciding on the look you want is just as important as the function.
Tips for choosing the kitchen countertops
Your kitchen countertops provide a work area for food prep and often serve as a casual dining area. Depending on your lifestyle, you might also be entertaining, working, crafting, or using this kitchen work surface for a myriad of other activities. That's why it's worth gathering information and putting some thought into choosing the right countertop for your lifestyle.
5 tips to help you choose the best countertops for your kitchen
1. Lifestyle. If your kitchen is the active hub for family life, the countertop could take a beating. You want a durable and beautiful surface and one that will withstand heat, moisture, scratches and cuts, stains, and even certain food ingredients that could damage it.
2. Maintenance preference. How much care and maintenance are you willing to perform on your countertops? If sanding butcher block to remove cuts and scratches or to seal granite to prevent stains and chips feels like too much work, you'll want to choose a countertop that requires less maintenance. If the right answer for you is a simple cleaning routine that uses non-toxic cleansers, your countertop surface needs to reflect that preference.
3. Layout. Some countertops, like granite, marble, and other natural stone surfaces, are only available as large slabs. These slabs need to be cut to the right size and shape for your kitchen. If you're looking for a single slab countertop, you may be searching for a specific size, pattern, and color, and you will pay more for larger pieces. By contrast, countertop materials like tile, wood, and quartz do not need to come from a single large piece.
4. Style and look. Certain countertop materials come with dynamic veins or patterns with plenty of color and activity. Others are more uniform and tranquil.
5. Budget. Kitchen countertops come in a range of price points. The price-per-foot of natural materials will vary with the rarity of the material's color and pattern and the size of the slab you need. There are, however, beautiful and durable countertops available at every price point.
With such a variety of countertop materials from which to choose, know that some will fit your lifestyle but not your budget; some will give you the look you want but may call for more maintenance than is realistic for your household.
Pros and cons of 9 popular countertop materials
Beyond the stone and wood used for work surfaces in centuries gone by or the ground-breaking Formica of the 1950s, you have many new kitchen countertop materials to consider, like concrete, glass, quartz, and marble. Here's the rundown on the newest materials to help you decide which would work well in your kitchen.
1. Marble, soapstone, and limestone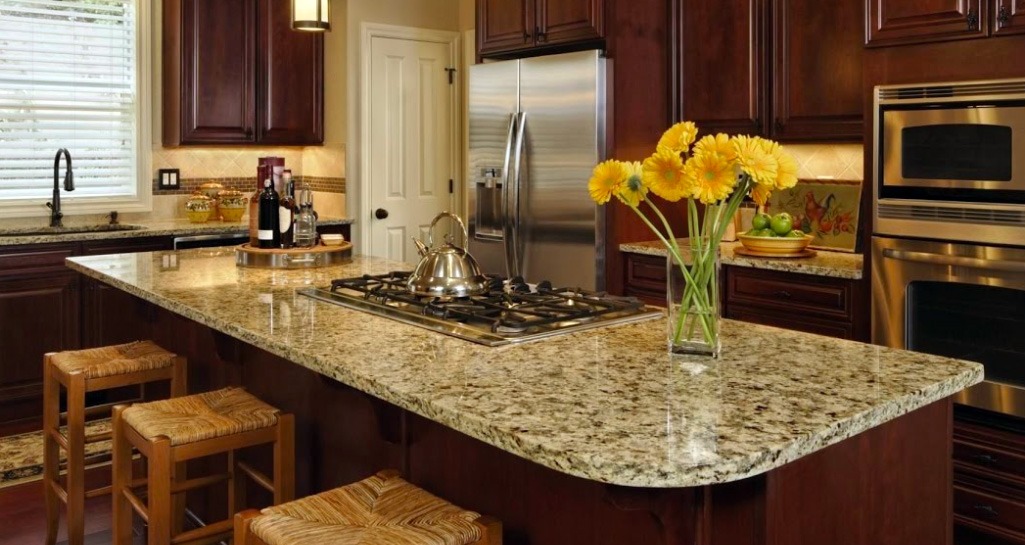 Marble, soapstone, and limestone are natural materials mined as one piece of stone. Their durability has made these materials a top choice of countertops for hundreds of years.
Pros: Marble and limestone are always in demand as classic countertop materials. Limestone offers a stone look without the graining or heavy veining of marble and is remarkably heat-resistant. Marble always earns high marks for its durability. Soapstone resists heat damage and is very durable. It's also resistant to stains and bacterial contamination, and it cleans up easily with just soap and water.
Cons: Soapstone is susceptible to nicks and cuts and may change color over time. Certain stains, from oil and grease, are too tough to be washed away. However, you can repair small scratches with an application of mineral oil and then sand the stained area. Limestone and marble stain quickly, so it's essential to attack problem spills right away. Excessive heat can damage marble.
2. Quartz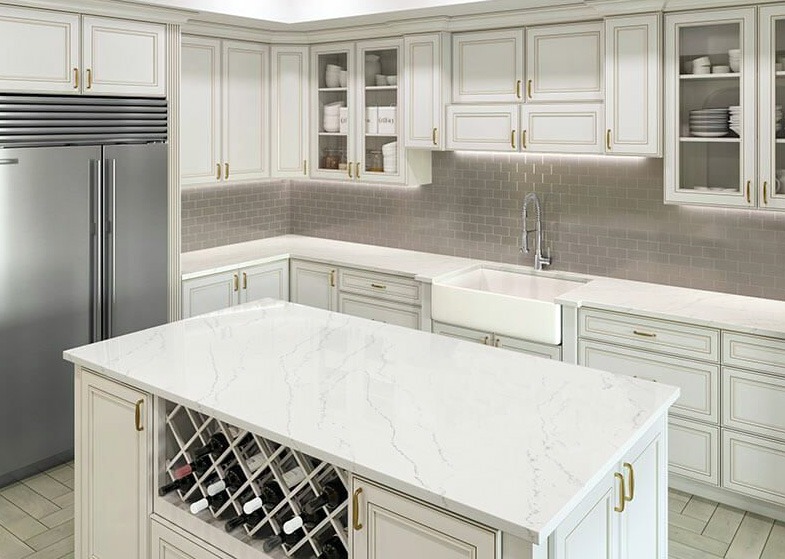 Quartz surfaces are made of crushed stone bound together by a polymer resin and often sold under brand names like Caesarstone and Silestone.
Pros: Quartz mimics the look of natural stone but needs far less maintenance. Quartz countertops are nonporous and resistant to stains and scratches. To maintain, wipe them down with mild soap and water. Quartz stands up well to nicks from serrated knives, encounters with hot pans, and even abrasive pads used for cleaning. It comes in a variety of colors and patterns that mimic marble and granite.
Cons: Corners and edges can chip, and you'll need a professional to repair them. Choosing rounded edges will help avoid some chips.
3. Granite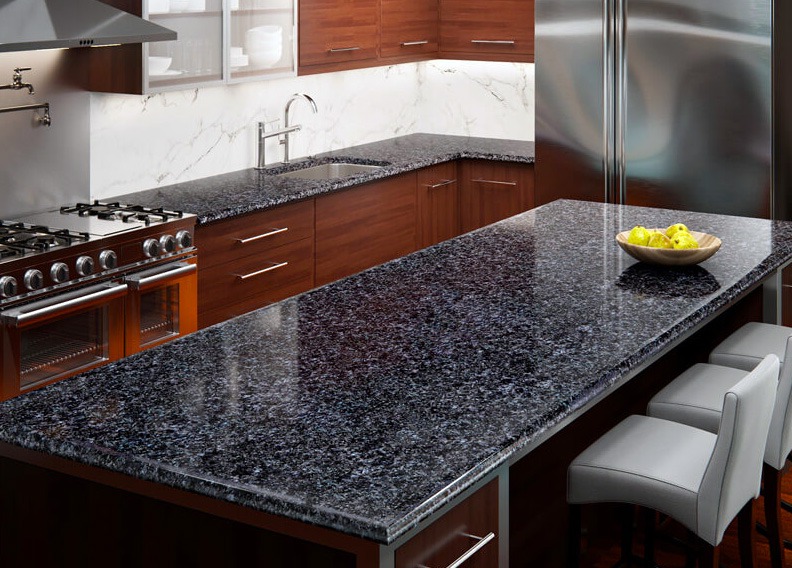 Granite is a natural stone cut out of the earth as one piece. It is then polished and cut to size for a countertop.
Pros: Because it is a natural material, each slab is unique. Granite with rare veining and colors will cost more. It is heat, cut- and scratch-resistant.
Cons: You will need to periodically re-seal the granite to fend off stains. Like quartz, corners and edges can chip and must be professionally repaired.
4. Laminate
A laminate countertop is a semi-rigid plastic sheet made by fusing layers of paper and resins. The visible top layer is a decorative sheet with color and pattern added.
Pros: Laminate is inexpensive, easy to install, and comes in various styles and colors. It resists stains and heat and cleans up easily with soap and water.
Cons: Any direct cuts could permanently damage a laminate countertop; be sure always to use a cutting board when preparing food.
5. Butcher block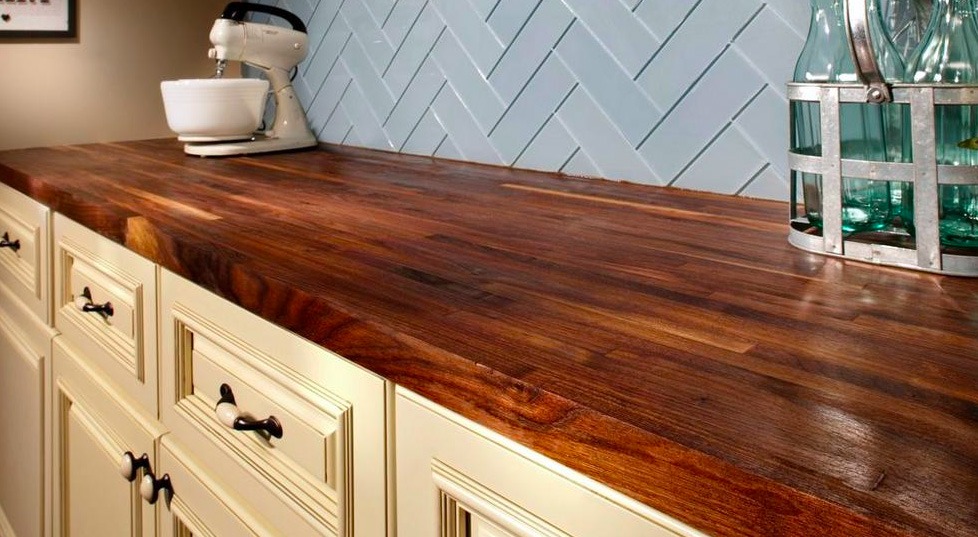 Butcher block countertops are made from a dense hardwood like maple, walnut, oak, teak, or cherry. Butcher block counters are constructed using 11/2" square blocks with three different grain options: edge grain, end grain, and wide plank, each producing a unique and attractive look.
Pros: The wood surface adds warmth to any kitchen. It is easy to repair, replace, and install, and some finishes are stain-resistant. Butcher block is gentle on knife blades and incredibly durable, with the added advantage of wood's natural antibacterial properties, which kill 99% of the bacteria within three minutes of exposure. This makes butcher block surfaces safe for daily food preparation, according to a 1994 study from researchers at the University of Wisconsin.
Cons: Damage from scratches and nicks occurs with some frequency but can be sanded out.
6. Recycled glass
Recycled glass is a popular new green building material.
Pros: This is a very contemporary look; finely ground glass creates a less busy look, and most glass is resistant to stains, scratches, cuts, and heat.
Cons: Some glass countertops have developed a thin crack during heat testing.
7. Concrete
Today's concrete countertops are fabricated entirely outside your home, unlike the 1980s, when they were poured on-site. They are usually 1 1/2" thick and can be poured in slabs up to 10 feet long. Your installer can add colors and patterns to customize the look you want in your kitchen.
Pros: Concrete can be a completely custom look and can be poured to appear seamless. It is also very durable and heat-resistant.
Cons: The concrete is heavy and needs sturdy, high-quality cabinets underneath for support. It can be expensive to customize and takes regular sealing to maintain; without sealing, it stains easily and will absorb moisture. Regular sealing also prevents small cracks that are likely to develop over time.
8. Tile
Ceramic tile was a popular countertop choice for decades. It's fallen out of favor in recent years due to the introduction of new solid-surface countertops. It is still an attractive choice for the backsplash or a second work surface on an island, peninsula, or wet bar.
Pros: Ceramic tile is nonporous, stain-resistant, and affordable. Tile comes in many color and pattern choices.
Cons: Tile grout needs to be clean and sealed regularly to prevent chipping and staining.
9. Solid Surface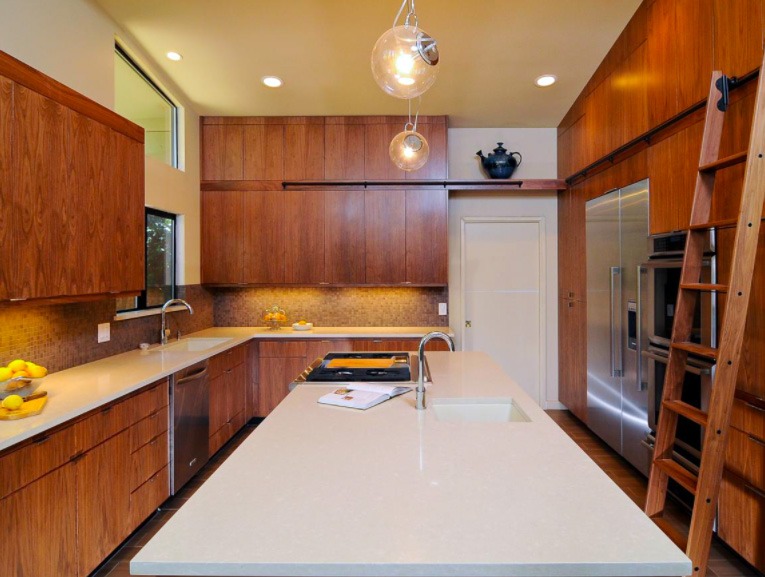 Solid-surface countertops are made from a blend of acrylic and polyester, or either material alone. They come in a variety of patterns and color choices.
Cons: These countertops can scratch, scorch, and suffer knife gouges. You can, however, sand out scratches and fill deep gouges with epoxy or Cyanoacrylate.
Among the many kitchen countertop materials, homeowners can choose from, quartz and granite are consistently the most popular.
Quartz vs. granite countertops
You'll notice quartz and granite share many similar qualities. They are both scratch- and heat-resistant; quartz is also stain-resistant. Both surfaces tend to chip at the edge but choosing a rounded edge helps avoid this problem. Granite needs to be sealed every 3-4 months to maintain its resistance to stains.
You can find quartz at every price point, from very budget-friendly versions to those that are more expensive and resemble marble. Quartz can mimic patterns, colors, and veining found in granite and marble.
Many homeowners find that quartz offers the best value for the money and comes with the lowest maintenance burden. If you decide that quartz countertops are the best for your kitchen, you can buy countertops online through Simply Kitchens. At Simply Kitchens, you can find a broad selection of quartz countertops in colors and designs to compliment every kitchen cabinet style. Choosing your countertop this way helps keep the process simple and saves you hours you might otherwise spend matching your cabinets and countertop. Visit Simply Kitchens for answers to questions about kitchen countertops – and help to design and order your countertops online.