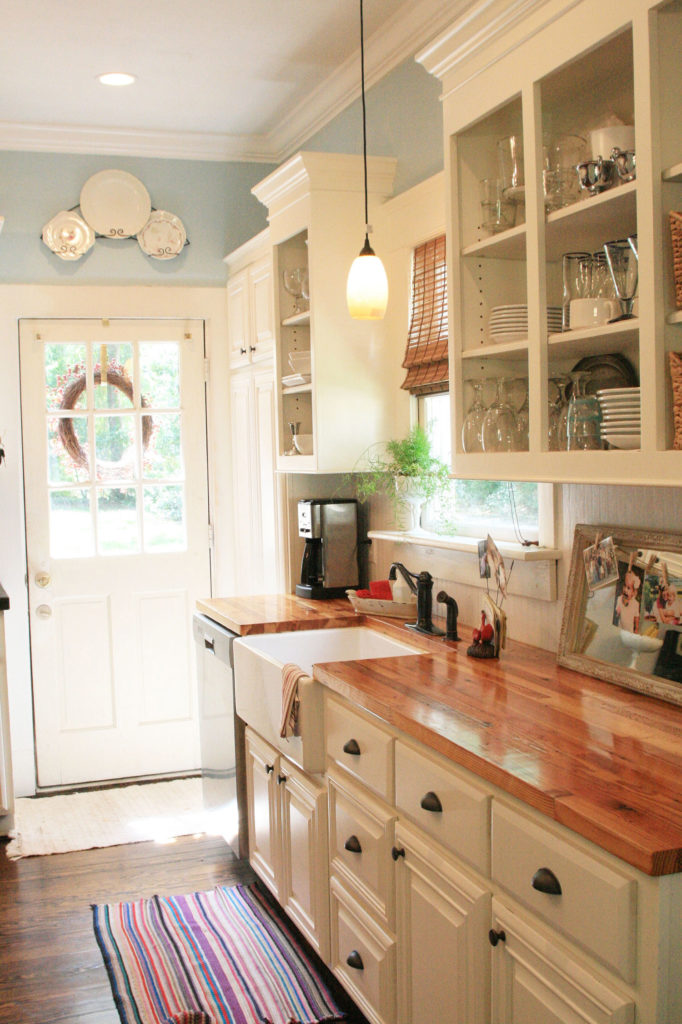 The charm of a rustic kitchen is timeless and this is evidently visible through the various rustic designs used by many homeowners.
Now, although there is a preconceived notion about these kitchens being outdated, this is certainly not true.
A rustic kitchen design suits every home; through the simple addition of various earthy and sustainable elements like stone walls and statement features like a designer Aeon radiator, you can transform your kitchen into a warm rustic area. That said, the cosiness and warmth that this kitchen creates only serves to increase its aesthetic appeal thereby making it a popular design idea.
If you're looking for inspiration to create a rustic kitchen design on a budget, then earthy elements are the easiest way to get started with this project.
Here are a few ways you can incorporate earthy elements in your kitchen and can create a rustic design.
1. Use natural stone
Conventional rustic designs, no matter how inviting they may look, tend to get wood-heavy with the incorporation of this material in most of the kitchen elements.
While this may be a good idea, trying out something different will surely give you a unique and authentic kitchen design.
That said, using stone for your kitchen will elevate the rustic aesthetic of your space while also serving as a statement piece on its own. The raw and textured stone will also add a hint of character to your kitchen; it can be a beautiful amalgamation of rustic and modern.
From exposed stone walls and countertops to backsplash and flooring, there are many ways you can add a natural stone in the kitchen design. This timeless material is incredibly versatile and will never go out of style.
What's more, you can get creative with natural stone and find different ways to embed this material in your kitchen interiors.
2. Go for earthy colour palette
Enhance the warmth of your rustic kitchen design with the addition of earthy colour. From walls and cabinets to countertops and furniture, selecting a calming colour scheme can make your kitchen design more rustic.
To create a tranquil yet inviting kitchen, use neutral colours like beige, whites, blues and greens. If you want something brighter, you could opt for a warmer colour scheme that uses shades of yellow and orange.
Here, the psychology of colours in deciding the tone of a room makes a huge difference; according to the kind of vibe you want to set up for your rustic kitchen, you can select a suitable colour that meets your preferences.
3. Add a spice and herb rack
Creating a spice and herb rack is a great idea to add some natural decor to your rustic kitchen design.
Fitting in wooden planks on your textured stone wall for your spices serves as a decor for your kitchen while also making it easily accessible.
Let's face it, with the various amounts of spices available, showcasing them on a wooden rack not only adds to the rustic aesthetic but also serves as a practical idea.
Moreover, by adding in a herb garden, you bring an element of freshness to your kitchen design which adds to the warmth and inviting atmosphere of your kitchen area.
4. Use copper based elements
Copper cookware is a good element for your kitchen as it sticks to your rustic theme while also adding in a pop of colour in the kitchen design.
A common element in many traditional rustic kitchens, copper cookware not only looks good but is efficient too. The shiny material is eye-catching and acts as a great tool in beautifying your kitchen design.
Displaying copper pots and pans on potholders or utensil racks, incorporating a copper sink or using copper jars for your spices are a few ways you can add copper utensils and cookware in your kitchen.
Additionally, you can also add copper pendant lights for a chic yet rustic aesthetic for your kitchen interior.
5. Add in statement features
If you have the budget for it, adding in statement features to your kitchen can help you elevate the rustic appeal of your room to a higher level.
Elements like compact waterfalls, a stainless steel Aeon radiator, a small fountain or even a brick oven can do wonders for your kitchen aesthetic. While these may seem a little expensive, if you have enough funds, these features are sure to create a statement kitchen for your home.
Brick ovens by itself need no explanation; their very design is a good example of a great rustic element – after all, who doesn't love a brick oven cooked pizza?
Add to that, a compact waterfall or fountain can create a tranquil and whimsical atmosphere in your kitchen which is sure to have a positive impact for anyone who enters the room.
To sum up
A good kitchen design requires efficiency without compromising on aesthetics.
However, when you choose earthy elements for your rustic design, make sure they fit your vision of your dream kitchen while also having practicality that makes the kitchen efficient yet stylish for you.
Author bio: Rifat works as the lead of Content for Saturn Interiors. She loves writing about kitchen designing, home improvements and marketing-related topics. When she's not busy writing, you can find her lost in the latest fiction novel.