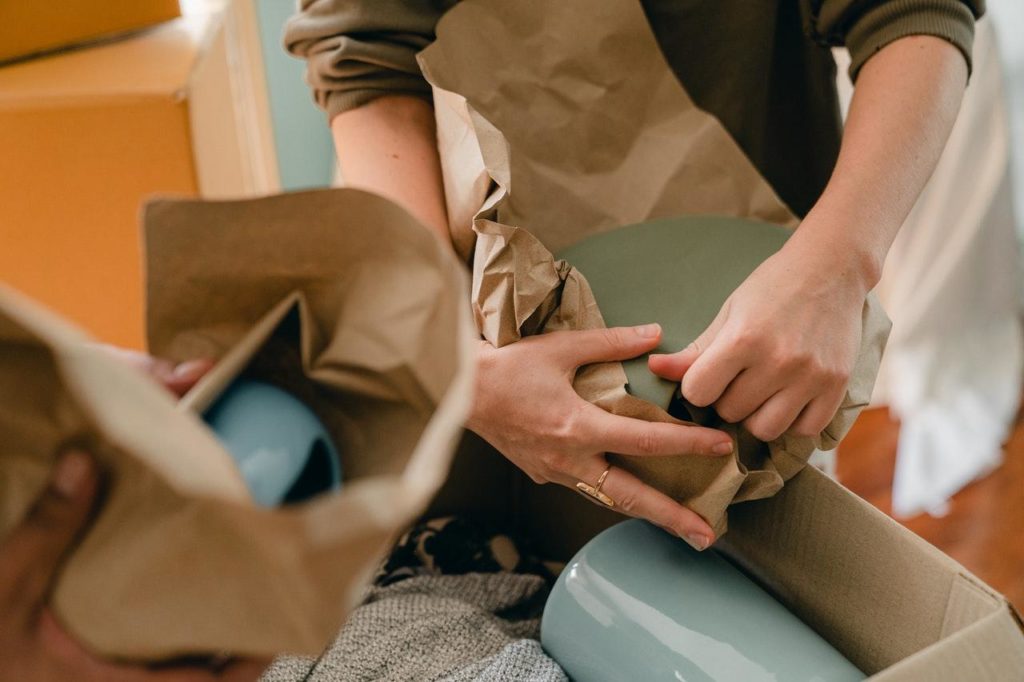 Packing your entire kitchen for moving requires you to be meticulous and efficient. The kitchen, after all, is one of the most challenging rooms to arrange. It is filled with fragile glass and porcelain ware, sharp utensils, and large appliances that are very difficult to handle. Hence, you will want to set a thorough approach to packing up everything nicely.
If you are having a hard time sorting out and packing up your kitchen for the big move, we've got your back! In this article, we give you easy and effective ways to pack your kitchen for moving!
Acquire the necessary packing materials
Before anything else, you have to get your packing materials ready! Below is a list of all the materials you may need to pack up your kitchen for a house move:
Bubble wrap
Cardboard boxes
Packing tape
Dividers
Markers
Labels
Scissors
Gloves
Rubber band
Packing peanuts/ Styrofoam
Segregate your kitchenware and pack them accordingly
Once you've got all your materials ready, you may begin sorting through the items in your kitchen. Doing so will make it easier for you to know which items can be disposed of, which can be packed together, and which items need additional support or wrapping.
Remember that you should separate the stainless and glass materials to avoid breaking or scratching anything. To give you an idea on how you will want to sort out your stuff, here is a list of categories most commonly found in a kitchen:
Pots and pans.
Silverware – This includes a coordinated set of forks, spoons and knives.
Earthenware/ glassware – This includes vases, bowls, mugs, and more.
Sharp knives – This consists of a bread knife, paring knife, chef knife, and more.
Food storage containers – This includes small and large food containers and tumblers.
Kitchen utensils – spatulas, tongs, measuring cups/spoons, chopping boards, and more.
Small appliances – This includes the blender, electric mixer, coffee maker, air fryer, and more.
Large appliances – This consists of the oven, stove, refrigerator, dishwashers, and more.
Below is a quick guide on how you should pack your items:
Packing pots and pans
Pots and pans are large items. However, they are not usually too heavy or fragile so that you can stack them all in one large cardboard box. Before placing it inside the box, have each piece wrapped in packing paper to prevent scratches or dents. We also recommend that you arrange your pans vertically to save space!
Packing silverware
When you pack the silverware, sort them according to type and tie them together with a rubber band. After, put them all inside a small box and seal the box with tape.
Packing earthenware/ glassware
We all know that glass items are delicate so keep in mind that these should be handled with extra care. You wouldn't want to reach your new home with a box of glass shards, after all! So, you will need to use a speciality box with a divider and individually place your items inside.
Then, fill the box with packing peanuts to contain any vibrations and to control the movement of the items inside. For extra protection, wrap each piece of glassware with bubble wrap. Meanwhile, if you still have the original box of your glassware, using it can be a good way to save money!
As for your plates, have them individually wrapped with packing paper and place them vertically inside a box. Once done, you can fill up the box with packing peanuts to keep the plates secure. You may then seal the boxes with tape.
Packing knives
When knives are not tightly and securely packed, accidents may occur. To avoid this, have each of your blades wrapped in a towel or bubble wrap and packing paper before placing them in a box.
Don't mix it up with other items to prevent confusion and breakage. When placing your knives in the box, make sure they are not facing up. Moreover, on the packing paper's surface, indicate the direction of the blades for extra precaution.
Here are more tips on how to pack knives.
Packing kitchen appliances
There are a lot of kitchen appliances that vary in size. However, these steps apply to both large and small kitchen appliances.
First, if you can find their original boxes, you won't have to get a new one. Just make sure that these old boxes are still in good condition! But if you've already discarded those, you can use new moving boxes for your kitchen appliances.
Before putting each appliance inside the box, they must be clean and dry. If possible, separate the smaller or fragile parts of the machines before packing them up. Moreover, each appliance must be wrapped in packing paper or bubble wrap. To make sure everything is fully secure, seal each box with tape so that nothing falls out.
Here is an in-depth look at how to pack kitchen appliances for moving.
Packing food containers
Food containers are usually made out of plastic and are extremely lightweight. With that, you can put them together inside a cardboard box without worrying if they will break. You can also put other kitchen utensils inside these containers to maximise the space each container occupies. You may do the same for dry food and non-perishable items.
Label your moving boxes properly
Remember that labels for moving boxes are essential, especially for rooms containing a lot of items, like the kitchen. You will want to label your boxes based on which room they are in and what category they fall under.
For example, if you are packing your silverware into a box, you will want to write: "KITCHEN – SILVERWARE"
You will also want to put labels which indicate how each box needs to be handled. Among these types of label, you will find the following:
FRAGILE
HANDLE WITH CARE
THIS SIDE UP
You may also choose to colour code or number code your boxes, to make it easier for you to identify, segregate, and unpack later on. Do not forget to label all sides of the box to make sure you can determine where each box goes and in case of damage to your kitchenware moving boxes.
Now that you have learned how to pack your kitchen for moving, you are now finally ready to do it on your own. We understand that moving and packing can be overwhelming. But once you reach your new home, you will surely get excited about doing the renovation. Want to get tips on kitchen remodelling? Click here!