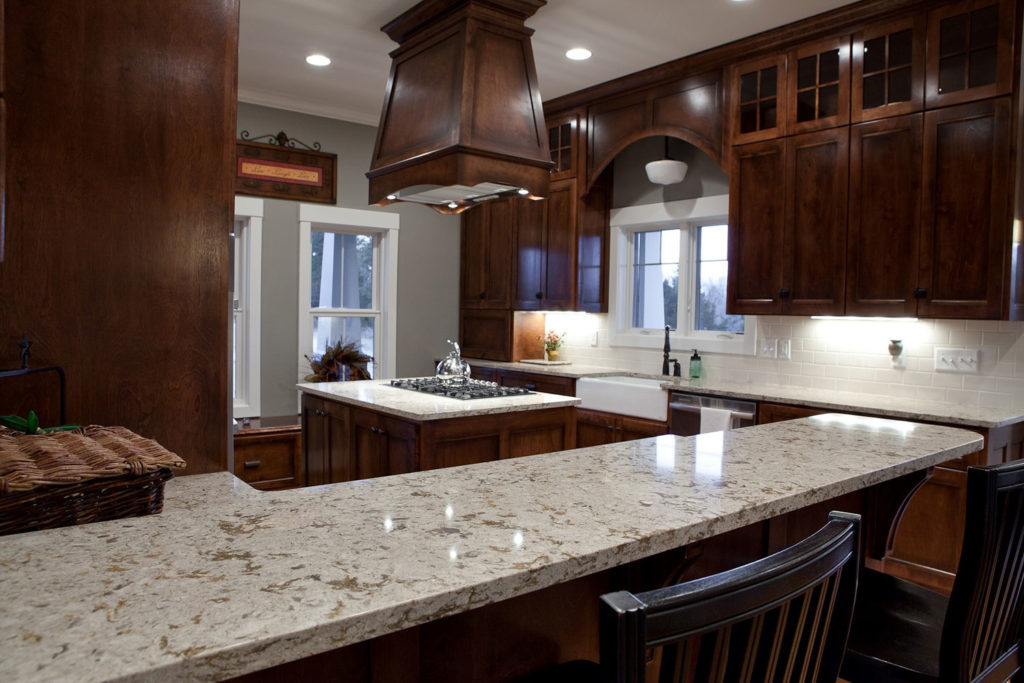 The kitchen is the heart of the home and can be modest, inviting, and have a great appeal with the right customizations. It may be hard to come across a stock kitchen design since your kitchen is one of the areas tailored to your needs. This is because the kitchen holds a particular aesthetic value that differs from individuals.
Every American home has made certain customizations to the kitchen to promote its overall look, design, and feel. Speaking of kitchen customizations, there are many areas where one may choose to make enhancements by adding features such as countertops.
Kitchen countertops provide various customization options and play an integral role in promoting the kitchen's general design and appearance. Installing the right kitchen countertop may help increase your home's value. However, choosing the right countertop material can be daunting since interior designers have upped their game and provided many options.
That said, here are some tips to help you choose the right material for your kitchen countertop.
Consult professionals
Every material plays a fundamental role in enhancing your kitchen's operability and appearance. You can consult your interior designer to help you choose a material that allows countertop customization and design. You can also talk to a kitchen remodeler who will have kitchen estimating software to help figure out how much it will cost to install your preferred countertop.
The remodelers will also advise you on the various available materials with their pros and cons. The remodelers will listen to what you need and picture for your kitchen and offer suggestions. They will also assist with the purchase of various materials and handle the customizations. This way, you can get professional advice on how to bring the best out of your kitchen design.
Budget
Every countertop material comes with different characteristics that cause price variations. This is mainly due to quality and luxury, and you should go through what each material has to offer. You may realize that quartz countertops are more expensive than granite tops or limestone. Marble may also be a bit pricey since it is a high-end stone with various color variations and is more luxurious.
Go through the available materials, determine what they have to offer, their downside, and check out the price. Consult your kitchen remodelers to have an estimate for countertop customization and installation for each material, then plan your budget. Your budget should be realistic and ensure you have the finances to choose a quality countertop for your kitchen.
Maintenance
The kitchen can get very messy depending on the activities and traffic. Thus, you will need to factor in the cleaning and maintenance routine based on how much you use your kitchen. Check out the various countertop materials and how much maintenance each material needs. Determine how easy it is to clean various countertops and whether they need sealing.
Take time to research the best way to clean each material and how much time it will take. You will also need to determine which cleaning products work on each material and go for one with few requirements. Consider how you use your kitchen countertop and go for a material that requires easy maintenance and cleaning practices.
Appearance
Consider the design you want for your kitchen and look for a countertop that complements it. You can opt for a natural look and choose natural stone countertops with various colors and patterns. Granite countertops provide a myriad of color and pattern options that stand out in traditional and contemporary kitchen designs.
Quartz countertops appear sleeker and have a modern design that complements modern kitchen architecture. You can also opt for soapstone or butcher block countertops if you want that old and classic feeling.
Durability
Various aspects will affect a countertop's durability. Determine the countertop material's resistance to scratches, heat, and stains. Soapstone or limestone countertops scratch easily, while marble countertops are prone to chipping. If you use knives and other sharp objects often on your countertops, granite or quartz may be a good option due to their resistance to scratching and chipping.
Countertop materials such as granite, quartz, and aluminum offer heat resistance which means they are good with handling hot pans and pots. Check the materials that are resistant to stains and have a seal that makes cleaning easier. Durability ensures your countertop maintains top-notch standards and quality.
Your kitchen countertop is an investment with an ROI based on the choices you make. Consider your preferences and pick a countertop material that meets your kitchen uses and needs.